Attention all lovebirds! The engagement stage is where dreams intertwine, promises are sealed, and the journey of togetherness begins. So, get ready to swoon over the most enchanting and jaw-dropping engagement stage decorations you've ever laid your eyes on! We, wedding decorators Kolkata have brought you the ultimate list of 18 mesmerizing engagement stage decoration ideas for 2023 that will make your heart skip a beat.
From fairy-tale-inspired wonderlands to glamorous and modern setups. These eye-catching designs by Bengali wedding planner in Kolkata are guaranteed to leave your guests in awe. Let your imagination soar. As we guide you through this momentous occasion's most captivating and trend-setting decoration ideas. So, prepare to be inspired and embark on a journey. This will give you the year's most captivating, Instagram-worthy engagement stage decorations!
1. Floral Endevarance Engagement Stage Decoration
From enchanting cascades of fresh flowers to mesmerizing floral arches. This simple engagement stage decoration idea given by a budget wedding planner in Kolkata will take your engagement ceremony to a new level of elegance.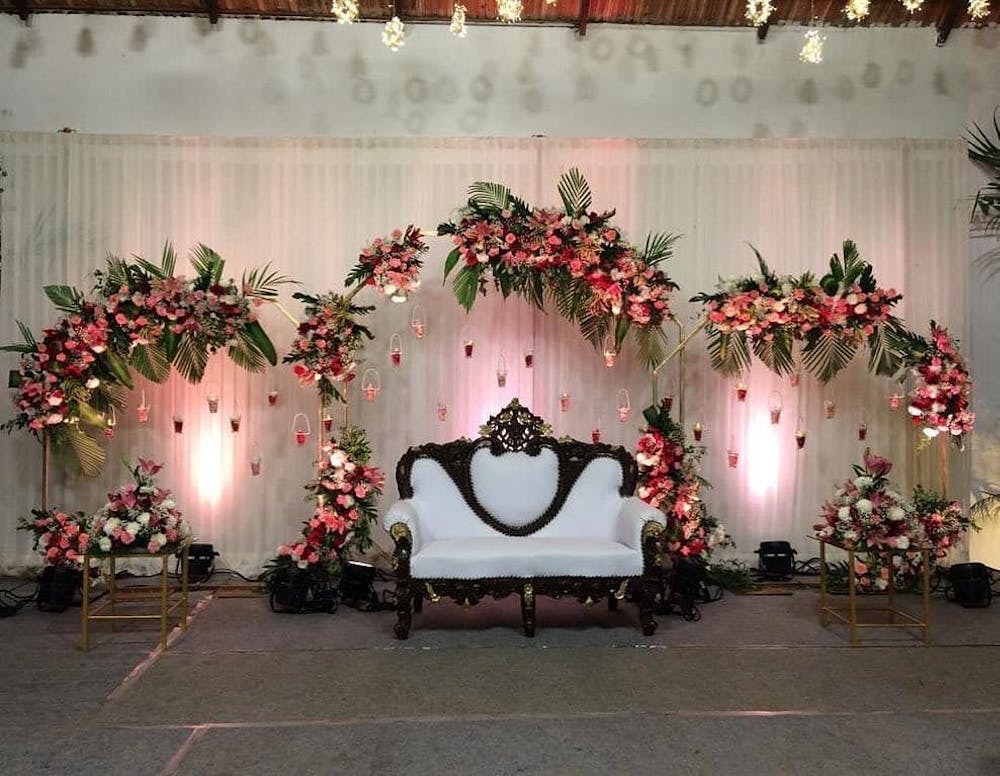 Recommended: Trending Bengali Theme Decoration Ideas For Wedding
2. Engagement Ceremony Stage Decoration With Flowers and Crystal Backdrop
Brace yourself for a visual feast as sparkling crystals cascade from above. Casting a dazzling display of light that will leave you breathless. And that's not all! Lush, vibrant flowers arranged amidst the crystal backdrop will ignite your senses, infusing the air with their intoxicating fragrance.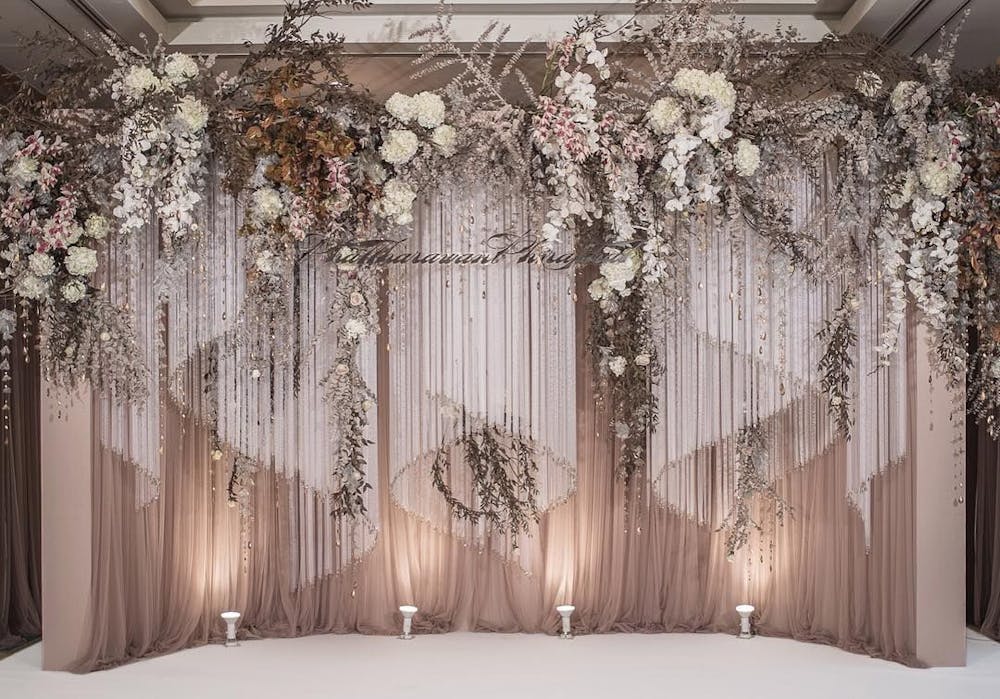 3. The Majestic Royal Setting
Step into a world of regal splendor with the majestic royal setting décor ideas. From the gilded accents to the sumptuous velvet drapes that cascade from the ceiling. Delicate floral arrangements burst with vibrant colors, adding a touch of natural beauty to this majestic scene.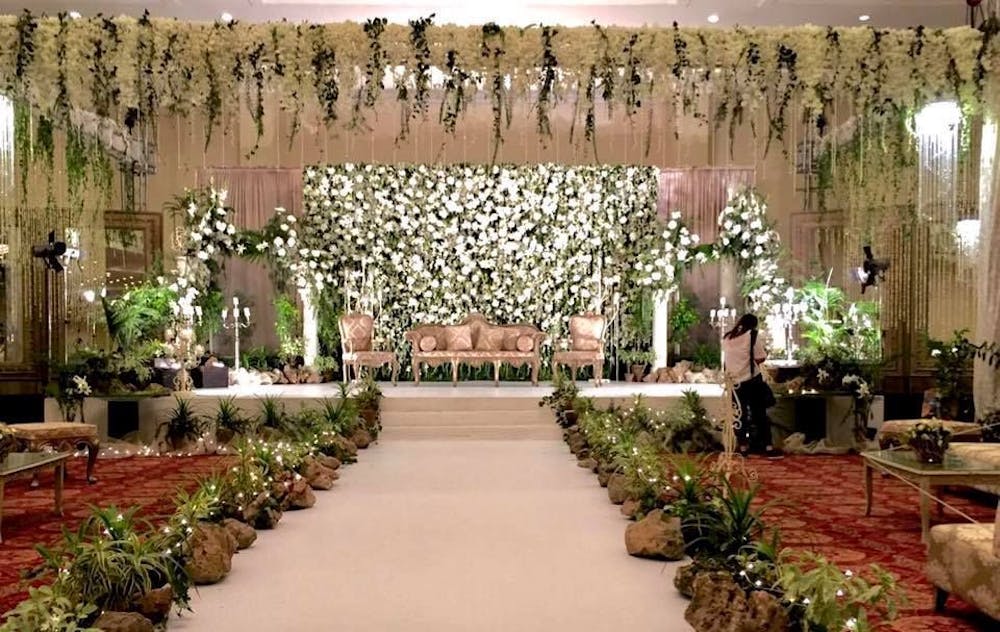 4. Pretty Pastel Drape Décor
Like a soft breeze whispering through a field of blossoms, these delicate pastel hues drapes will transform engagement stage decoration designs into a fairytale escape. Picture cascades of ethereal fabric, gently swaying in harmony with your every step. Drapes bring a touch of magic to weddings, parties, and special events, creating an elegant and whimsical ambiance.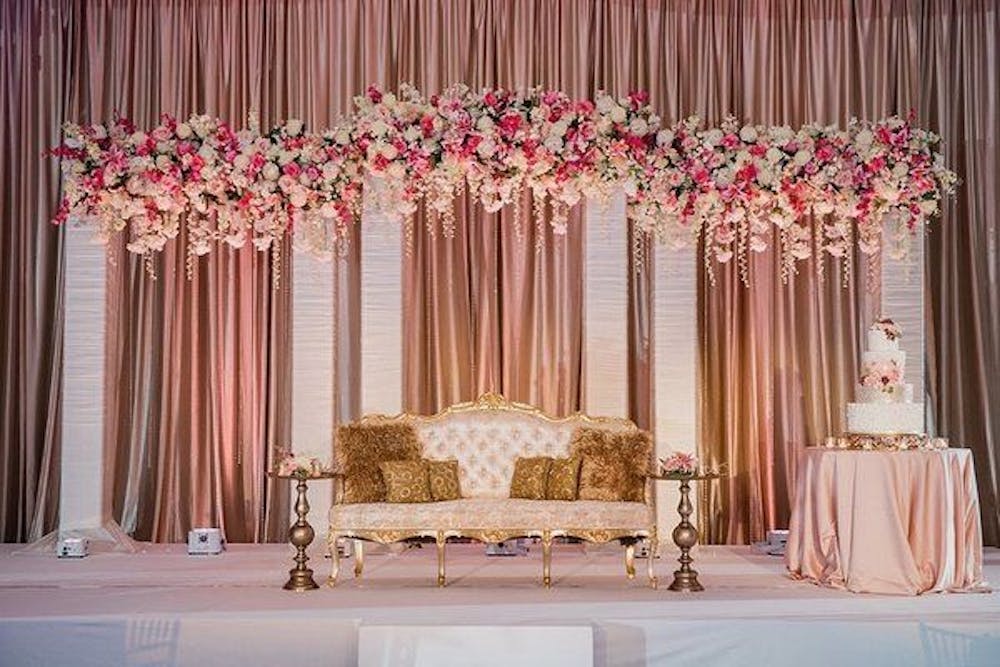 5. Gold Chandelier Engagement Decoration Ideas
Illuminate your love story with the brilliance of gold! Set the stage for an enchanting engagement celebration with dazzling gold chandelier decorations that exude elegance and luxury.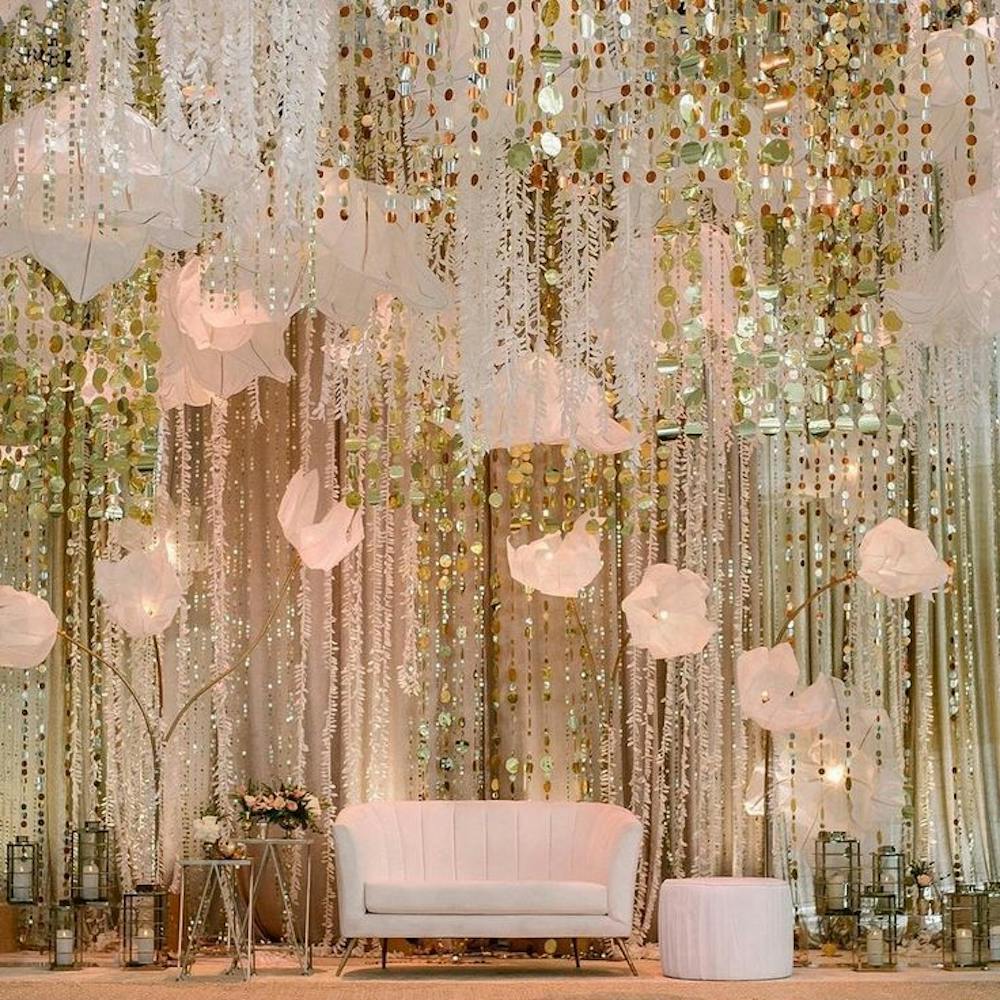 6. The Complete Boho & Arabian Vibe
Indulge in the fusion of bohemian style and the timeless allure of Arabian nights. Every detail of this simple engagement decorations stage will transport you to a realm where creativity knows no bounds, from intricately carved wooden furniture to flowing fabrics and bold, eclectic accessories.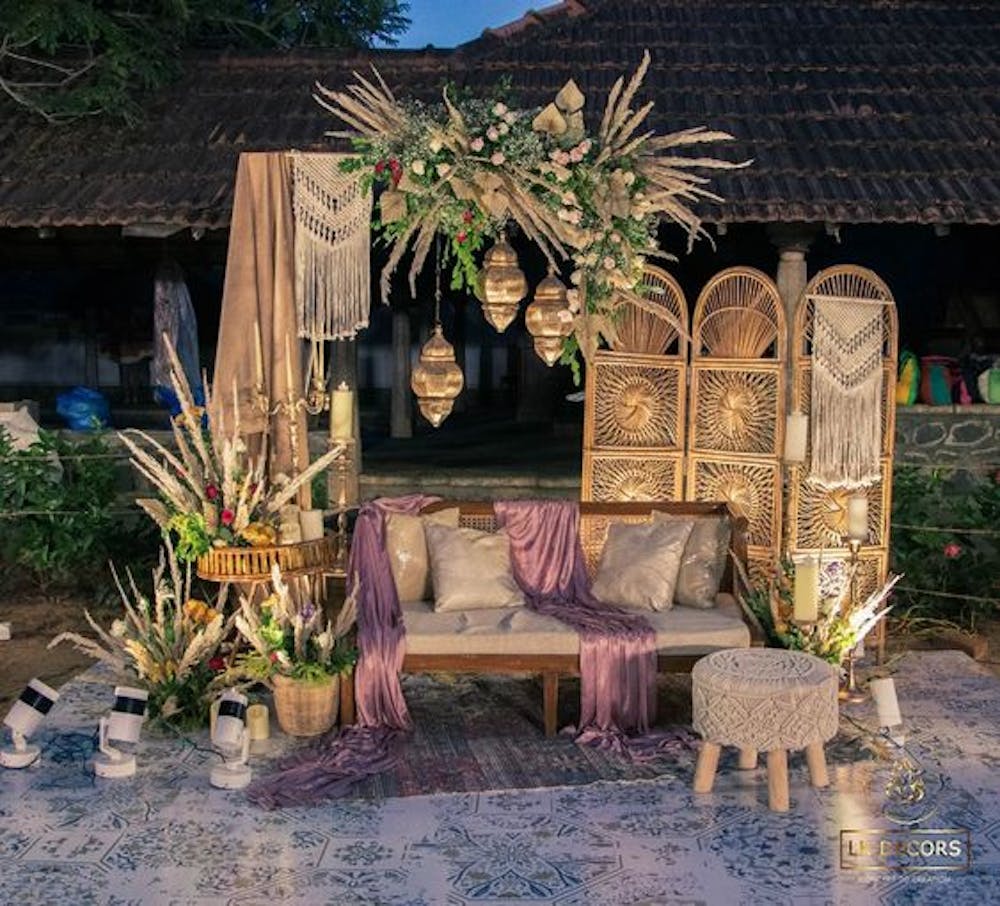 7. Customized Monogrammed Stage Decor
Enhance your wedding with a customized touch by choosing monogrammed stage decorations. Incorporate the initials of your name or a unique wedding hashtag into the selected décor theme, infusing a personalized element into your special day.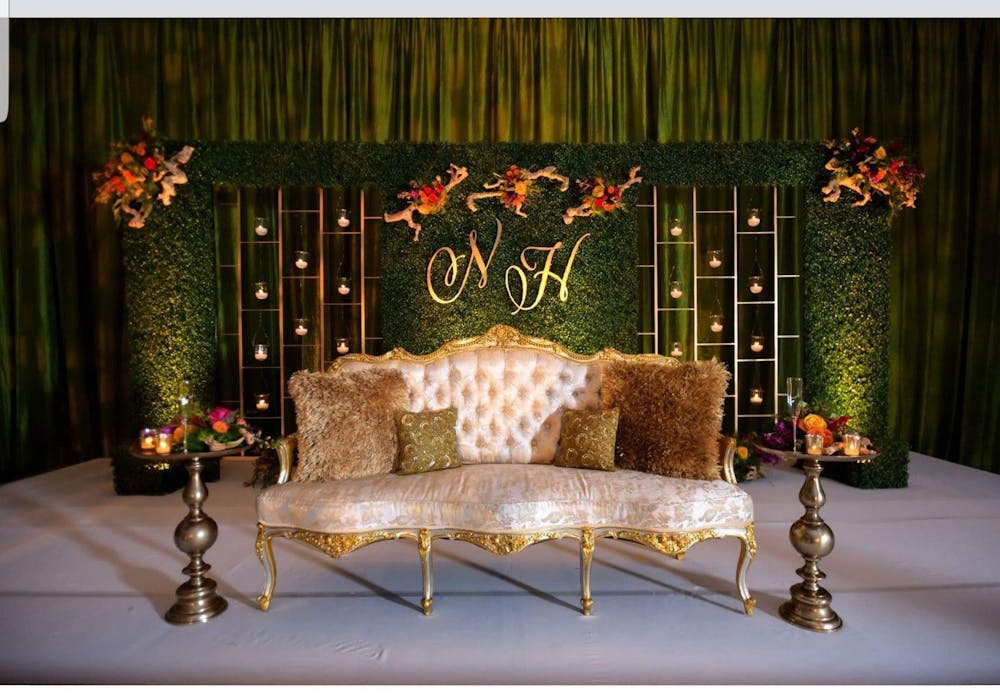 8. The Floral Dome Stage Decor
The Floral Dome stage decor is a mesmerizing tapestry of vibrant colors, delicate petals, and enchanting fragrances. With its ethereal allure and captivating allure, this flower decoration for engagement stage is a visual symphony that ignites the senses and sets the stage for unforgettable moments.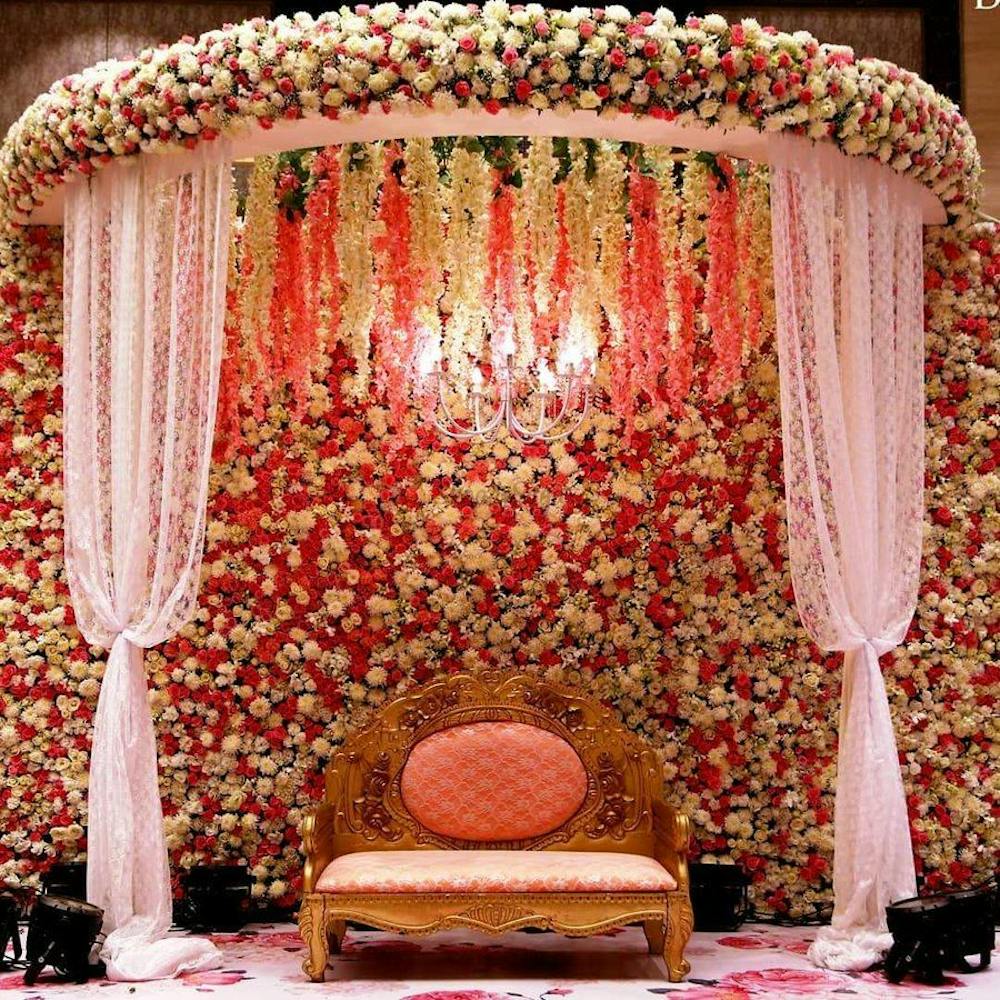 9. The Royal Red Décor
The Royal Red Décor, where opulence meets sophistication in a harmonious dance of luxury. Adorned with rich crimson hues and lavish embellishments, every corner exudes an air of majestic allure. This majestic décor is one of the best stage decoration for engagement ideas.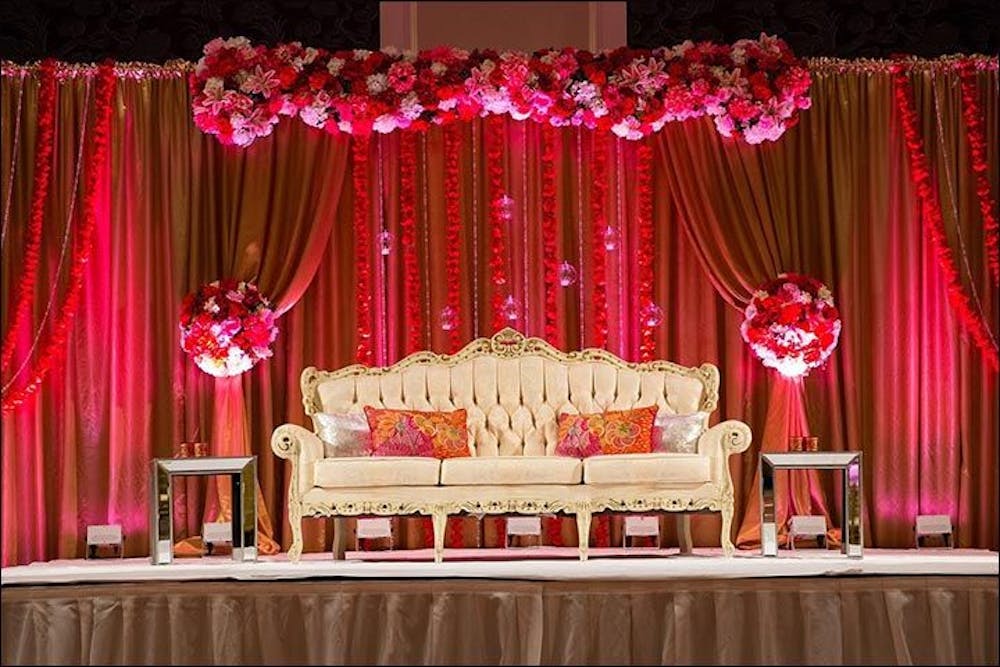 10. Blossoming Romance Through The Flower Wall
Add a blossoming touch of elegance to your engagement stage with our enchanting Flower Wall Décor. Whether you're aiming for a whimsical fairytale or a chic and modern ambiance, our engagement stage decoration with flowers is the perfect backdrop to capture those unforgettable moments.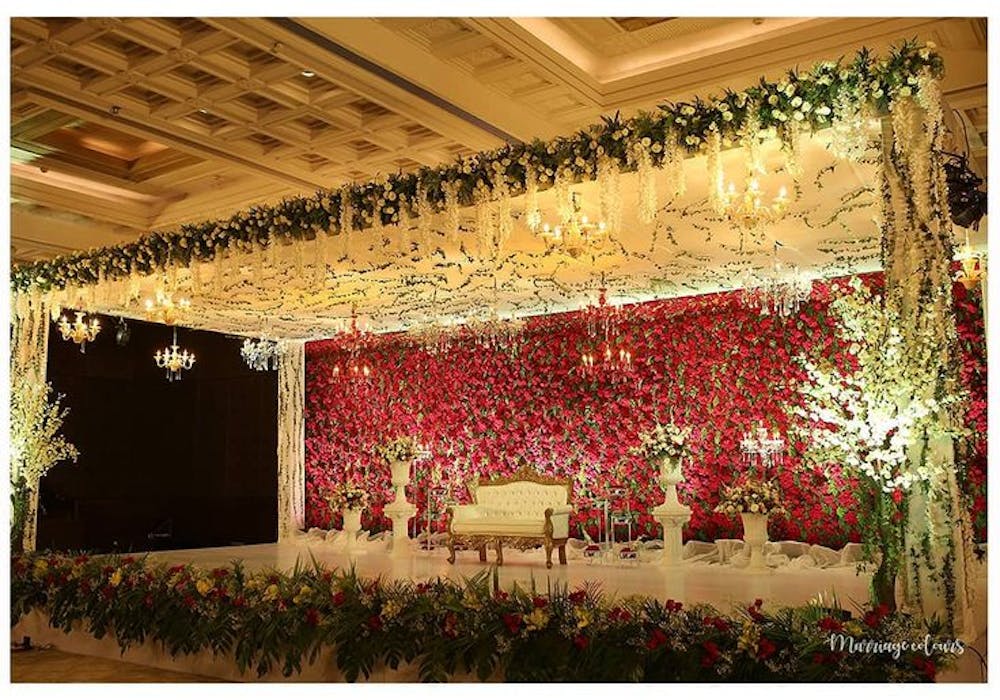 11. Floral Chandelier And Lotus Motif Backdrop Décor
A mesmerizing floral chandelier cascades from above, infusing the engagement stage with a symphony of colors and fragrances. Delicate petals delicately sway, as if whispering sweet promises of love. And as you take in the ethereal beauty, this exquisite lotus motif backdrop for engagement stage flower decoration will fill you with purity and grace.
12. The Mandala Style Décor
From the stunning mandala backdrops that radiate elegance to the delicately hand-painted mandala motifs adorning every corner. Every detail is meticulously crafted to create an ambiance of sheer opulence. Let the Mandala Style Decor be the centerpiece of your special day.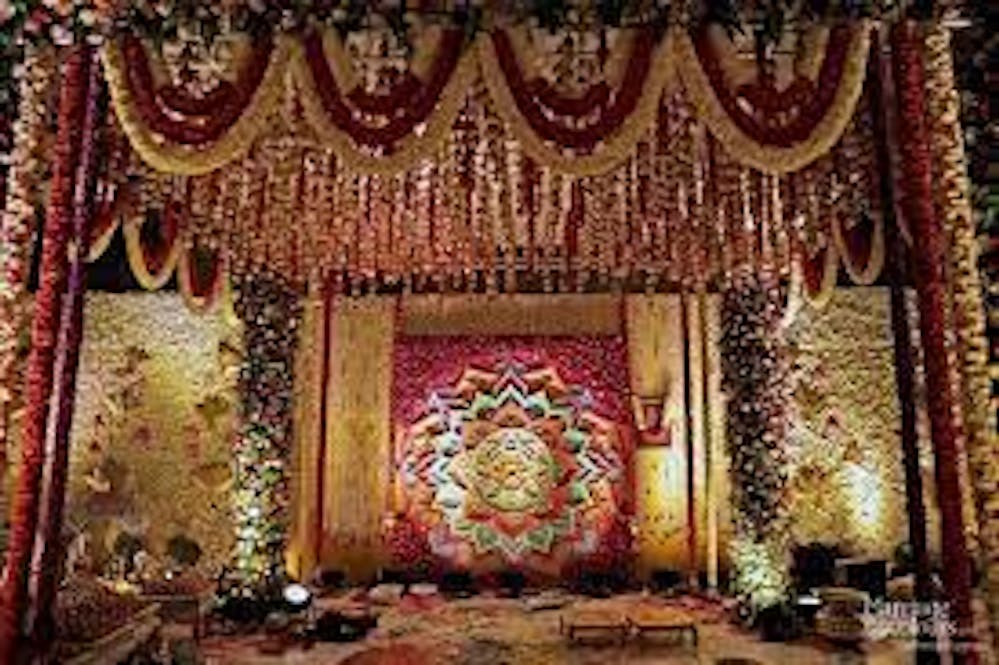 13. Mesmerizing Floral Canopy Engagement Decoration Ideas
Transform your engagement stage into a breathtaking botanical paradise with mesmerizing floral canopy decoration ideas. With a floral canopy as your backdrop, your engagement stage will become an ethereal haven, where love and beauty intertwine in a truly unforgettable celebration.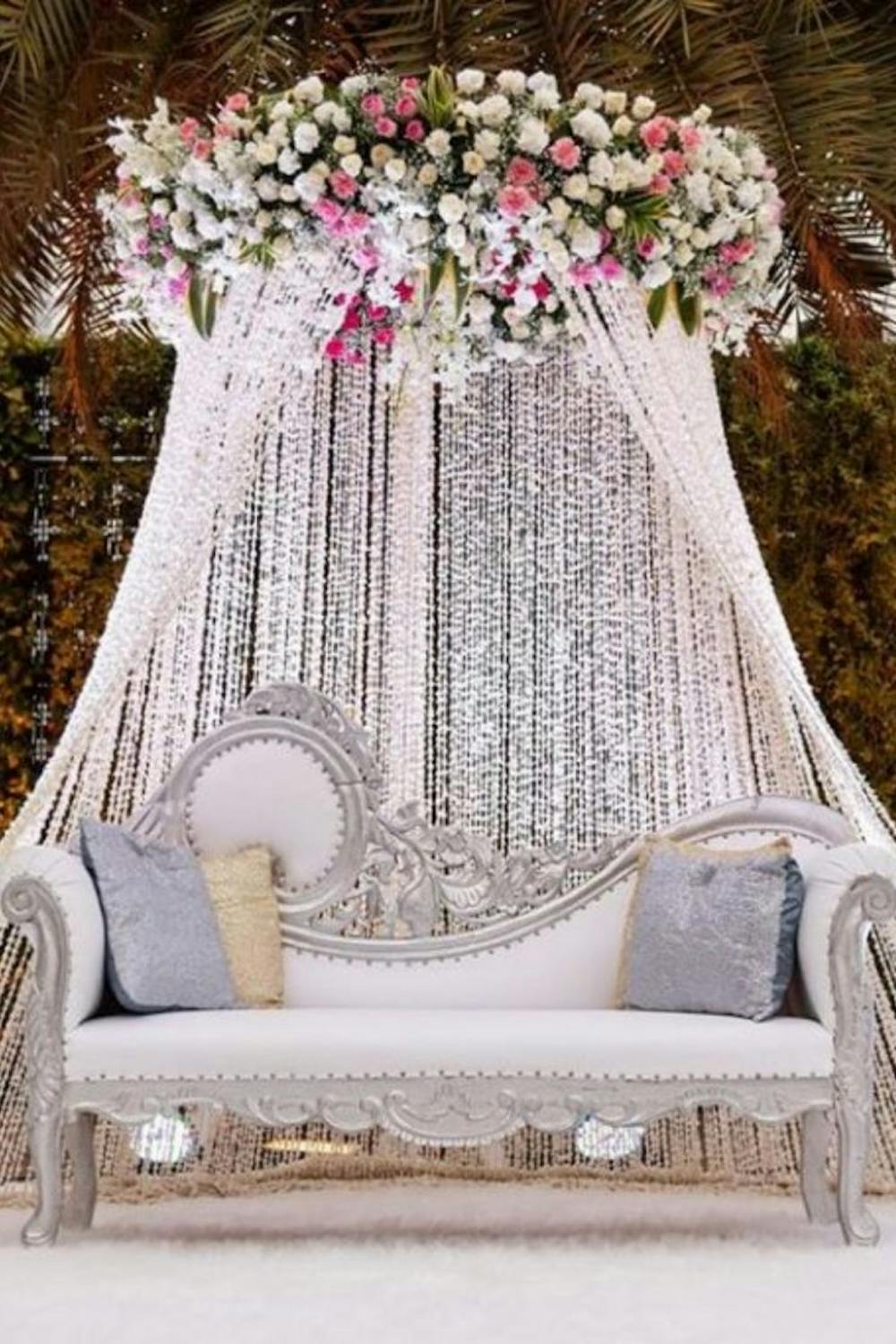 14. Elegant Balloons Engagement Decoration Ideas
Elegant Balloons offers a plethora of enchanting engagement stage decor ideas. It will transform any engagement stage into a magical and memorable setting. With Elegant Balloons' attention to detail and creativity, every element of the engagement stage is meticulous.
16. Traditional Floral Swing Arrangement
The traditional floral swing arrangement is a perfect engagement simple stage decoration idea. For an engagement, the stage is a mesmerizing sight that transports you to a world of beauty and romance. This traditional arrangement is a timeless celebration of love and commitment, capturing the essence of the engagement stage with its grace and allure.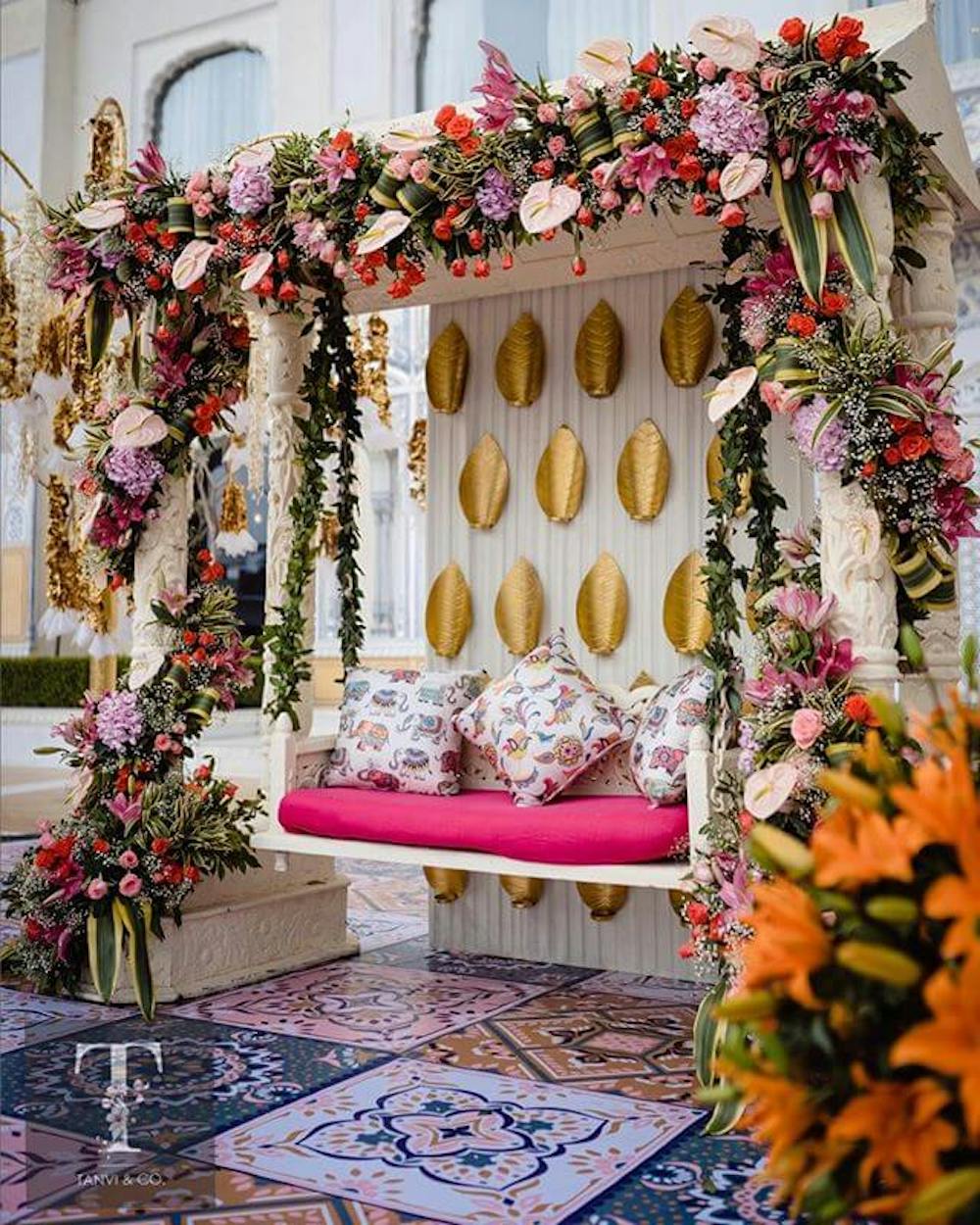 17. Chic Bohemian Décor
Chic Bohemian décor sets the perfect tone for an enchanting and whimsical engagement stage. With its fusion of vibrant colors, natural textures, and free-spirited elements, this style creates an atmosphere brimming with romance and creativity.
18. Blue and White Décor
When it comes to creating an enchanting ambiance for your simple engagement stage decoration at home, there's nothing quite like the allure of blue and white décor. The combination of these two elegant colors sets the perfect tone for a celebration filled with sophistication and serenity.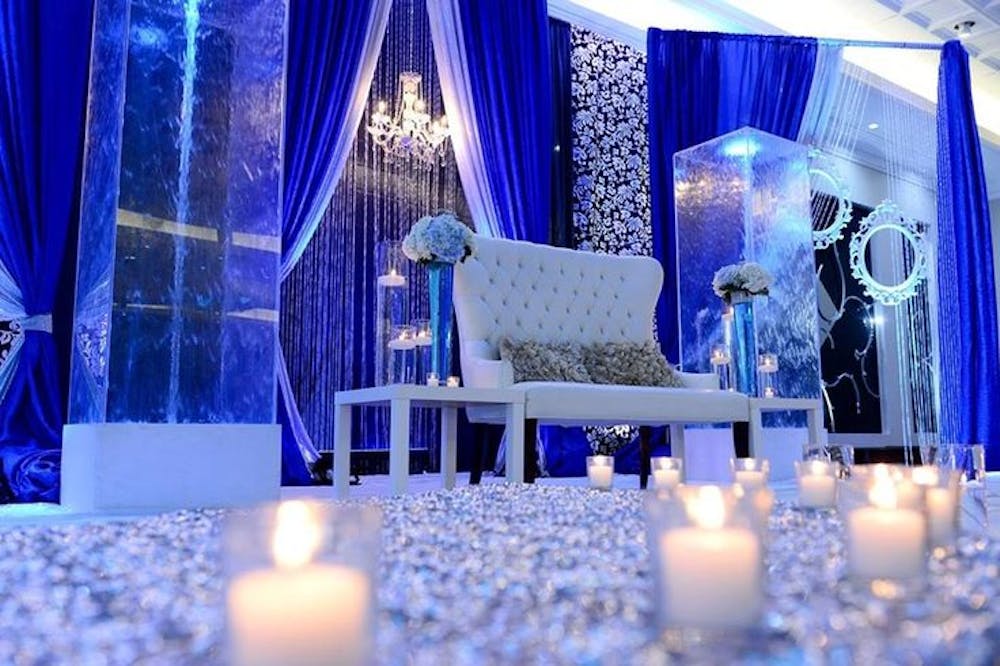 In the enchanting journey of love, the simple stage decoration ideas for engagement hold a special place, where dreams unite and futures are planned. From whimsical fairy tales to modern elegance, these 18 best ideas have ignited the spark of inspiration for couples embarking on their journey forever. So, whether it's a grand extravaganza or an intimate affair, may these ideas serve as a guiding light, inspiring couples to curate an engagement stage that mirrors their love and sets the stage for a lifetime of cherished memories.