Are you planning a grand wedding in Kolkata? Get ready to be amazed as we share the most enchanting and latest wedding entrance decor ideas of 2023! Your journey into marital life begins with an extraordinary wedding.
Your wedding entrance sets the tone for the entire celebration. And this year's wedding decoration trends are nothing less than something truly remarkable!
So why not make it exceptional by incorporating some trendy wedding entry decoration ideas. It will surely leave everyone surprised? The top wedding planner in Kolkata has suggested some of the finest entrance decoration ideas. You can explore these trends and see how they can add a magical vibe to your special event. Let's dive in!
List Of The Best Wedding Entrance Decor Ideas 
1. Add Classy Vibe With Sparkling Chandelier
This is the favorite element of a Bengali wedding planner in Kolkata to plan a classy wedding. You can create an enchanting ambiance by hanging elegant chandeliers at the entry walkway. These classic pieces add a rustic charm to the venue with their gentle radiance.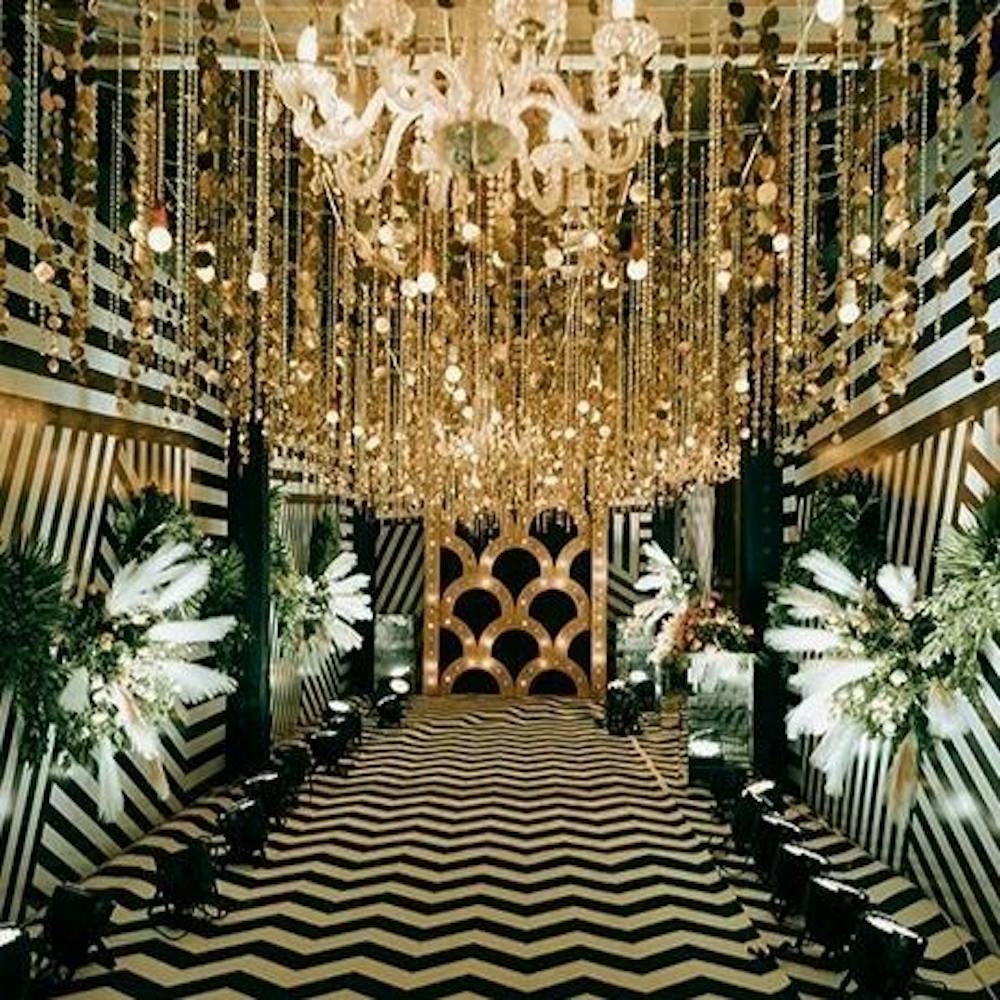 Plan A Delicious Wedding Menu With This Guide : Best Bengali Wedding Menu Ideas with Prices For 2023
2. Turn The Entrance Into A Floral Saga
With a floral decor entry way designed in a splendid arch, you may completely lose yourself in the beauty of nature. These wedding entrance ideas make your wedding entrance lively and beautiful.
A floral entrance creates an ethereal atmosphere that pleases everyone during the entrance to the venue.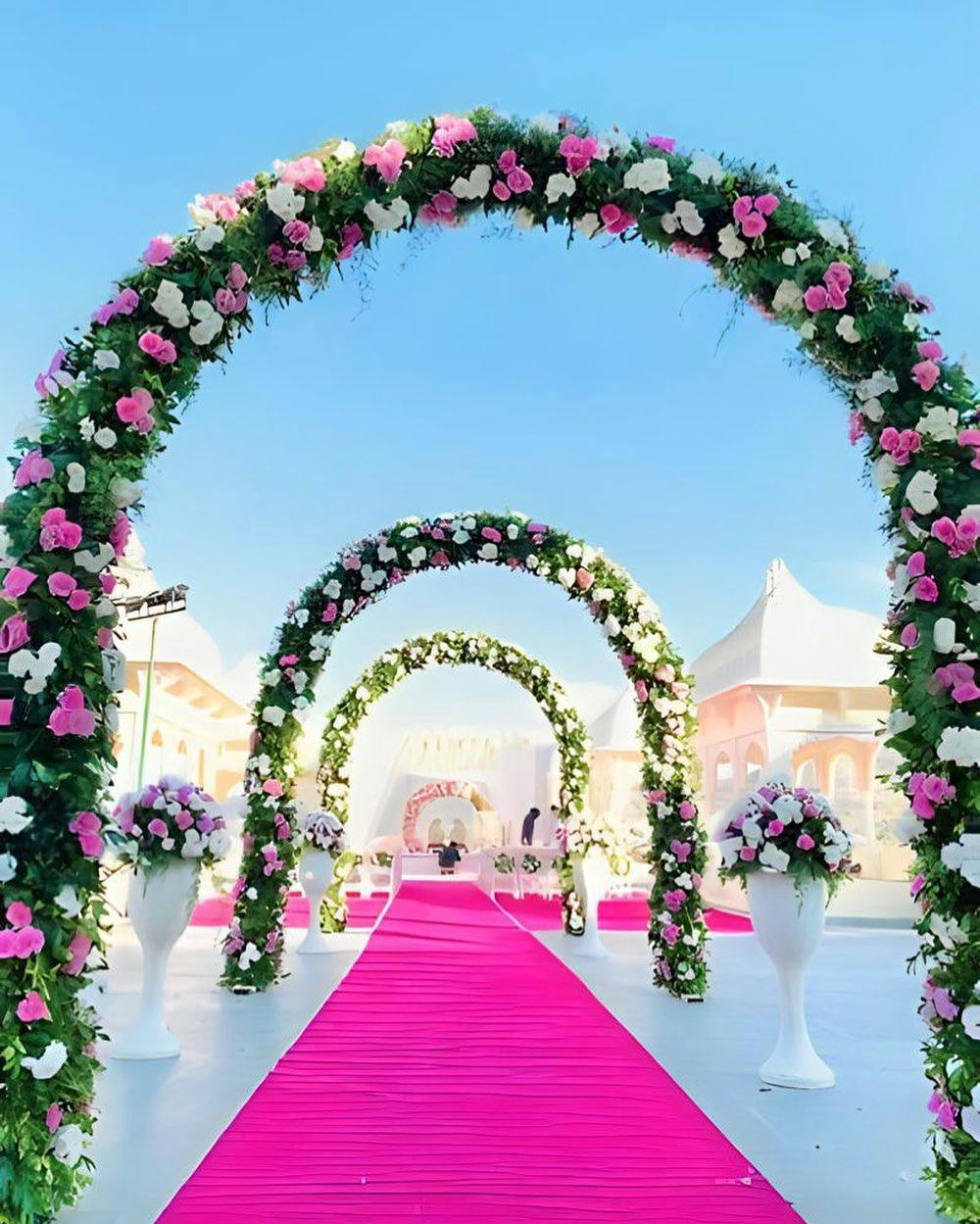 Looking For Some Creative Wedding Invitation Ideas? Check This : Best Bengali Wedding Card Design Ideas [2023]
3. Choose Paper Lanterns For A Memorable Entry
If you're planning a romantic wedding theme, you must take inspiration from this delicate red paper lantern. It makes a whimsical wedding entry for your guests.
You can hire a budget wedding planner in Kolkata to incorporate such unique DIY wedding entrance door decorations.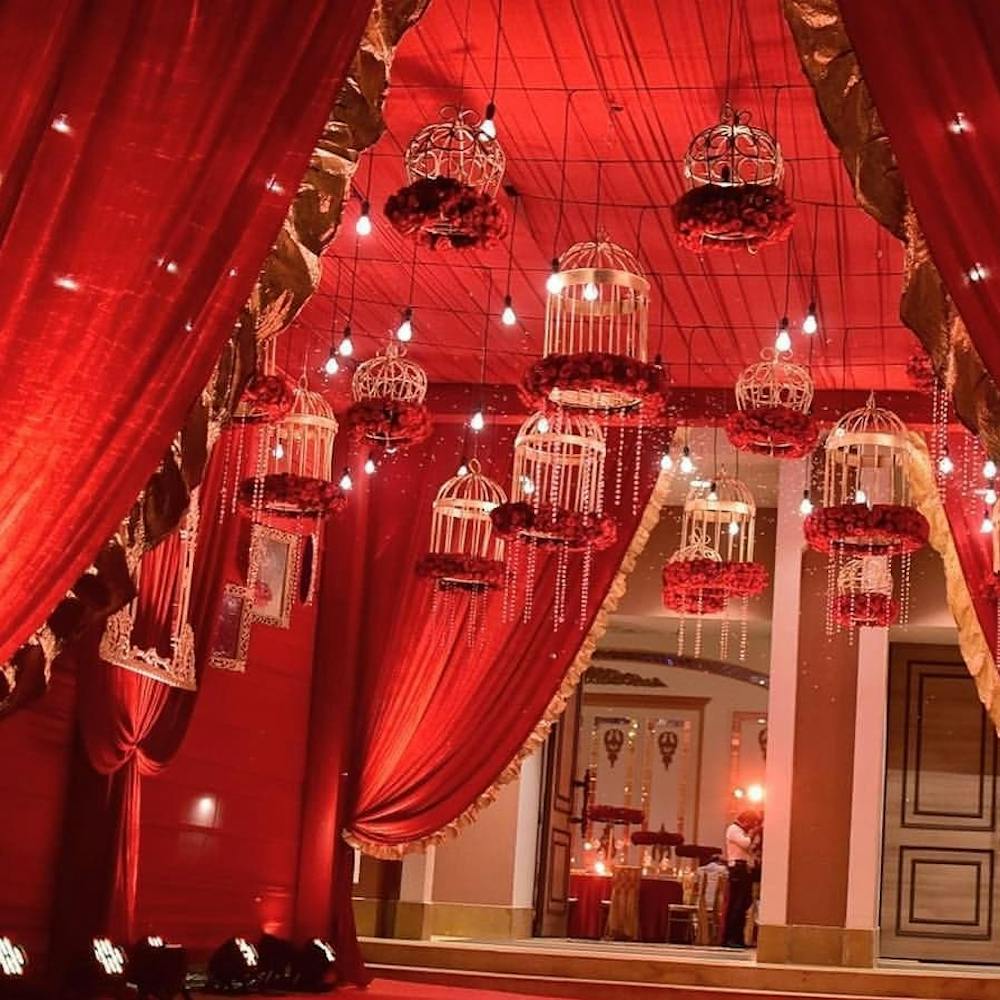 Get Inspired With These Exceptional Wedding Mandap Design : Top Bengali wedding mandap decoration ideas in 2023
4. Let The Atmosphere Be Fragrant With Jasmine Floral Curtain
Imagine walking through a fragrant pathway adorned with cascading jasmine curtains. Each step on this elegant wedding entrance will make your guests go wow.
Such beautiful simple wedding entrance decoration is perfect for a reception entrance.
5. Incorporate Vibrant Floral Entry Path
Infuse vibrant floral arrangements into every corner of your ceremony space. Use fresh flowers artistically along both sides of the entrance.
This beautiful walkway decoration is a good option for your Haldi ceremony. You can also use a flower vase in between the decor to add a sophisticated touch to your wedding.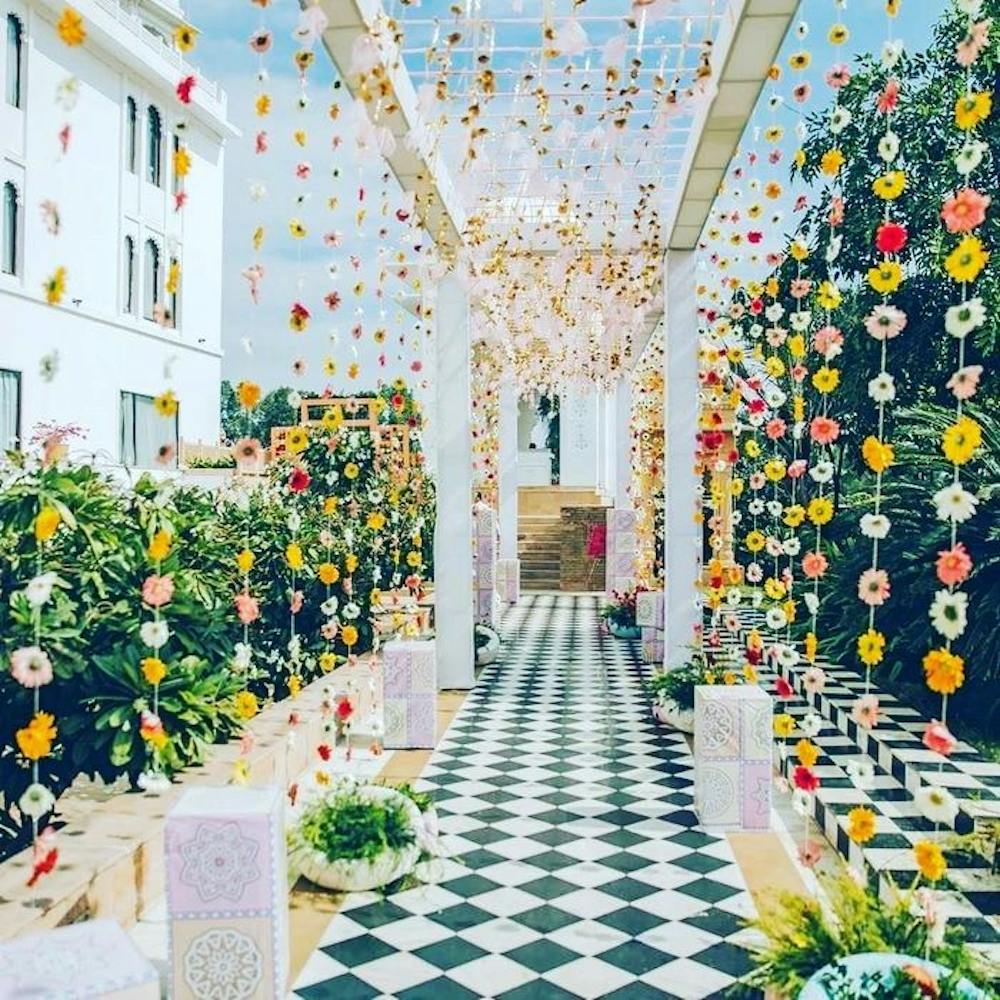 6. Opt For A Bohemian Style For Unique Entrance
If you are a free-spirited couple who want to reflect their personality through all aspects of your wedding decor, go for this.
A Bohemian-style wedding walkway just wows your guests. It adds more charm to the wedding entrance gate.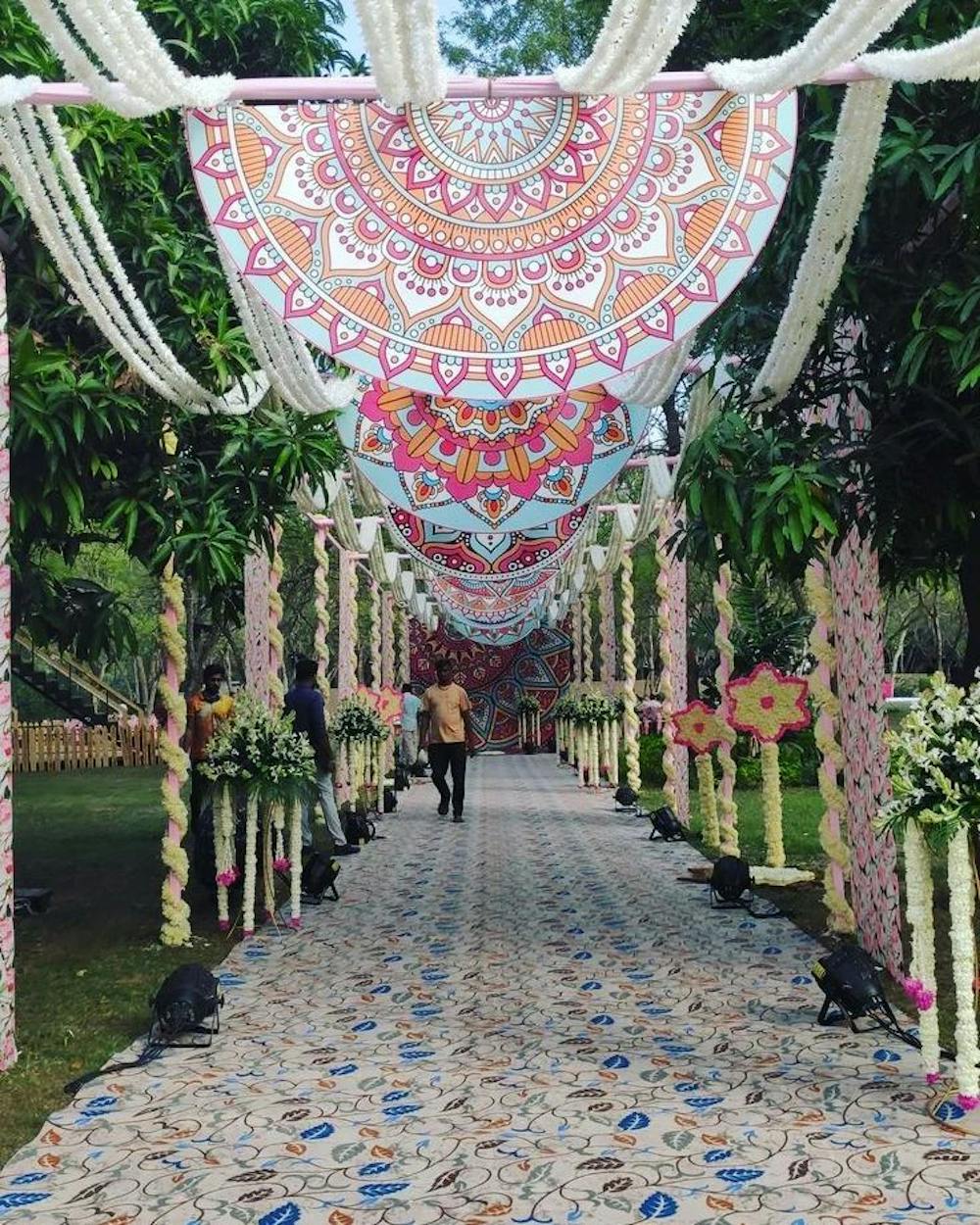 7. Add A Magical Vibe With Fairy Light
If you believe "First impression is the last impression" you must try out this wedding entrance decoration night.
The twinkling fairy lights decorated in the wedding pathway can turn your simple event into a glam wedding. It can add a dreamy touch to your entrance area as well as the wedding theme.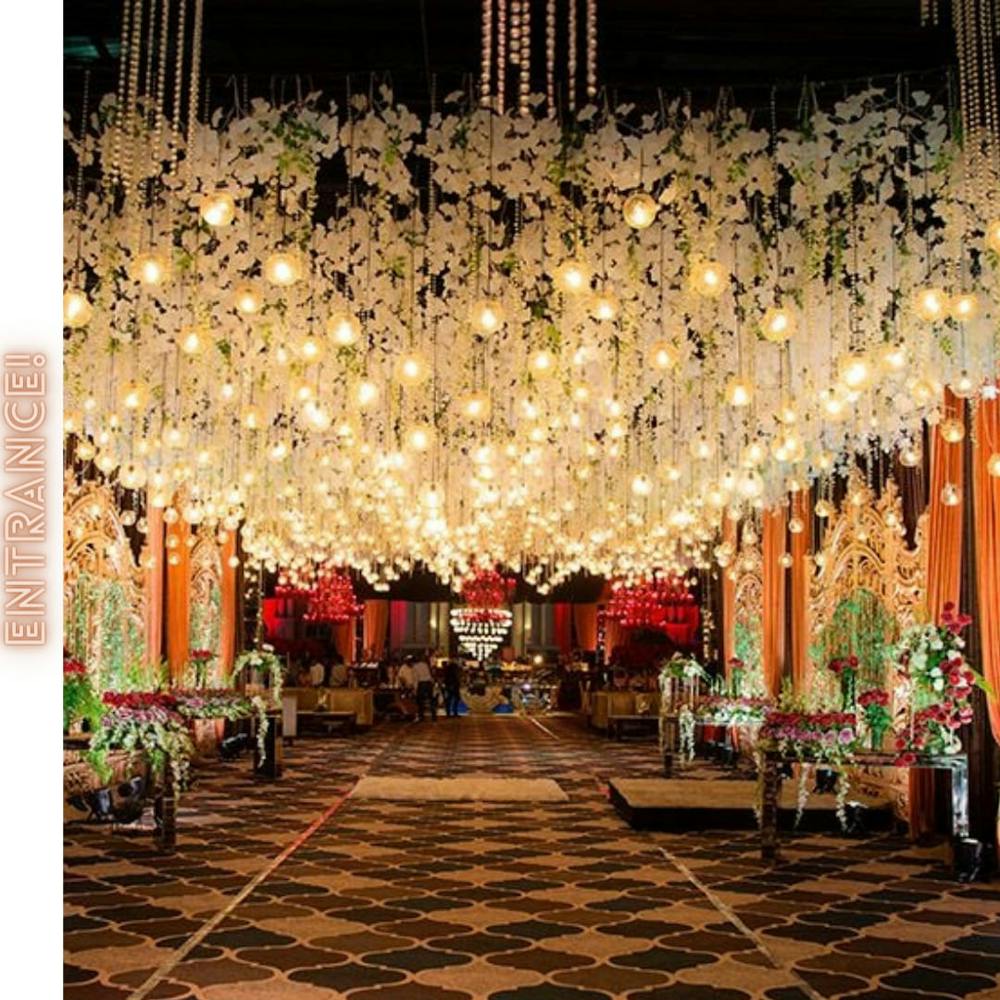 8. Keep It Simple With Tassel Entry
This wedding entrance decoration idea has been often seen in modern Indian weddings. These are the perfect Haldi ceremony decoration ideas to get you started with the wedding festivity.
These colorful elements are also perfect for joyful bridal entry at the mehendi event. Such unique ideas can turn your wedding event into a festive celebration. It can make your guests feel like they stepping inside a wonderland.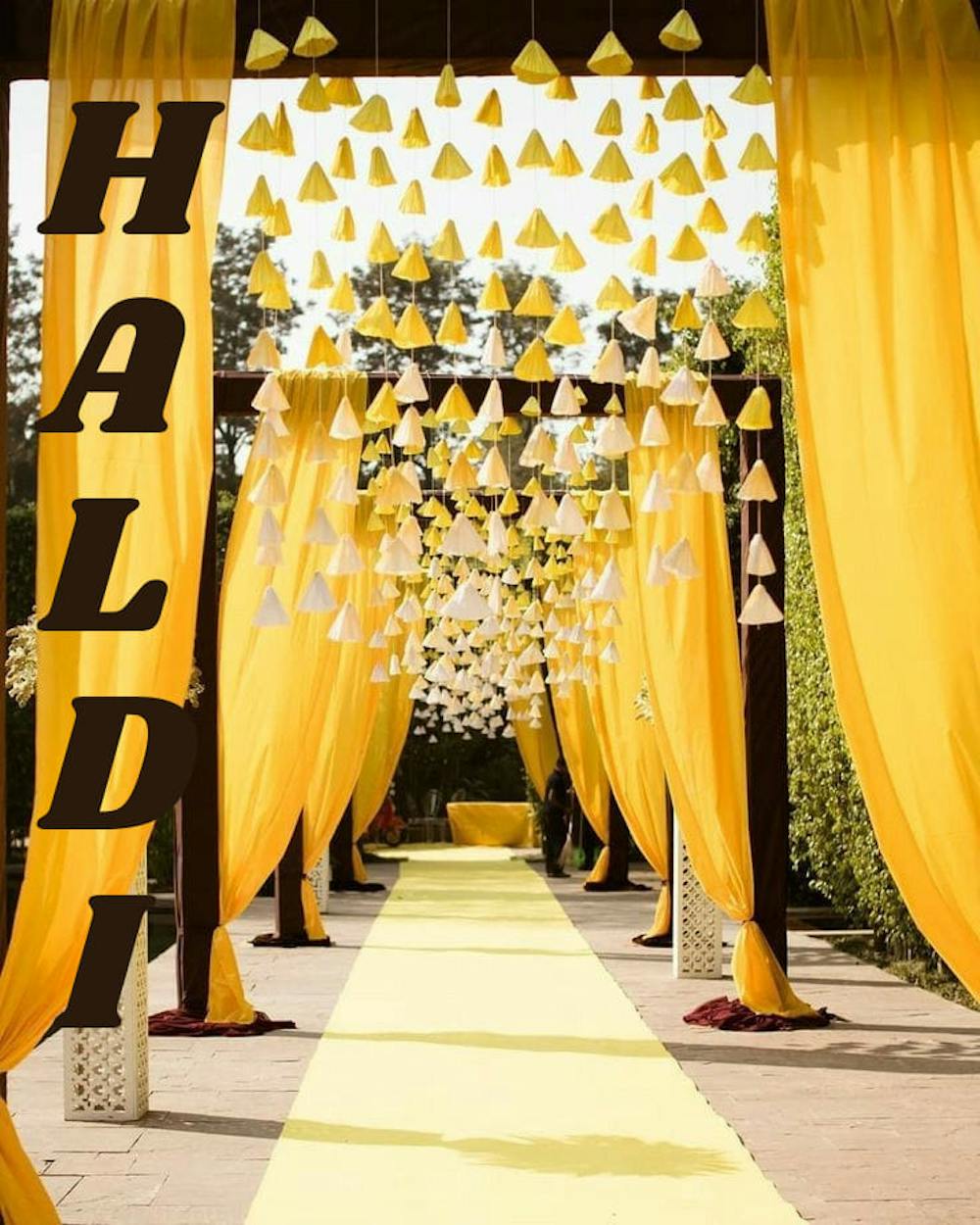 9. Go Creative With Colorful DIY Entrance
Personalize your wedding entrance look by incorporating colorful DIY elements. Use creative decors like handmade paper flowers or vibrant hanging lanterns.
These are some of the most gorgeous wedding entrance decor ideas that set the tone for an extraordinary celebration.
You can even incorporate cherry blossom trees for night events like Sangeet or wedding reception.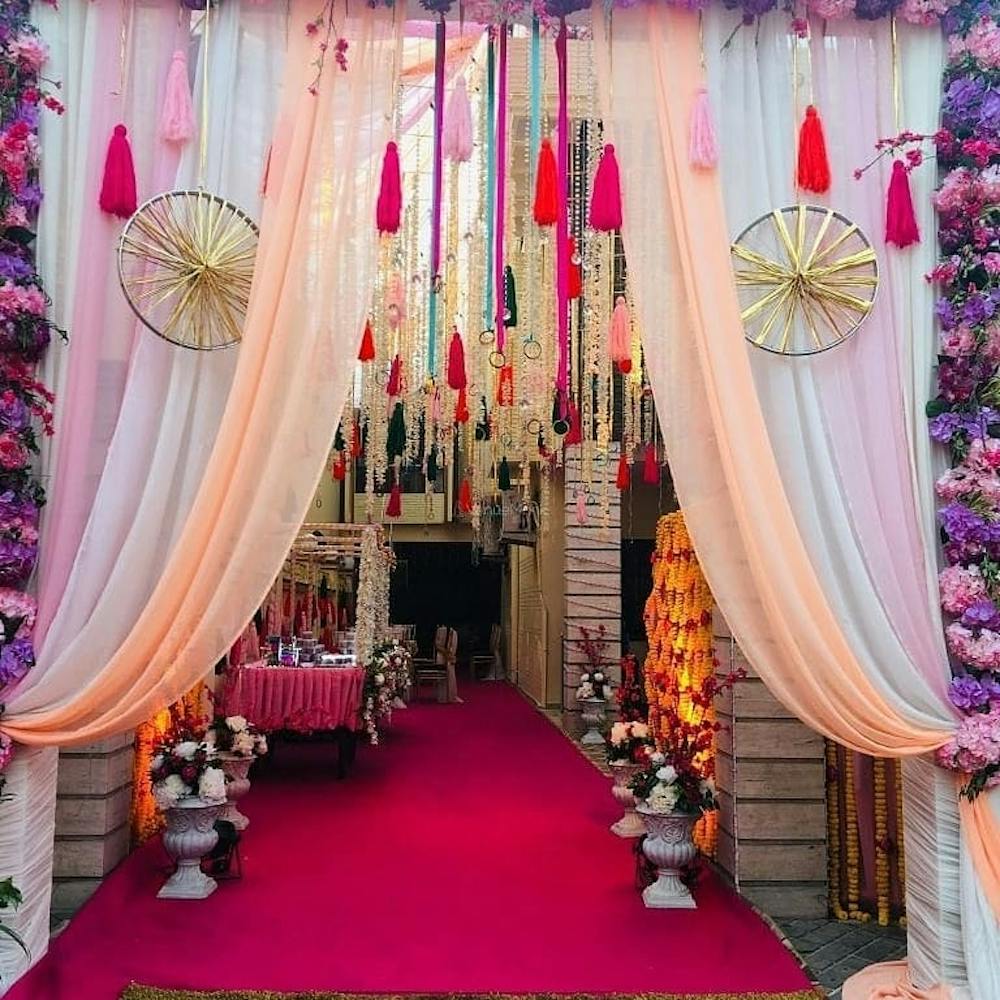 10. Plan A Romantic Curtain Entrance For Wedding Reception
A romantic curtain create a dreamy atmosphere as you step into the beautiful wedding reception area. The flowing curtains adorned with fairy lights and delicate drapes looks magical.
The soft glow combined with elegant fabric in pastel hues creates an enchanting ambiance perfect for a romantic night.
This is one of the most trending and inspirational wedding ideas to surprise your guests with a magical factor.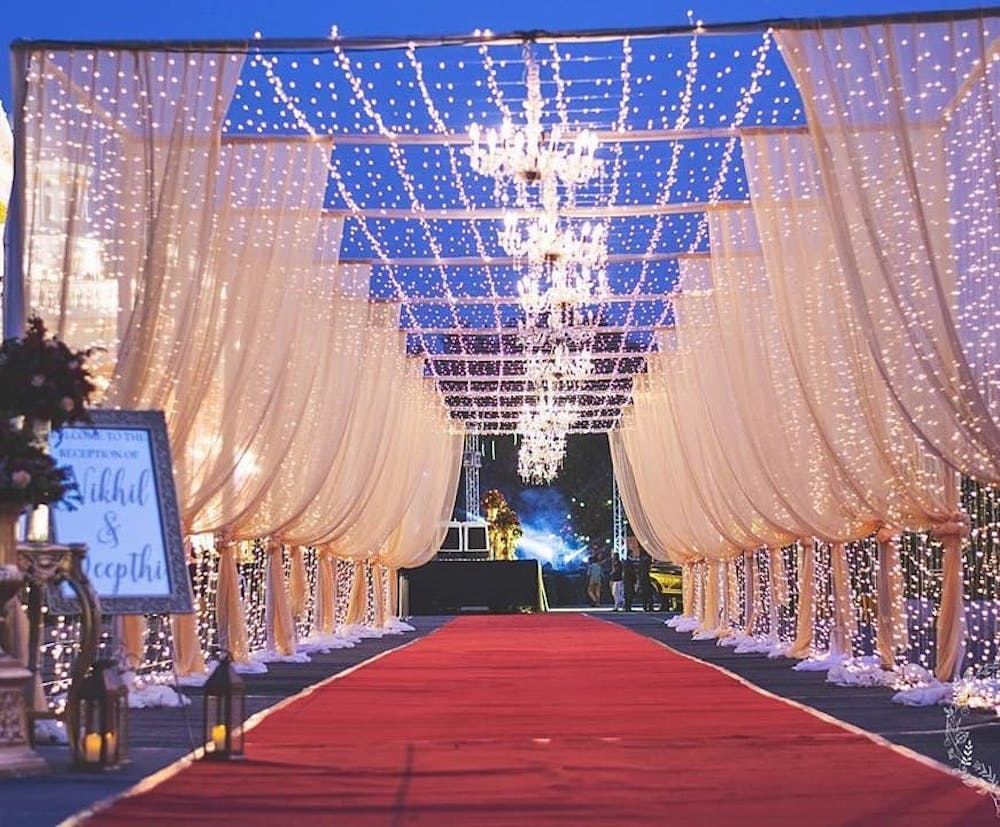 11.  Pastel Shades Never Disappoints
Pastel colors are the best thing when it comes to decorate a wedding venue, including entrances. This is a perfect Indian wedding entrance decoration for couples who love understated elegance!
Such a beautiful entrance can make everything splendid, especially when it comes to celebrating a grand event like a wedding. The simplicity of this marriage hall entrance design looks even more enchanting with the touch of fairy lights.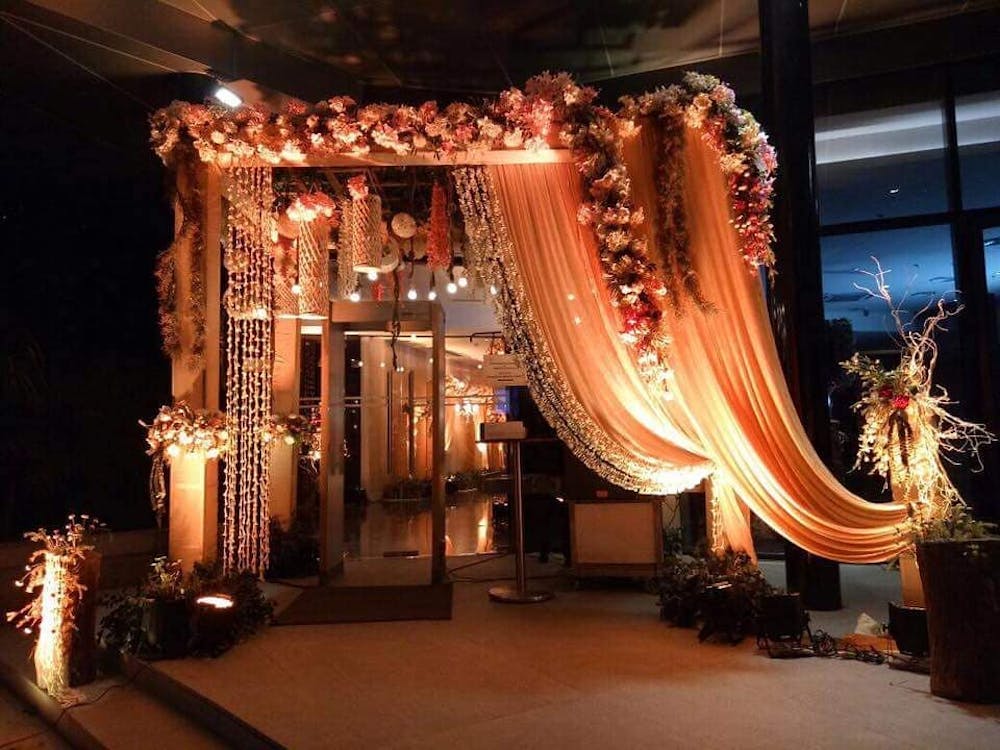 12. A Pink And White Floral Ceiling For Something Exceptional
Create an entrance ceiling that truly stands out to increase the wow factor in your reception space. If you want your wedding to be the talk of the town, then make use of this flower entrance decoration.
A cascading floral arrangement in beautiful shades of pink and white can make your big day truly unforgettable. This is one of the best decor ideas for your reception entrance.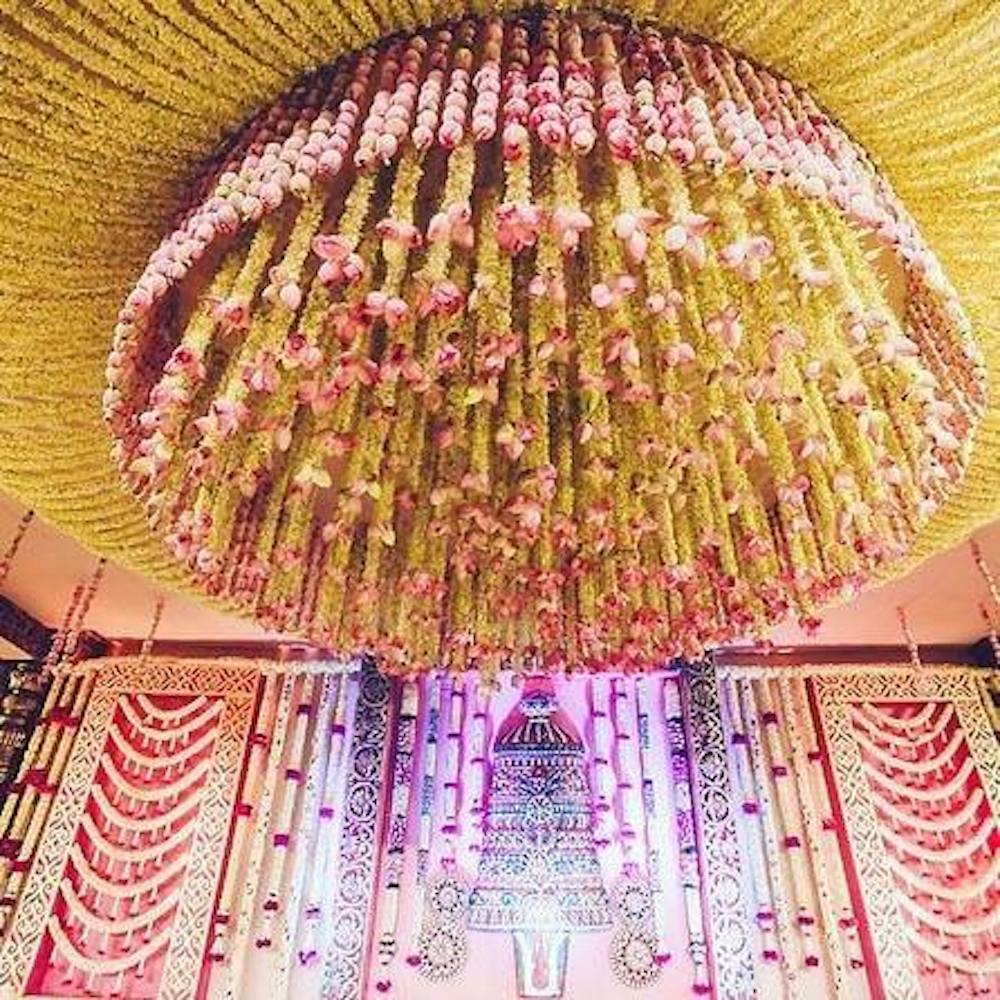 13. Plan A Royal Entry In Indian Style
If regal vibes are what you're looking for; then why not plan an Indian-style royal entry? Give your guests VIP treatment by making them feel like a royal guest.
Decorate your wedding entrance using traditional Indian elements. This wedding entrance will impress your guests with its grandiosity. However, choose decor elements keeping in mind the rest of the wedding theme.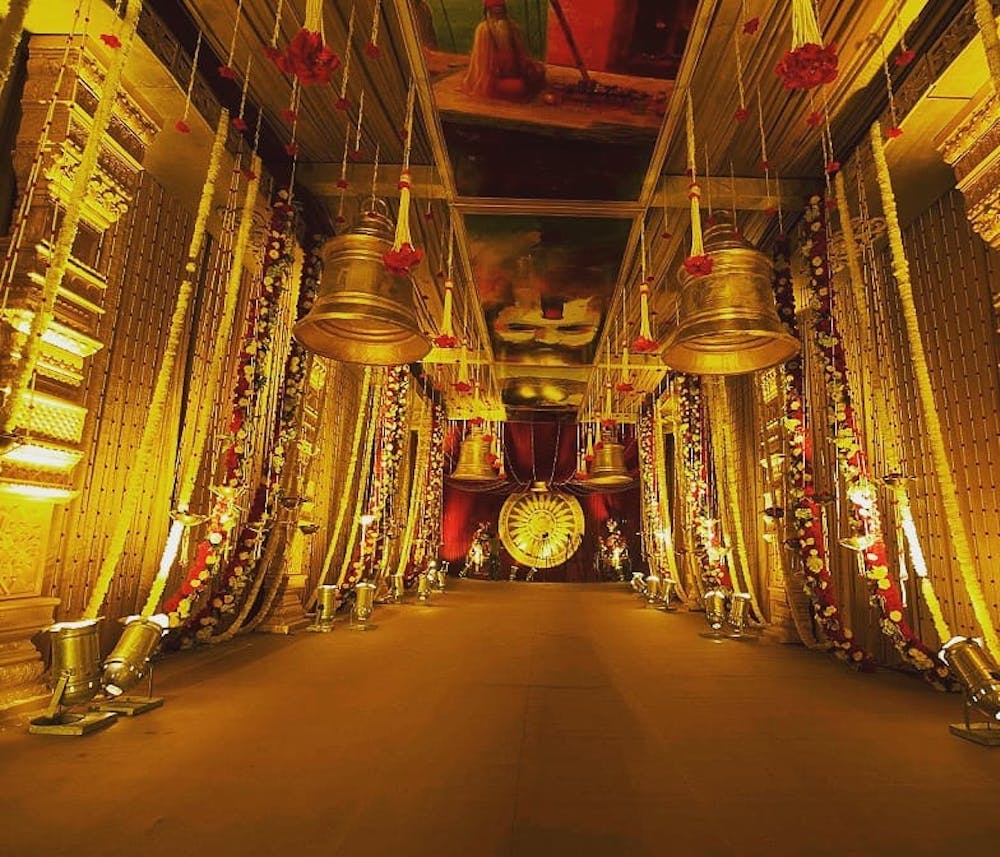 Ready To Plan A Grand Wedding Entrance?
Your wedding day requires the best wedding planning to make it memorable. Make every detail of your wedding decoration reflect who you are as individuals coming together in love and celebration!
These wedding decoration ideas make your event memorable. You must always consult a professional planner who ensures that everything runs smoothly. It lets you enjoy every moment to the fullest without any stress.
After all, isn't that what you want your special day to be remembered for? So, take the leap today by hiring a professional wedding planner like us today and let them weave magic behind the scenes to make the event a huge success.