The Flavorful Elixir Of Bengali Wedding Card Ideas
Bengali weddings are the epitome of traditionalism and cultural exuberance. Hundred of people, friends, relatives, and close ones are invited to take part in this cultural function. Where two people vow to be with each other for a lifetime.
Do you know what makes it more beautiful? The invitation that you will be sending all over to people to come and join you in this merry-making ceremony. That is why, as the best wedding planner in Kolkata and wedding decorators Kolkata. We will tell you to spread the sweet message of getting hitched with unique Bengali wedding card ideas.
Bengalis are known to be the powerhouse of creativity. So how can your marriage invitation Bengali wedding card design lack behind? The selection of your creative Bengali wedding card design should be done. As it sets the tone of your occasion and reveals your personality to your guests.
As the most popular Bengali wedding planner in Kolkata, we have weaved a list of Bengali invitation card that announces the ceremony for you.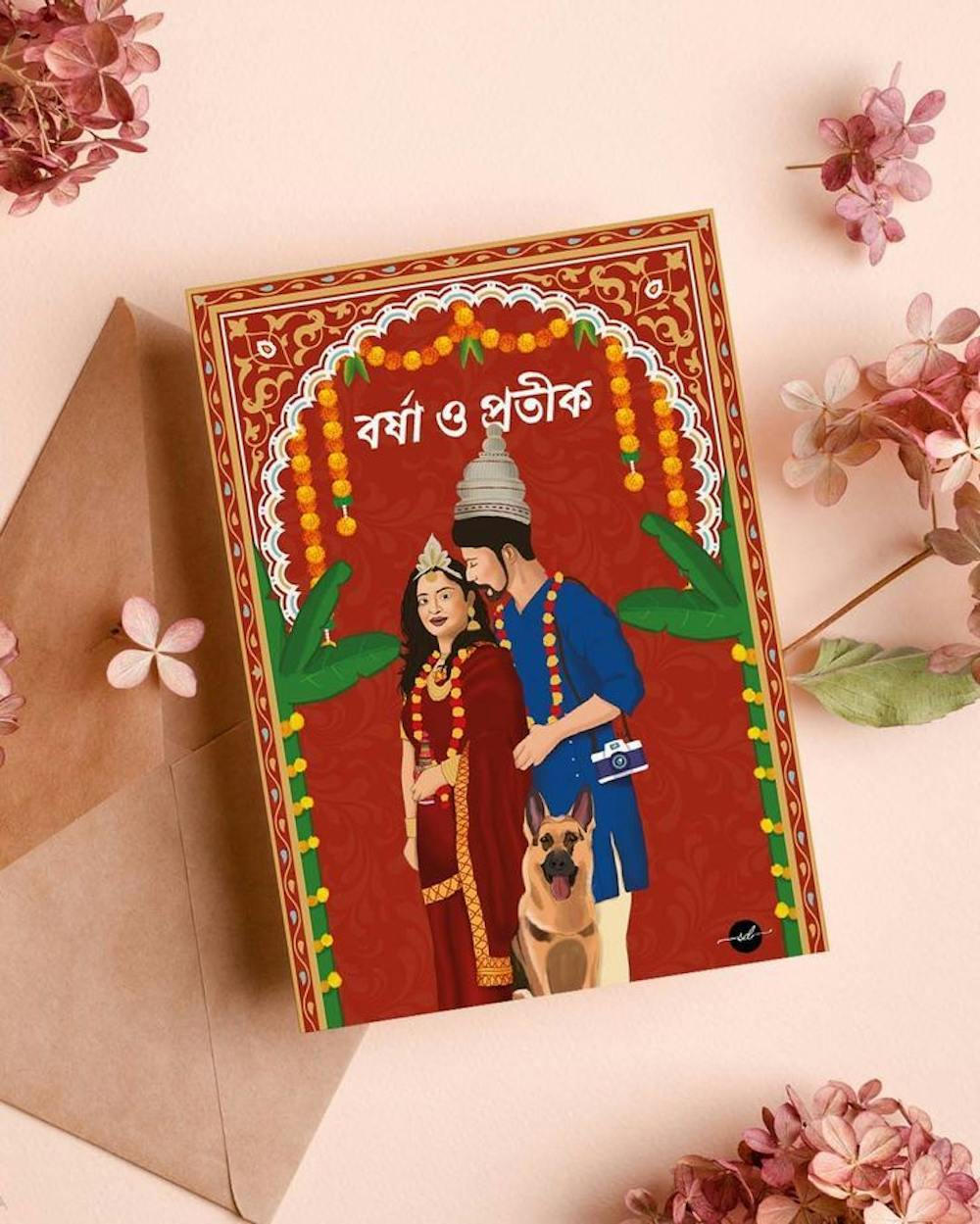 Image Source: Pinterest
Recommended: 15 Best Bengali Wedding Stage Decoration Ideas That Are Instagram-Worthy
1) Simple And Traditional Bengali Shaadi Card
If you are fond of simplicity and want to keep your Bengali traditions close to your heart. Then, this simple card with a photo of lord Ganesh on the top is the perfect choice for you to make in your Bengali wedding card ideas.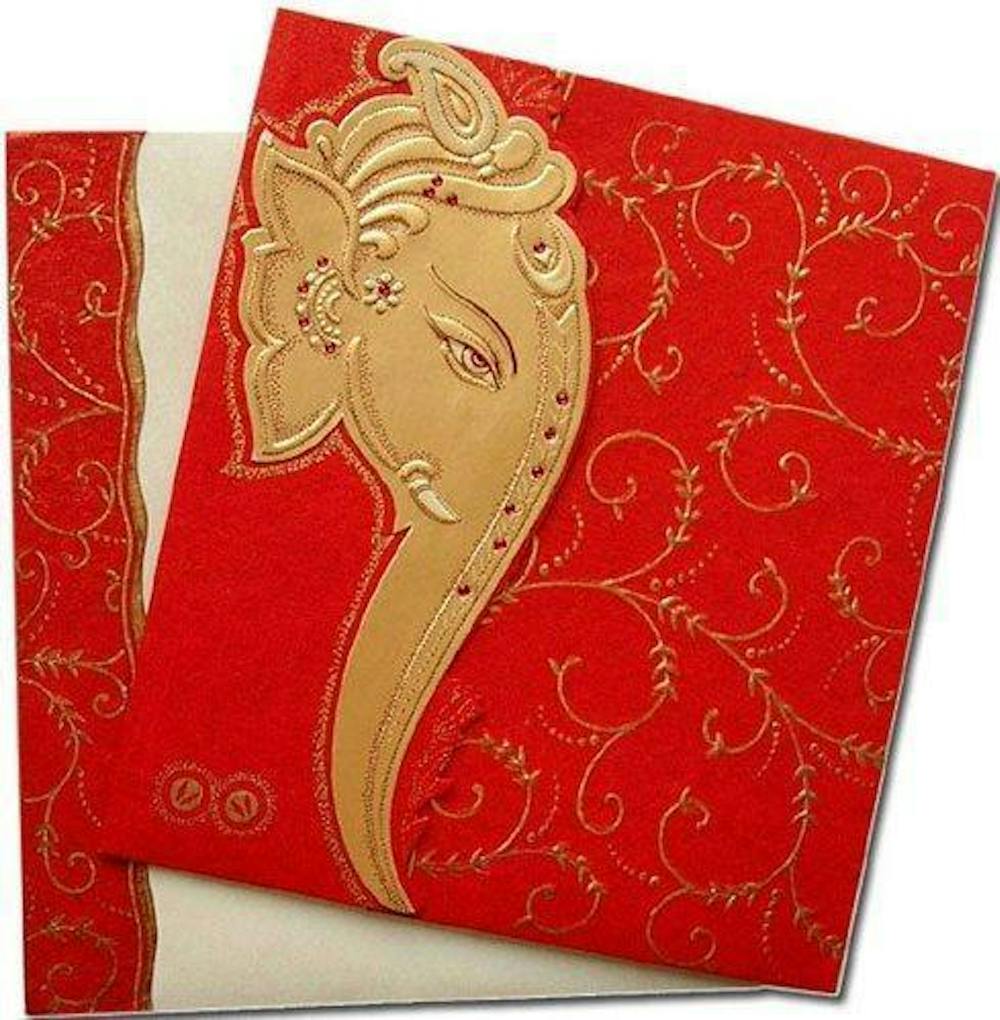 Image Source: IndiaMART
2) Aesthetic Bengali Wedding Card Design With Designed Enclosure
Are you looking for aesthetic detailing on your Bengali wedding card ideas? Look how alluring this minimalist detailing on the Bengali wedding card template is stealing all the attention.
You too can make something similar with a section. You can choose golden foil with a design for your Bengali wedding invitation card. You can also experiment with the envelope of the card by adding melted wax to conceal the envelope. This will add more glamor to your subtle invitation.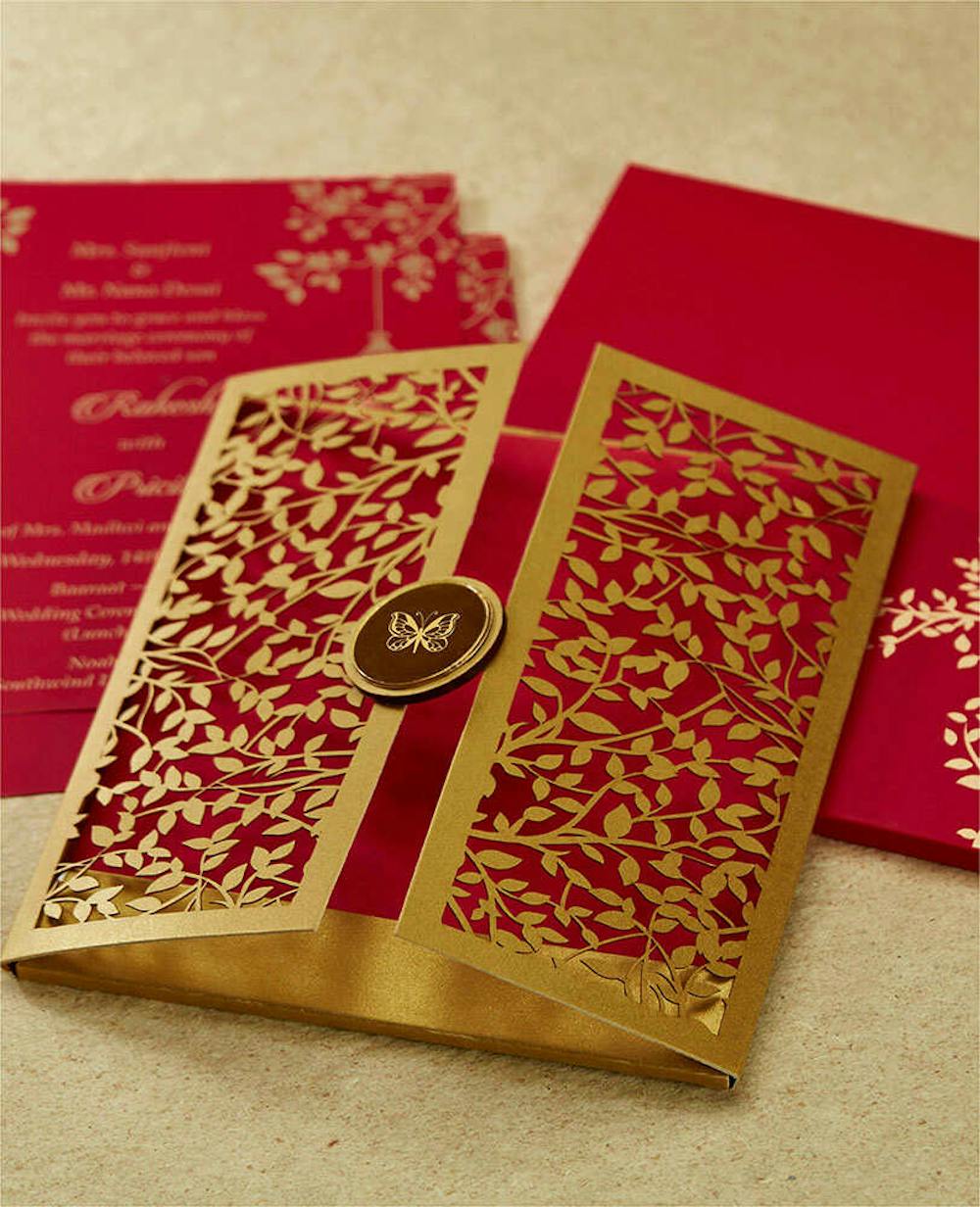 Image Credit: Parekh Cards
3) Customized Unique Bengali Card Design
If you want to provide thoughtful insight. Into yourself and your partner on your wedding Bengali card. Then this card is your solution.
Imagine how beautiful it would look. When you hand over a customized wedding card to your guests. Your guests are going to praise this unique idea of a Bengali wedding card invitation.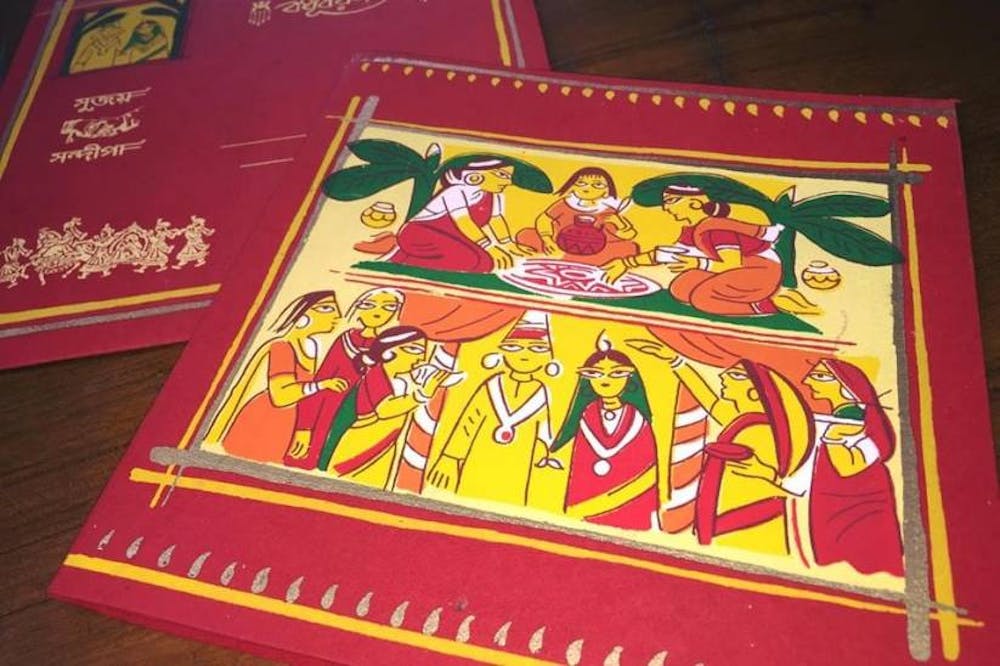 Image Credit: WeddingWire.in
Read Also: 18+ Trending Cake Design Ideas For Engagement In The Coming Year
4) Tempting Wedding Card For Bengali Marriage With A Touch Of Glittery Artistic
Are you someone who loves charming extravaganza of gold and glittery embossing on Bengali Hindu wedding cards?
Trust us, this one is much more popular nowadays in the Bengali wedding card format. The Bengali wedding invitation card template has to be the one that sets the mood of the function and leaves the guests with speculation about the Big fat Bengali wedding. Create a charming and magical vibe with Mughal royal Bengali wedding cards Kolkata like the one in the picture.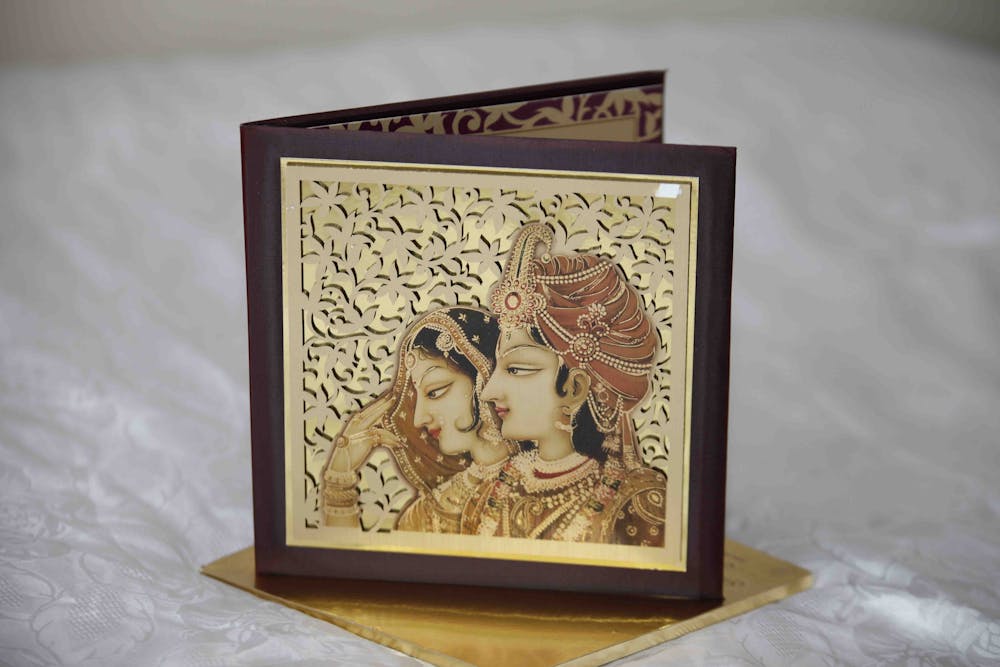 Photo Source: Nila Cards
5) Royal Invitation Card Bengali With Golden Patterned Outline
Bengali weddings call for some grand arrangements then how can you forget about your invasion biyer card? Well, a Bengali invitation card for wedding is one of the most important aspects of Bengali weddings that can remind your guests about the royal wedding even for the longest period. Look how beautiful this royal scroll-type card is.
You can ask your Bengali wedding card maker to make your wedding card as royal as possible.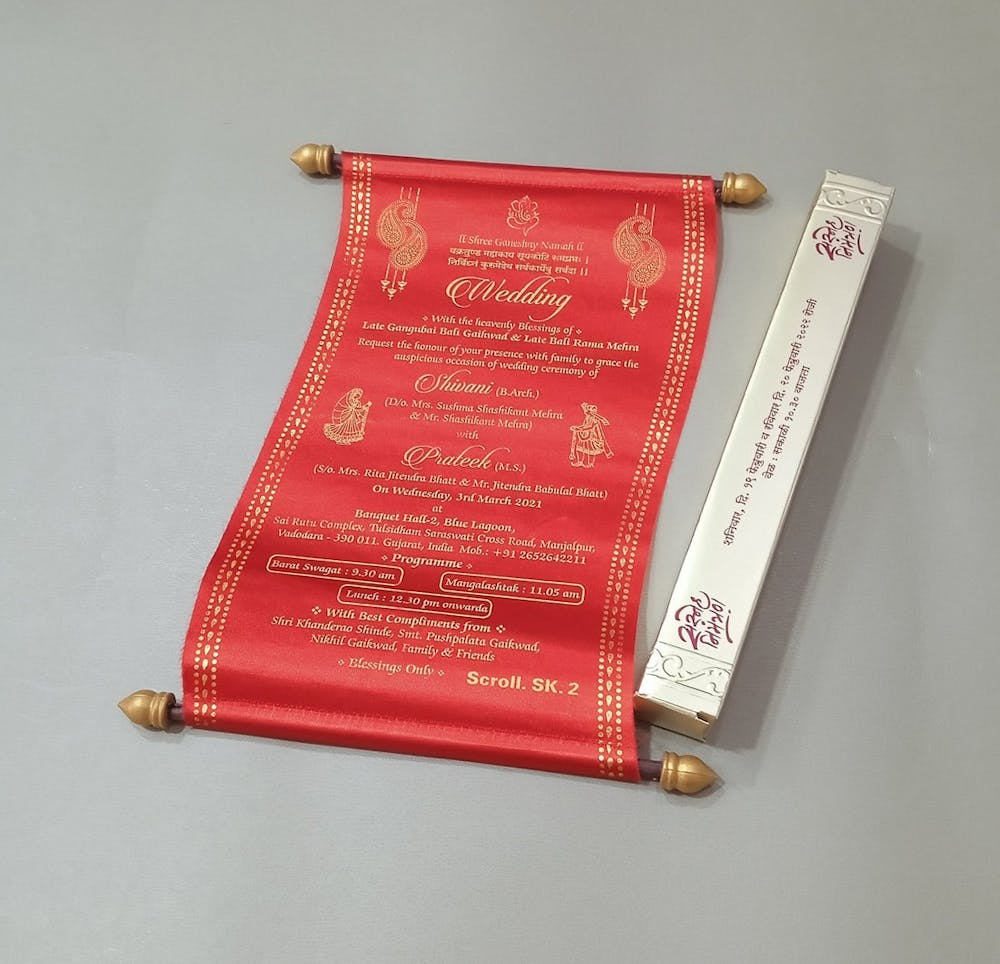 Image Credit: IndiaMART
6) Butterfly Design Bengali Wedding Card Ideas
Butterflies are considered to be the messenger of good luck among Bengalis. So, a butterfly-themed invitation card for marriage in Bengali will spread the news of happiness among your guests.
Apart from that, this unique red-colored invitation card has the flavor of magnificent aristocracy with a tiny butterfly attached at the top of it.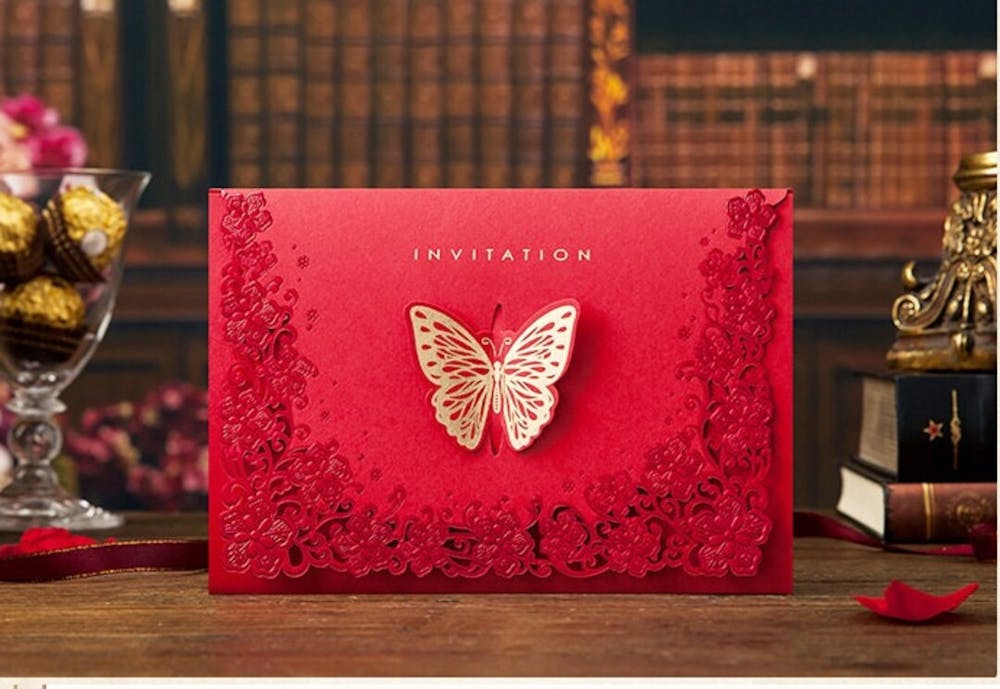 Photo Credit: Etsy
7) Handmade Bengali Wedding Cards Design
If you want to experiment with authentic Bengali wedding traditions of handmade or handprinted wedding cards then this is the perfect one for you. During digitalization, handmade artists are somewhere lost in today's generation.
Bring back the value of handmade wedding cards with these unique wedding invitation design ideas.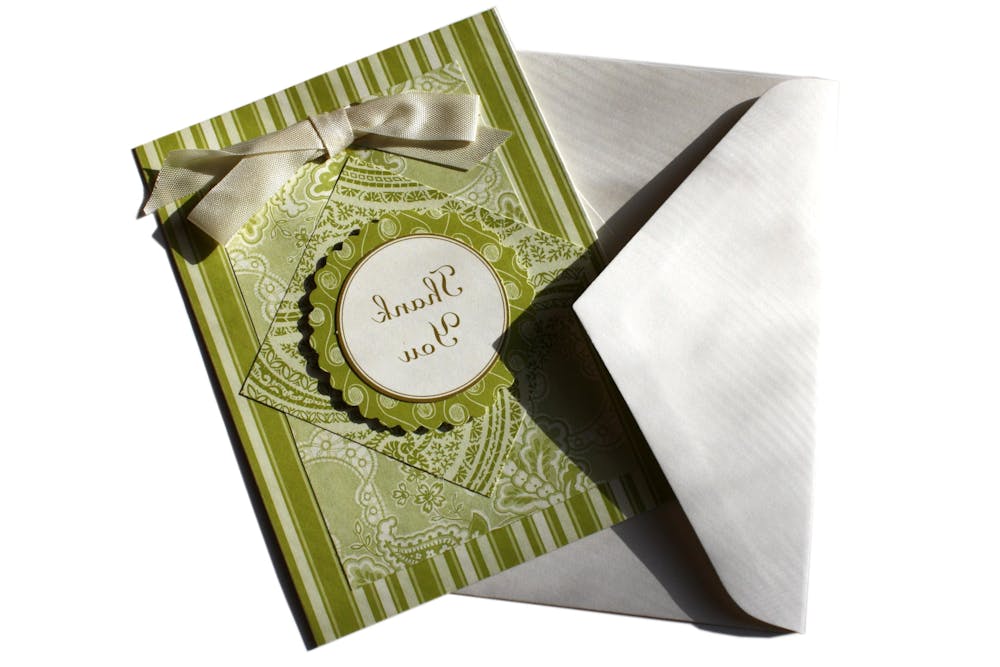 8) Floral Imprinted Bengali Wedding Invitation Card Design
As we all know, Hindu auspicious ceremonies are not complete without the use of flowers. Then why not bring these flowers to life by imprinting a floral biyer card design in Bengali?
We can assure you, this particular card design is never going out of style.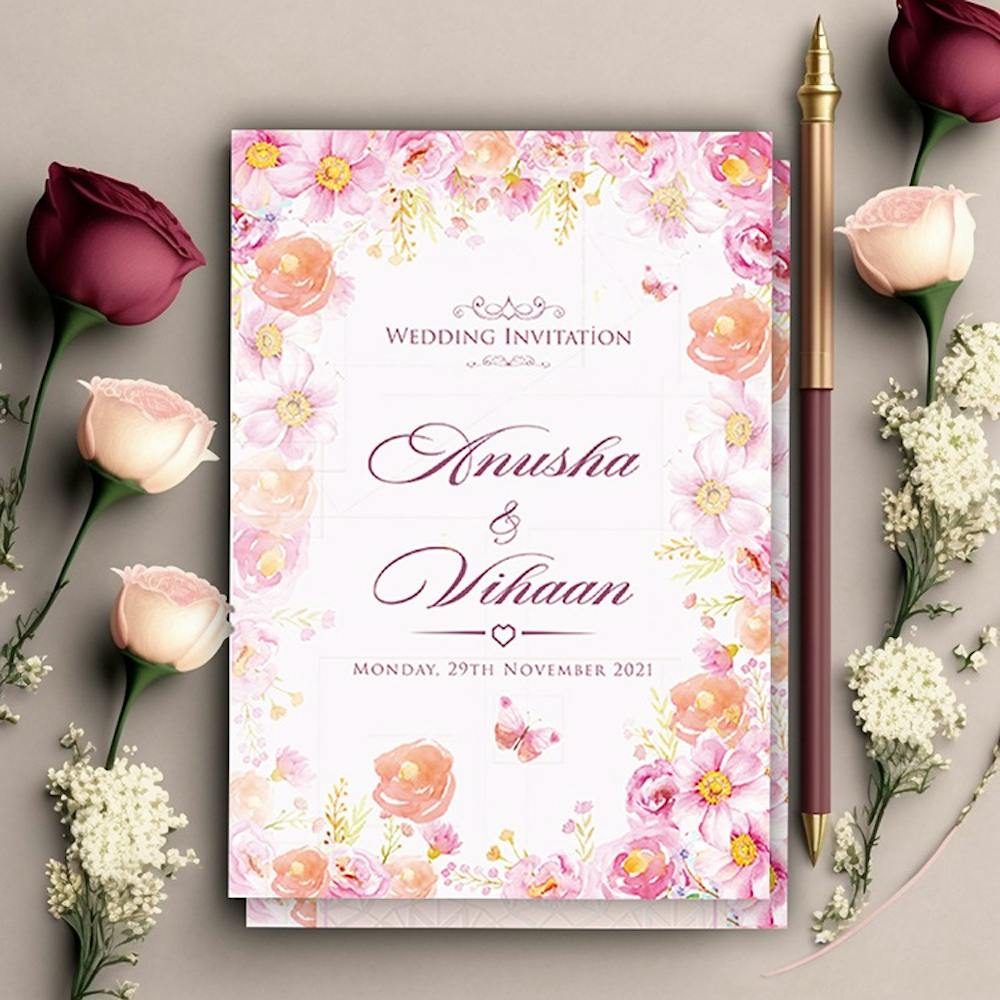 Photo Credit: Diamond Wedding Cards
9) Bengali Wedding Card Box Hamper Designs
If you are a fan of Bollywood, then you already know what a card box hamper invitation looks like. We can't lie but we all have our eyes on what is there in a hamper invitation box. Right?
Make your wedding a special affair by providing your guests with exclusive wedding card hamper box invitations with pretty small gits like sample perfumes or homemade chocolates.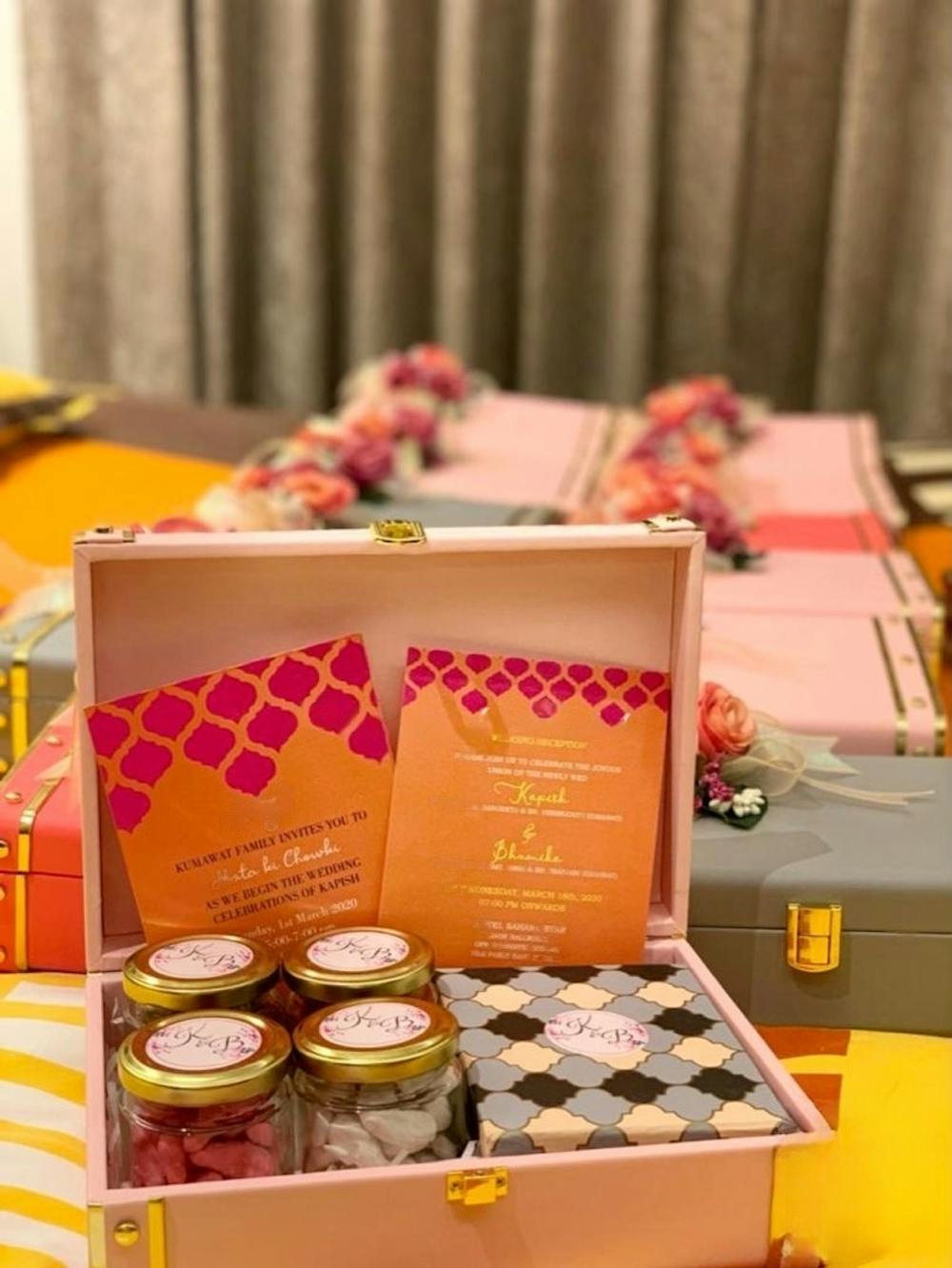 Image Source: Pinterest
10) Illustrated Bengali Marriage Card
Illustrated Bengali wedding card ideas are very popular not because they have your animated version of the picture imprinted on it but because it is too cute to ignore.
If you are having a love marriage then this is the best idea to let your guests know about it through the social invitation to the marriage. Print a lovely animated photo wedding card of yourself with your partner to make the occasion memorable.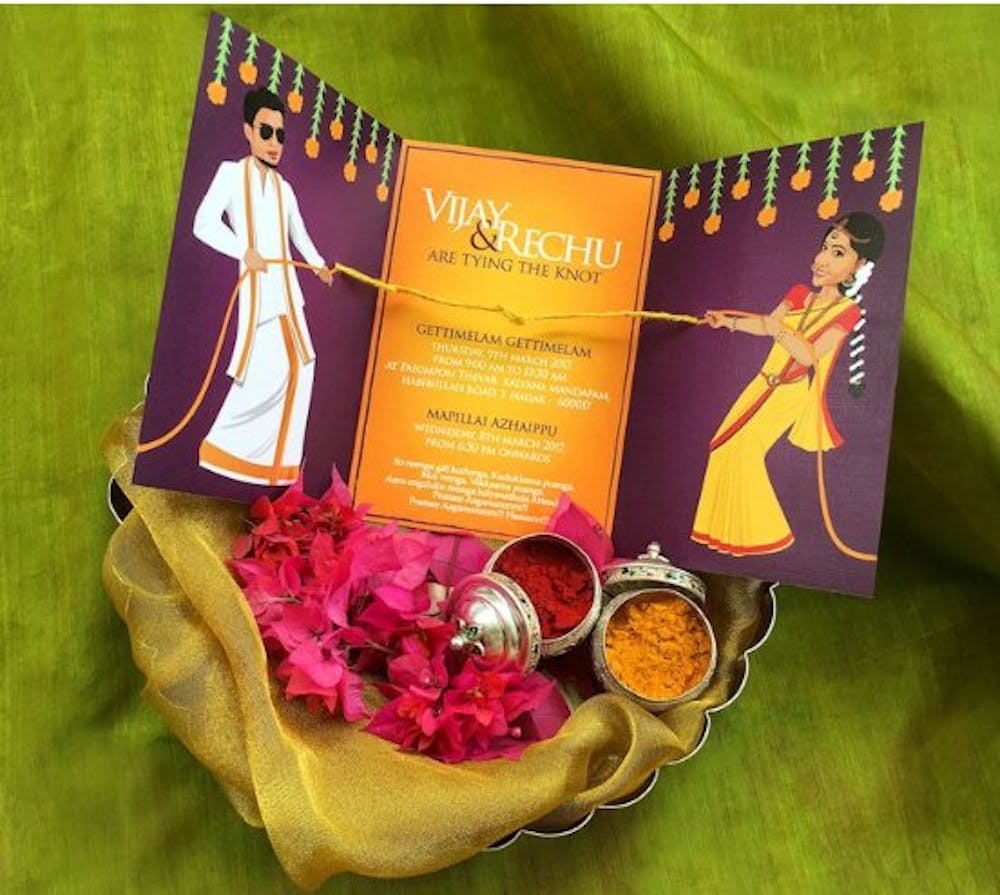 Image Source: vlr.eng.br | Daily Update
Read More: 18 Best Engagement Stage Decoration Ideas In 2023
11) Caricatured Biyer Card In Bengali Ideas
If you want to go light on the wedding invitation ideas but want to send the happy vibes across. Then there is nothing better than cartoon animated pictures or caricatured pictures of yourself with your bride or groom.
Send this cute little caricatured face of you two on your Bengali biyer invitation card design to your guests.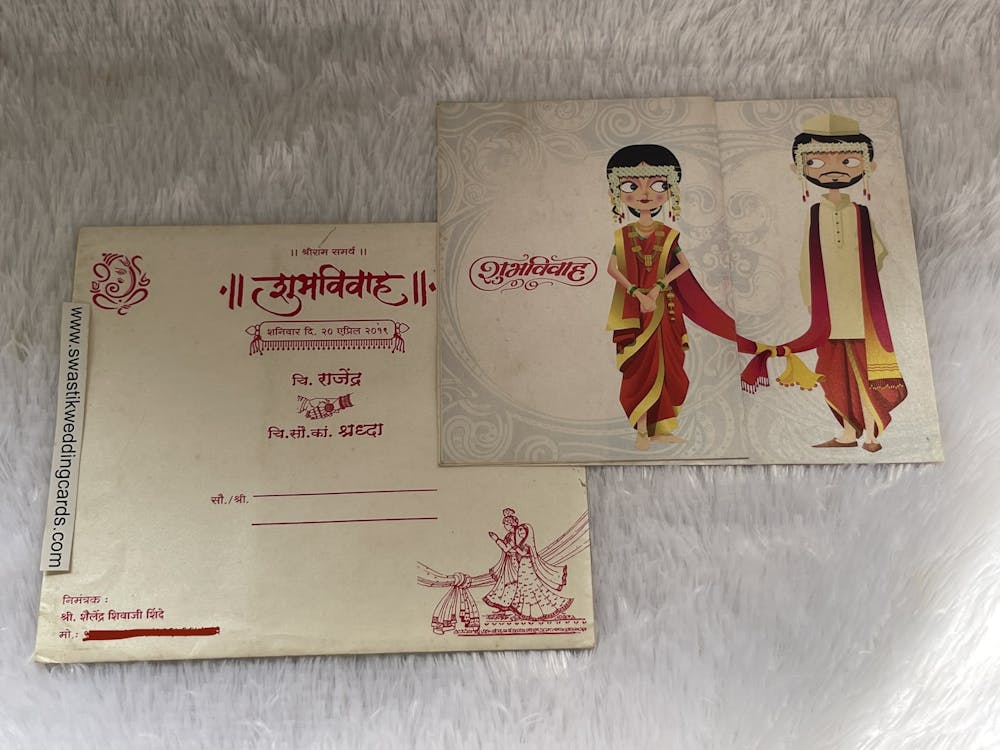 Photo Credit: Swastik Cards
Bengali wedding cards can be of any type but what is important is the auspicious presence of your dear ones on your special day. That is why selecting a remarkable wedding invitation card has become important.
You will love these few Bengali wedding card designs. So what are you waiting for? Save these ideas for your wedding invitation card ideas. You can also follow us for more on our website of Pomp and Show Events.