Beautiful Wedding Stage Decoration Ideas
Decorations at Indian wedding has raised the bar for everyone, especially for the ones getting married sooner. The pretty-looking Bengali wedding decoration ideas are not only ruling the guest's hearts at a wedding but the magnificent decoration is a showstopper for Instagram too.
If your wedding is nearby and you are here in search of some amazing Bengali wedding stage decoration ideas, then you are in the right spot. As the best wedding planner in Kolkata and wedding decorators Kolkata, we would suggest you plan your wedding stage ahead of your wedding to give it the touch of perfection and to lessen any errors.
These marriage stage decoration are not beautiful and bewitching but are trendy enough to rule on Instagram. These latest stage decoration for wedding ideas will set your Instagram On Fire.
Stay with us and read Bengali wedding stage decoration ideas that will enchant you and leave a spell on your mind.
Recommended: 11+ Trending Bengali Wedding Gate Decoration Ideas
1) A Glowing White Stage That Reflects
As the best Bengali wedding planner in Kolkata, we can tell you that this wedding stage will give you the perfect ambiance for a gala wedding.
This white-shaded stage beside the pond or river, which is full of lights and flowers is the perfect place for you to take the vows of love with your partner, as the beauty of the location witnesses your love affair.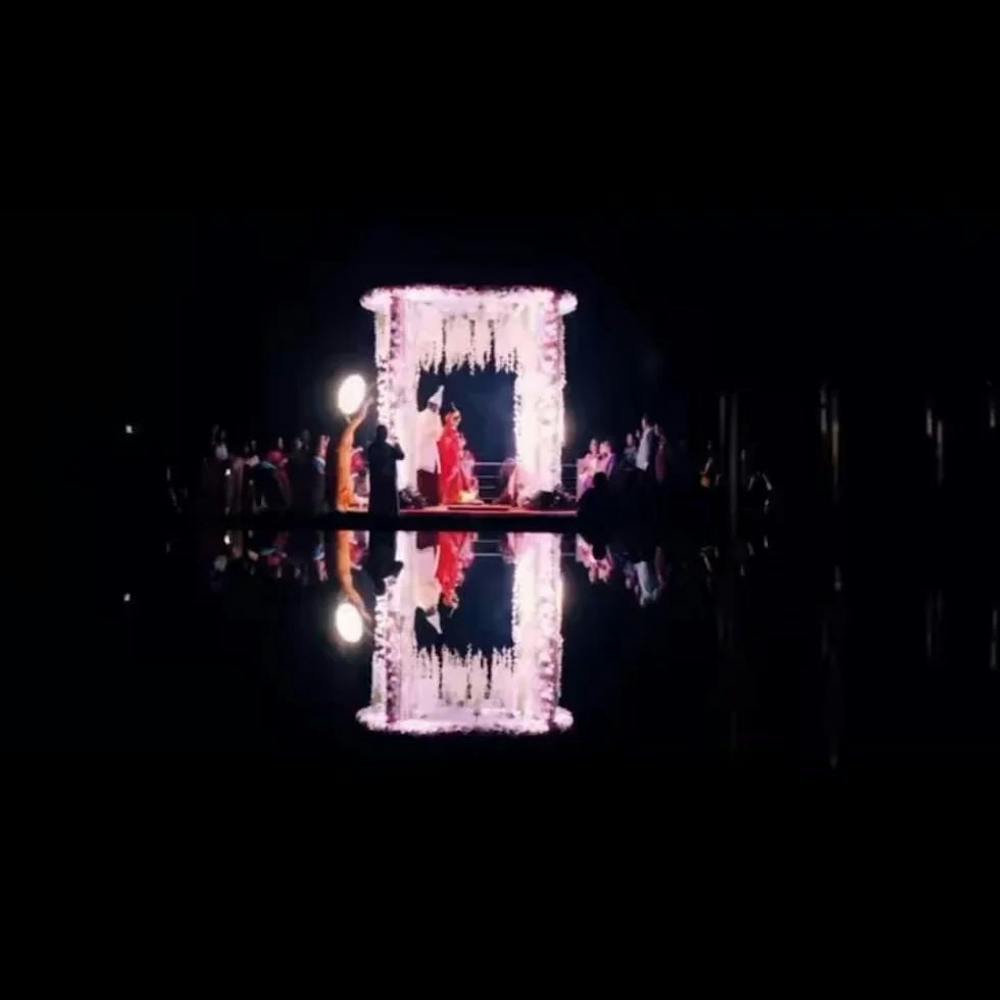 2) The Yellow Floral Stage Decoration
If you are someone, who wants to stick to the roots of traditionalism but at the same time wants something Insta-worthy for your wedding, this is the perfect option for you to decorate your flower wedding stage decoration.
Haldi is one important function of a wedding and the stage decoration for this event too needs special attention and that is why we are here with this beautiful Haldi stage decoration that will woo your mind.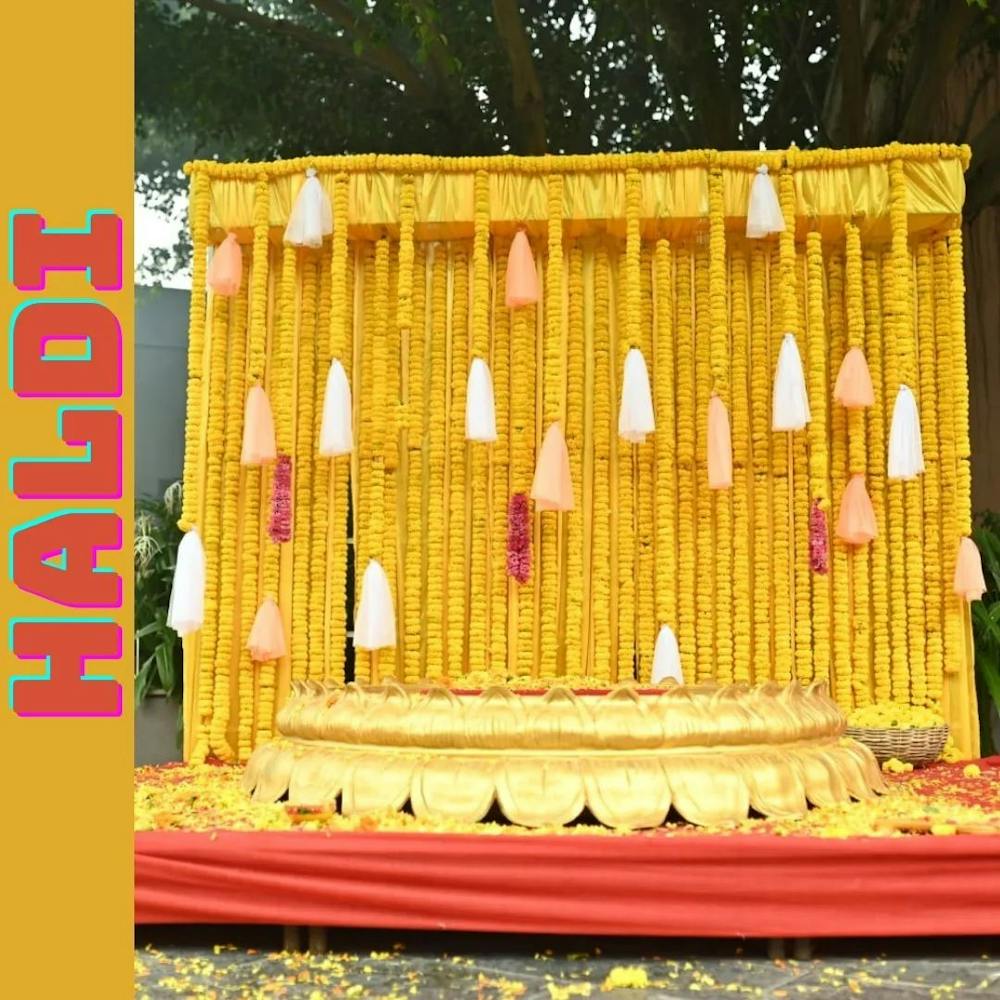 3) The Show-down Of Pastel And White Flowers
This floral white stage decoration for wedding with flowers hanging from the roof of the stage is something that will make your event a memorable one.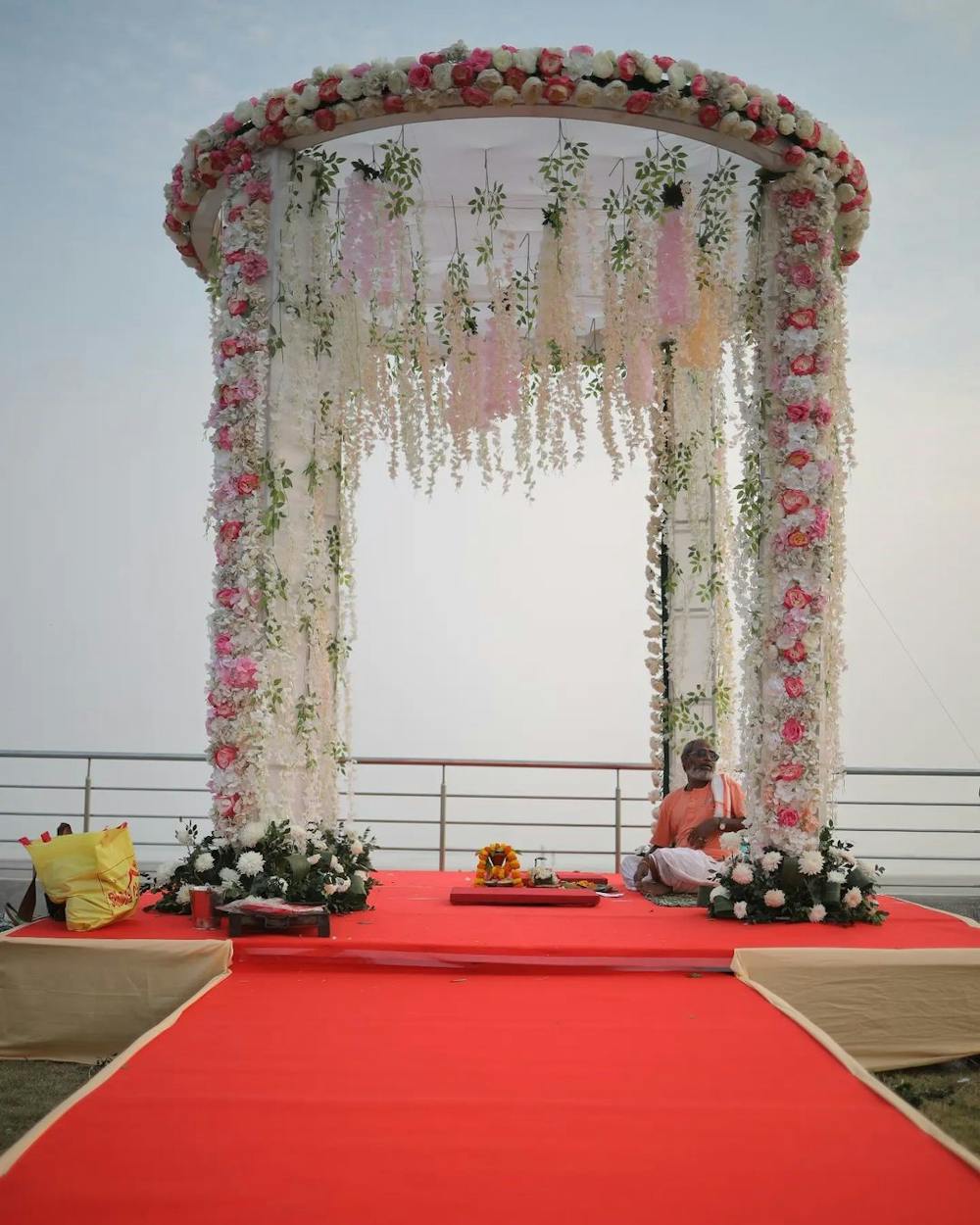 4) The Magic Of Dramatic Lightning In Wedding Stage Decoration Ideas
These breathtaking wedding stage decoration images have captured your heart with their amazing lighting effect by now. So, why not try this kind of Bengali decoration ideas for your wedding stage decoration ideas?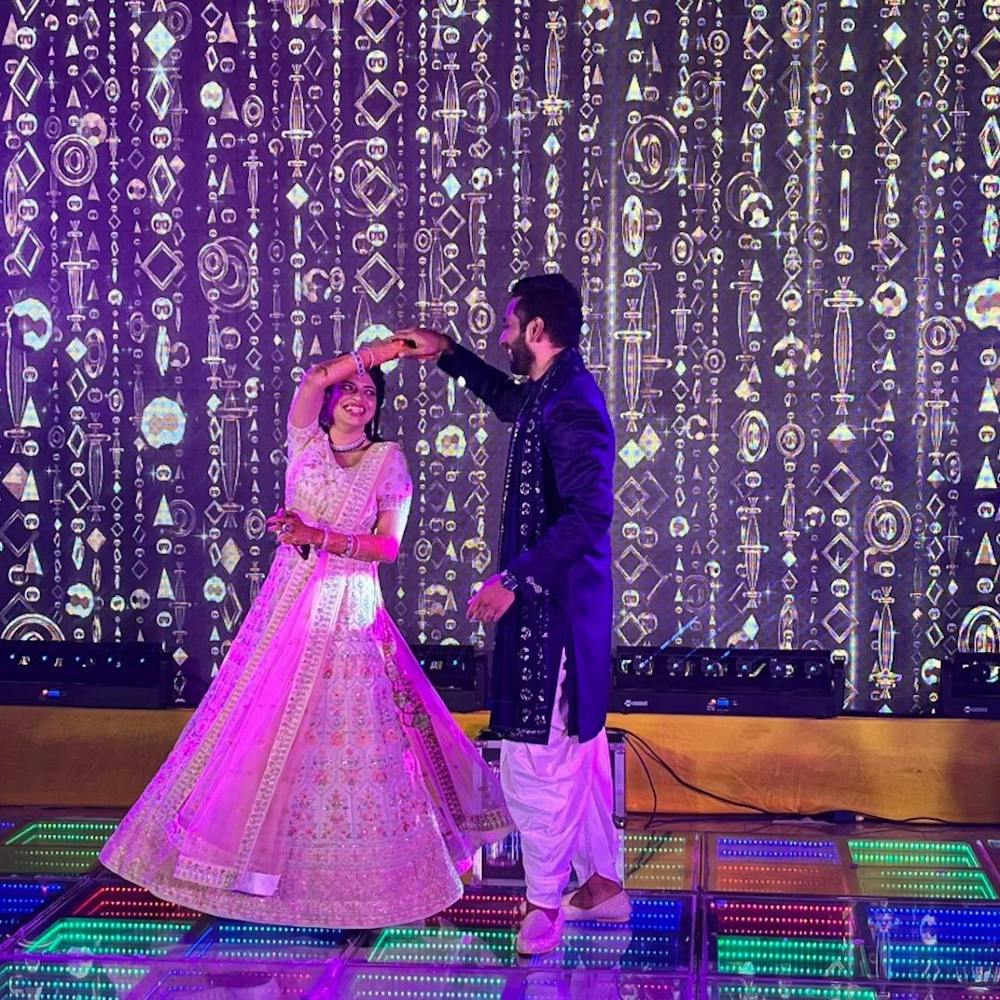 Read More: Trending Bengali Theme Decoration Ideas For Wedding
5) A Wonderful Bengali Wedding Stage Decoration Surrounded By Greenery
You have no idea about how the netizens are obsessing over green elements in a simple marriage stage decoration. See the beauty of this marriage simple stage decoration surrounded by greenery and flowers for yourself.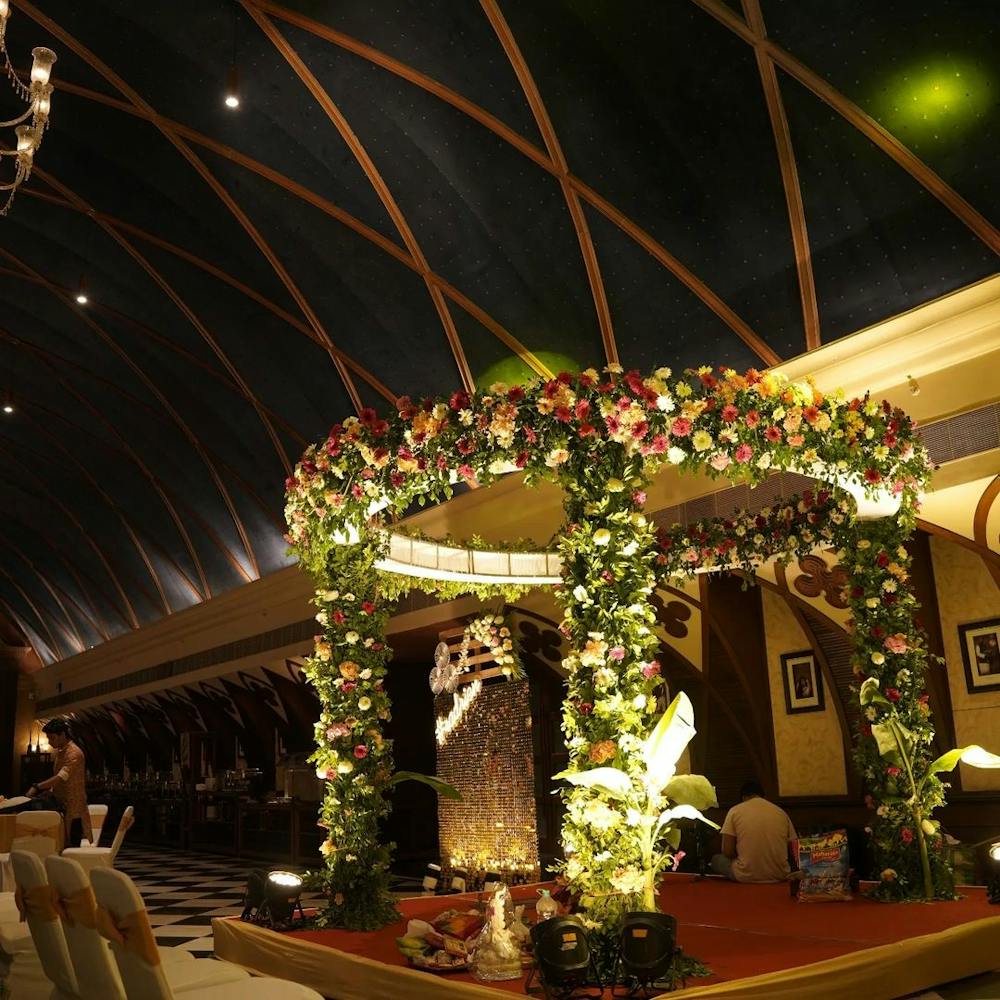 6) The Grand Cavalcade Of Flowers
Look at this picture and see how majestic this Bengali wedding background decoration looks. Make your wedding a wealthy affair of rich flowers and lights with this grand cavalcade of flowers in your Bengali wedding stage decoration.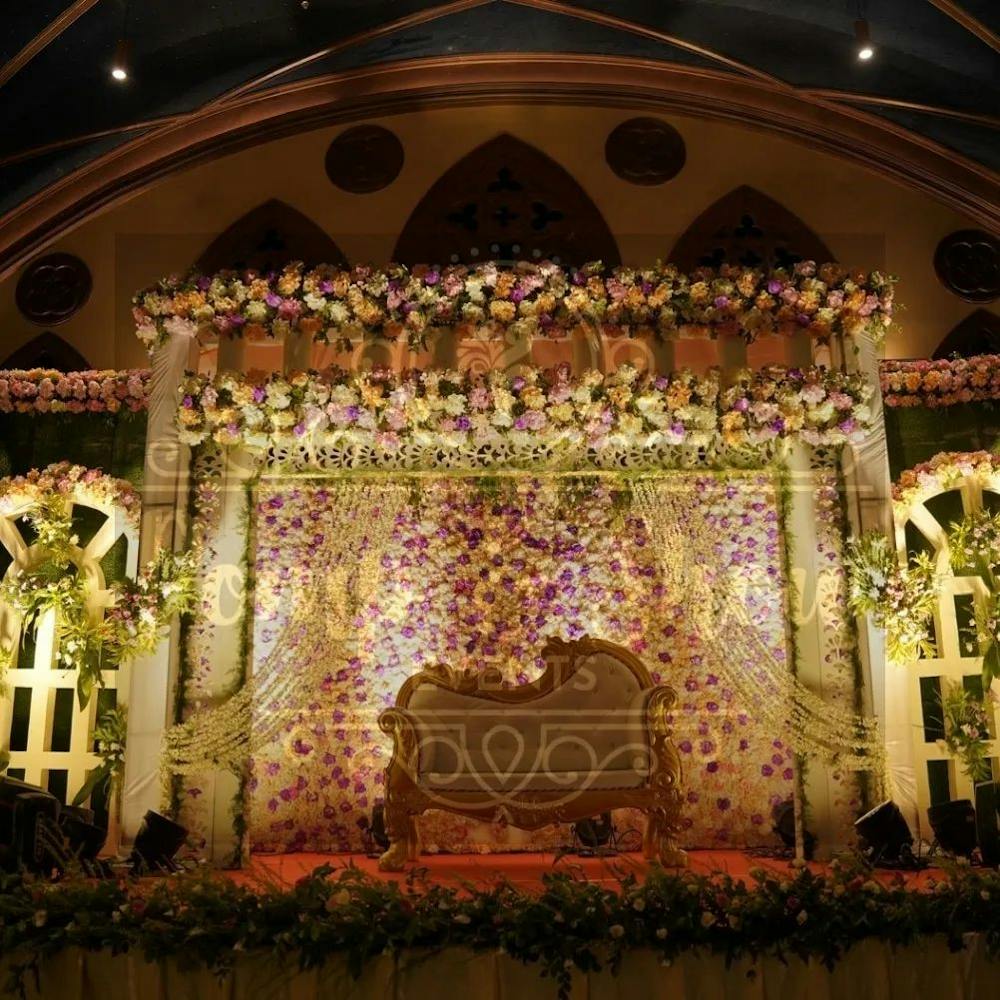 Read Also: Top 15 Bengali wedding mandap decoration ideas in 2023
7) Traditional Bengali Wedding Decoration Ideas With Pieces Of Sunflowers
This eye-soothing yellow shade of flowers with a few pieces of sunflowers is the perfect choice for your Haldi flower stage decoration for wedding that your Insta friends will love.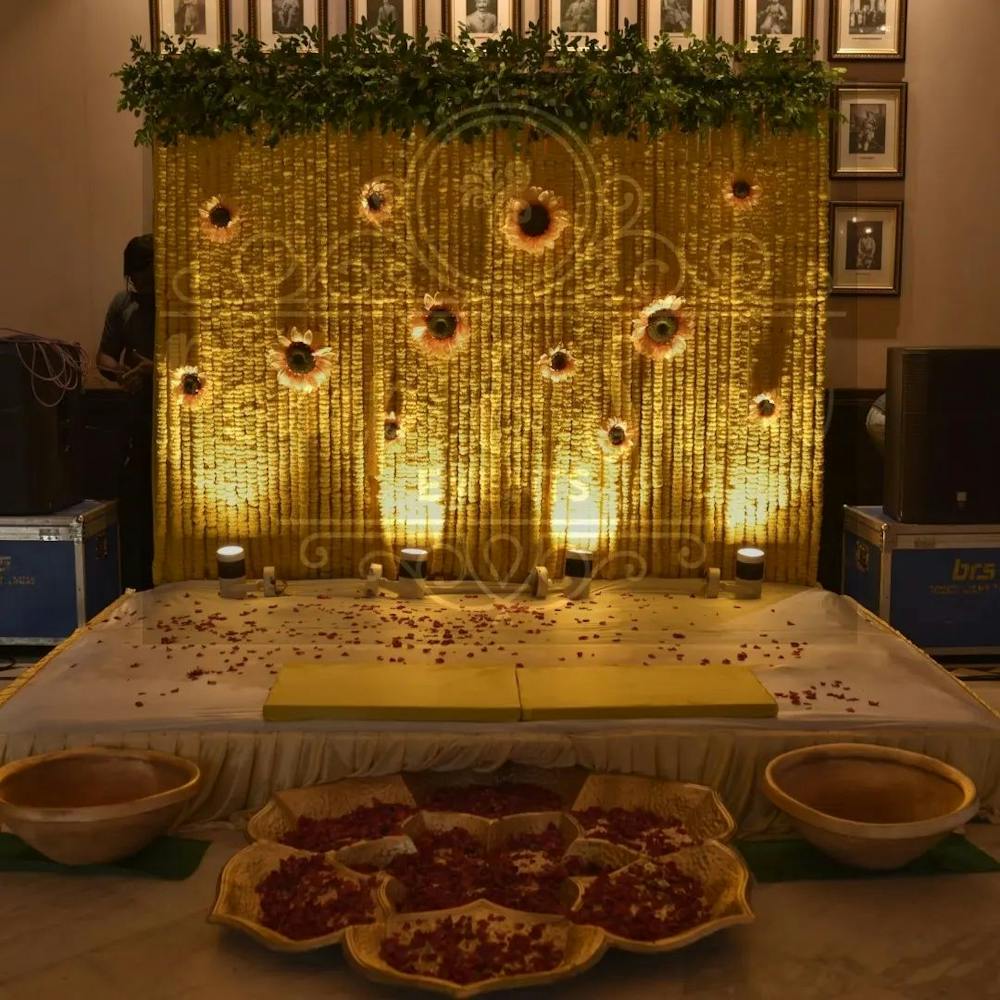 8) A Monumental Floral Wedding Stage Design With A Pillared Wedding Stage Backdrop
Have you imagined how beautiful your wedding mandap can look with the show of flowers in the pillars of your Bengali wedding stage decoration? Check out this picture to get an idea.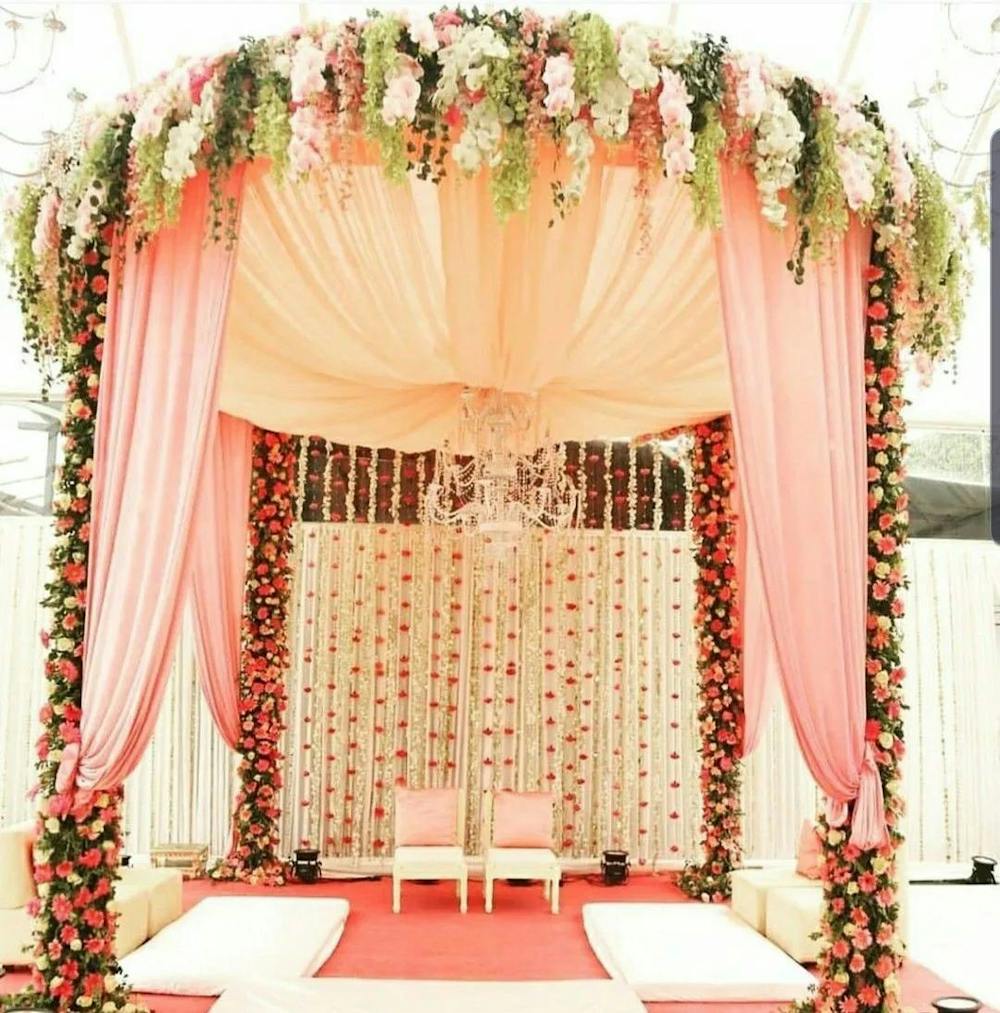 9) An Instagrammable Pop Of Colors In Bridal Stage Decoration
This image of a Bengali wedding stage decoration is perfect for your mehendi ceremony celebration if you are planning an open-space wedding or a destination wedding. So, what are you waiting for?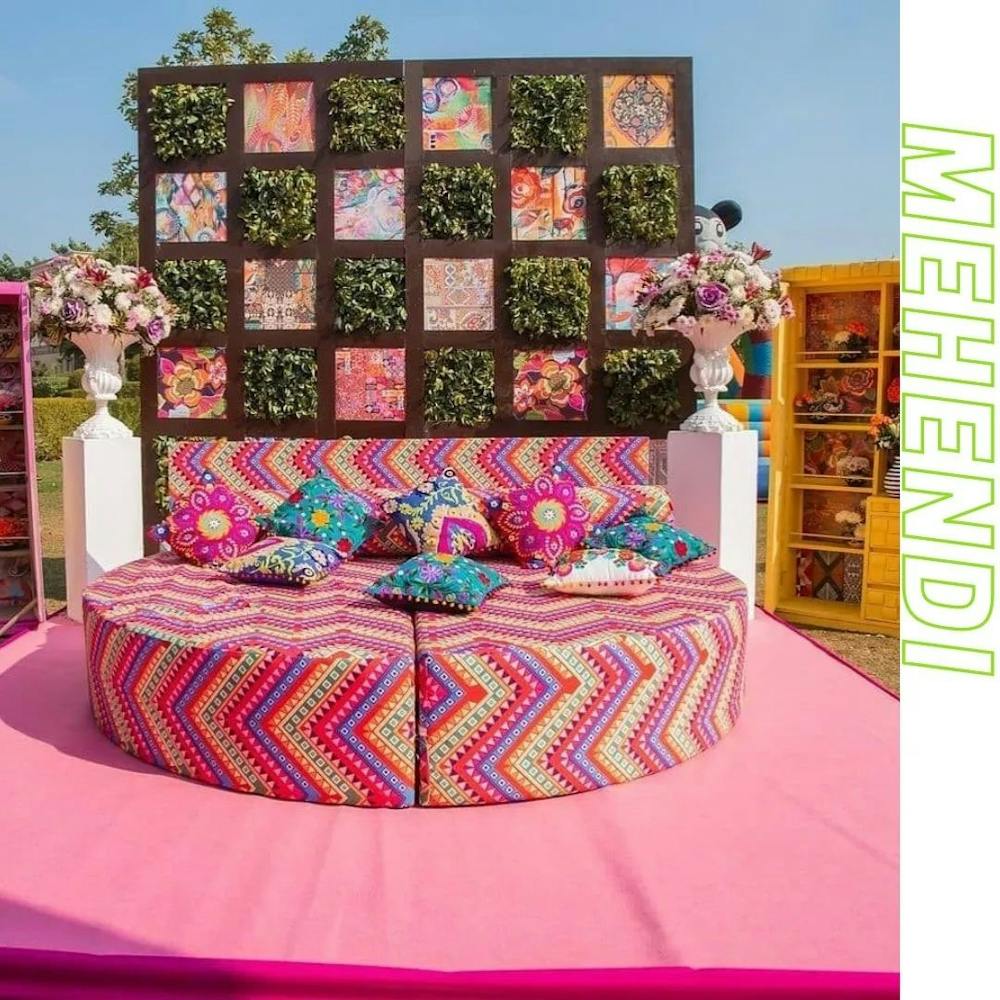 10) An Aesthetic Array Of White And Pink Simple Stage Decoration Ideas 
If you are someone who does not like to go overboard with decorations yet want to keep it classy for Insta-worthy pictures then this simple white and pink stage for wedding decoration is the best for your sangeet, mehendi, or wedding stage decoration.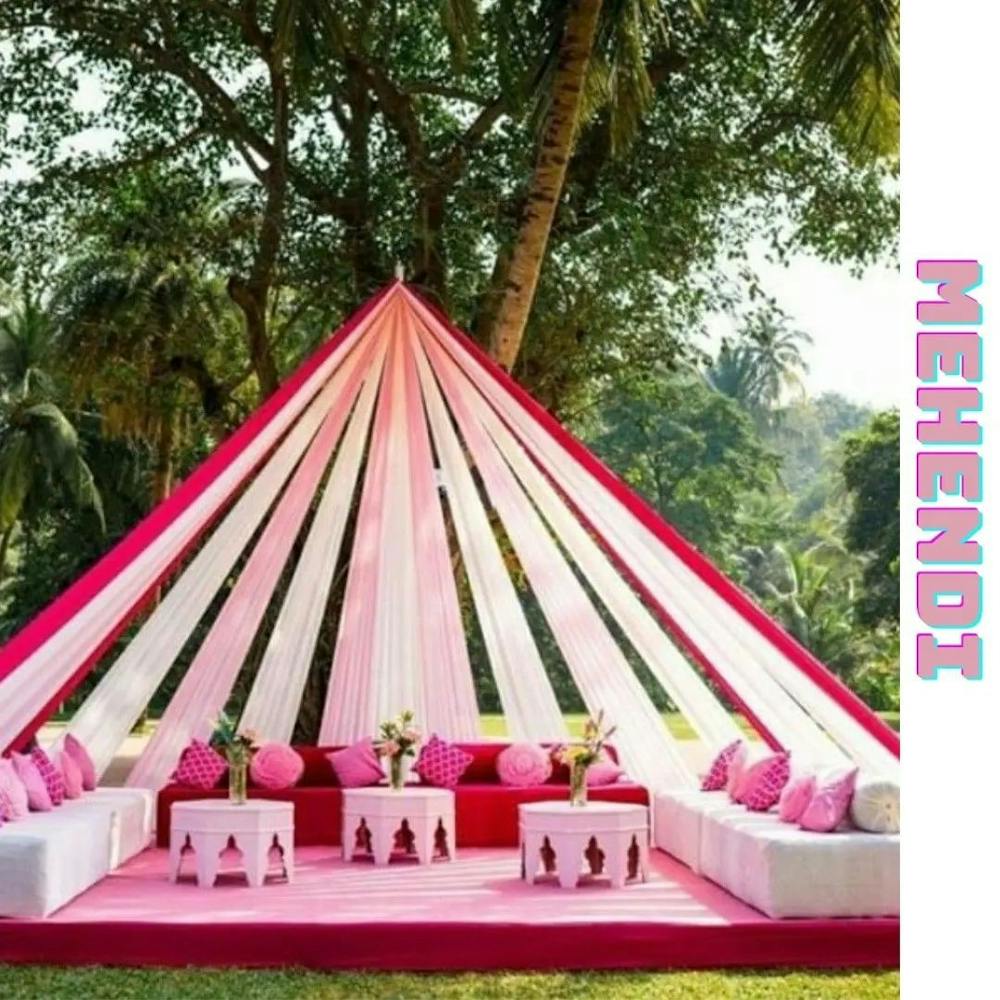 11) Say "Yes I Do" With This Beautiful Dreamy Best Stage Decoration For Wedding
This unimaginable dreamy wedding stage with shades of pink and white is perfect for your wedding by the riverside amidst nature.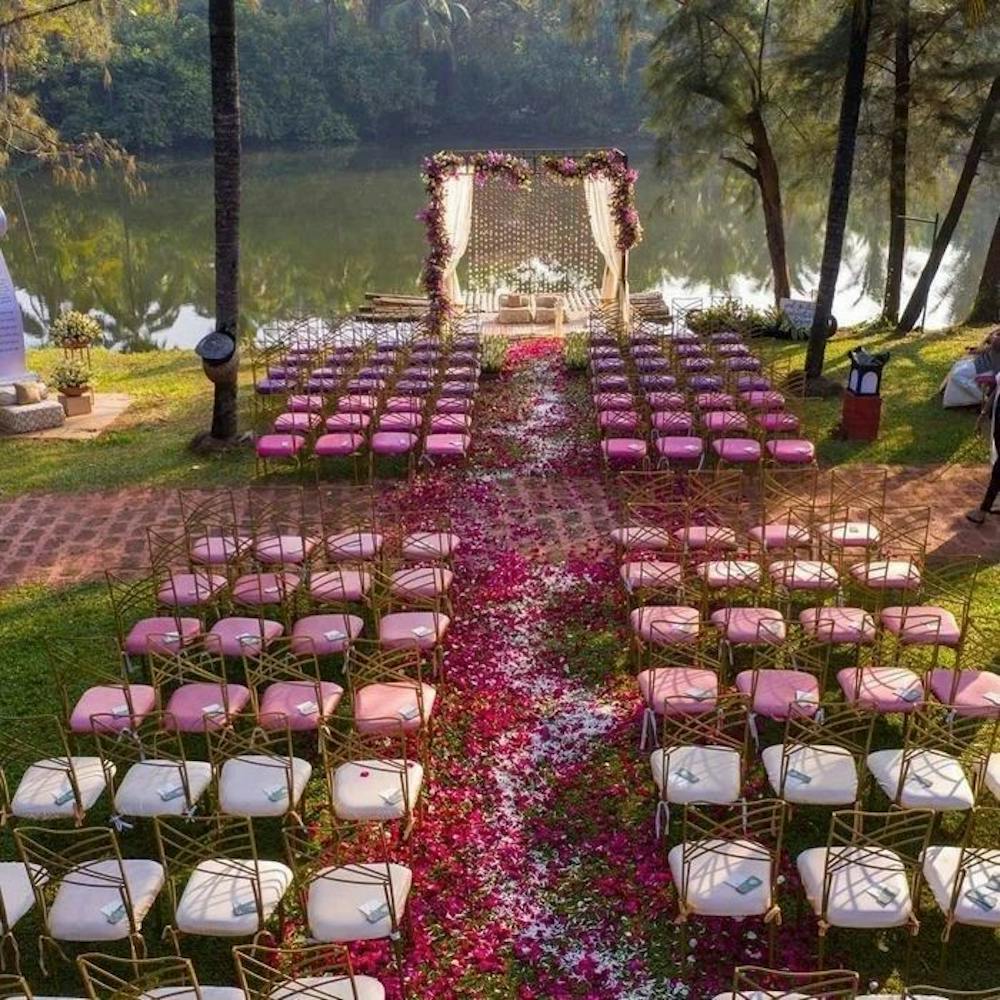 12)  White Romance In Your Simple Wedding Stage Decoration Ideas
Isn't this pearly white Bengali wedding stage decoration a screaming phenomenon of beauty? You can try these simple yet dreamy wedding stage ideas for your nikkah ceremony.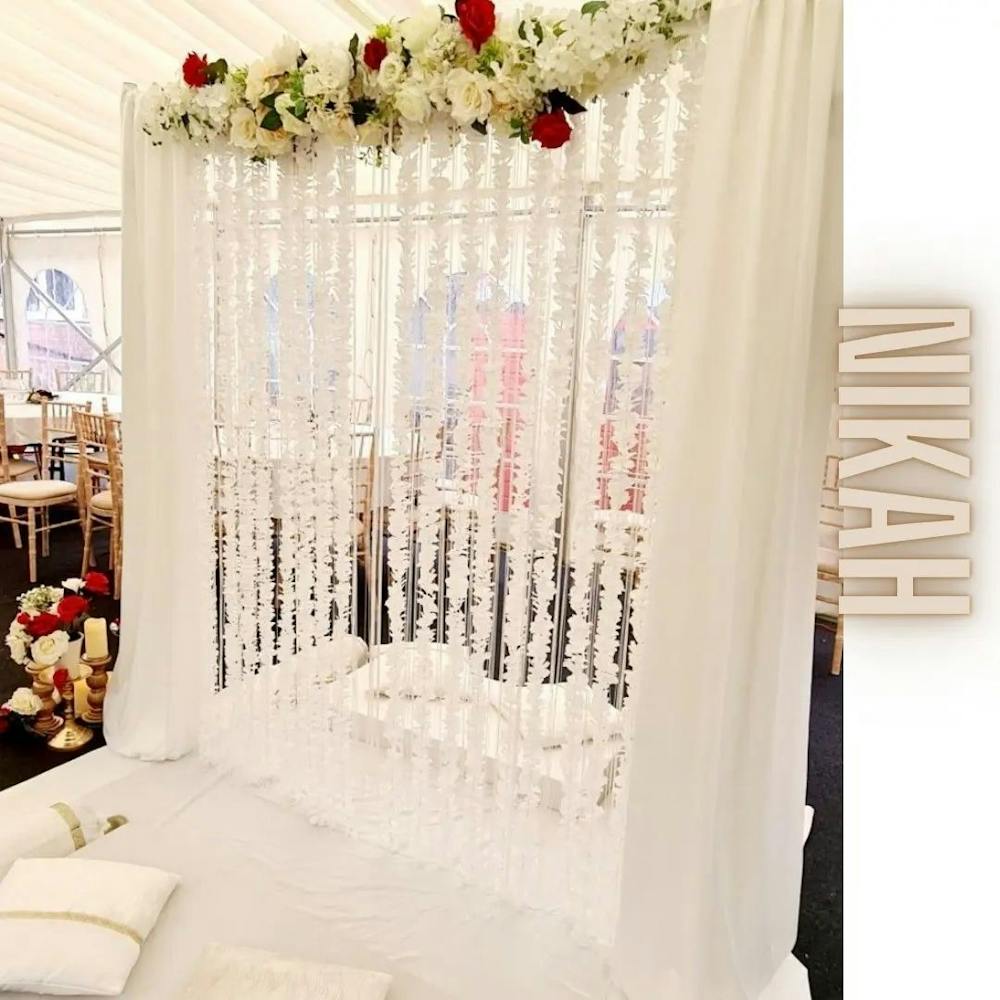 13) Alluring Red Rose Stage Decoration
This pretty combination of red and white is something that should be a must-have in your Bengali wedding stage decoration ideas checklist.
As a Bengali wedding is incomplete without a touch of red, this wedding stage filled with red roses and flowers is the best contrast that you can use in decorating your wedding stage for your D-day.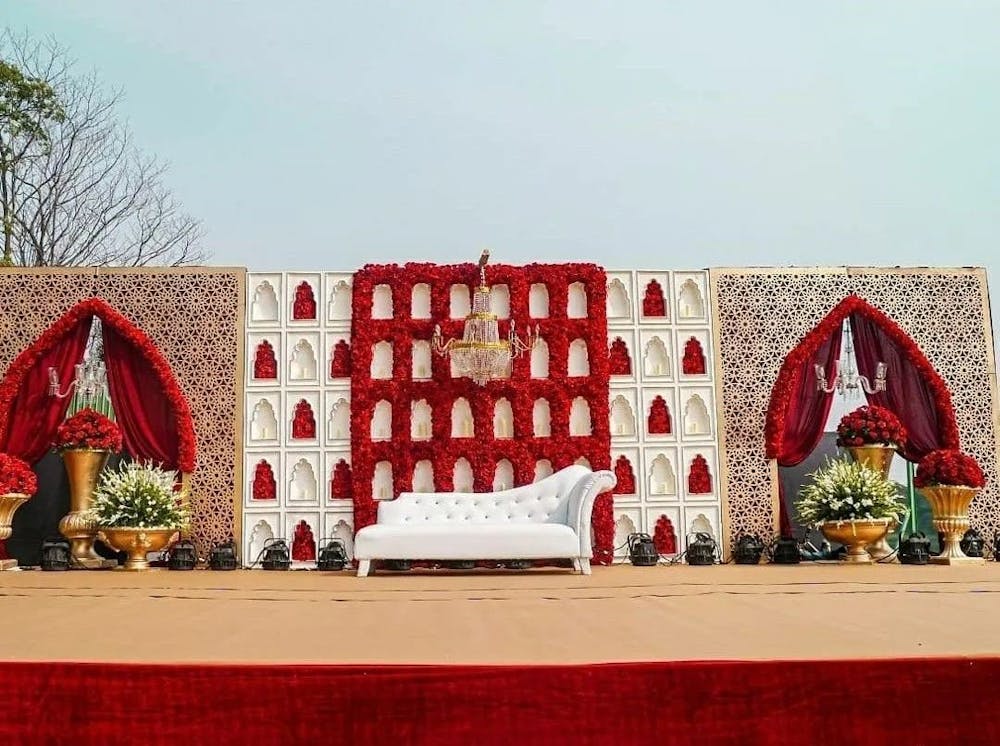 14)  The Gleaming Of Illuminating Lights Stage Decoration
The use of luminescence lights in traditional stage decoration for wedding is something that has recently grabbed all the attention of social media. 
You are going to set your wedding stage on fire with this enhancing bright lighting decoration for your wedding stage.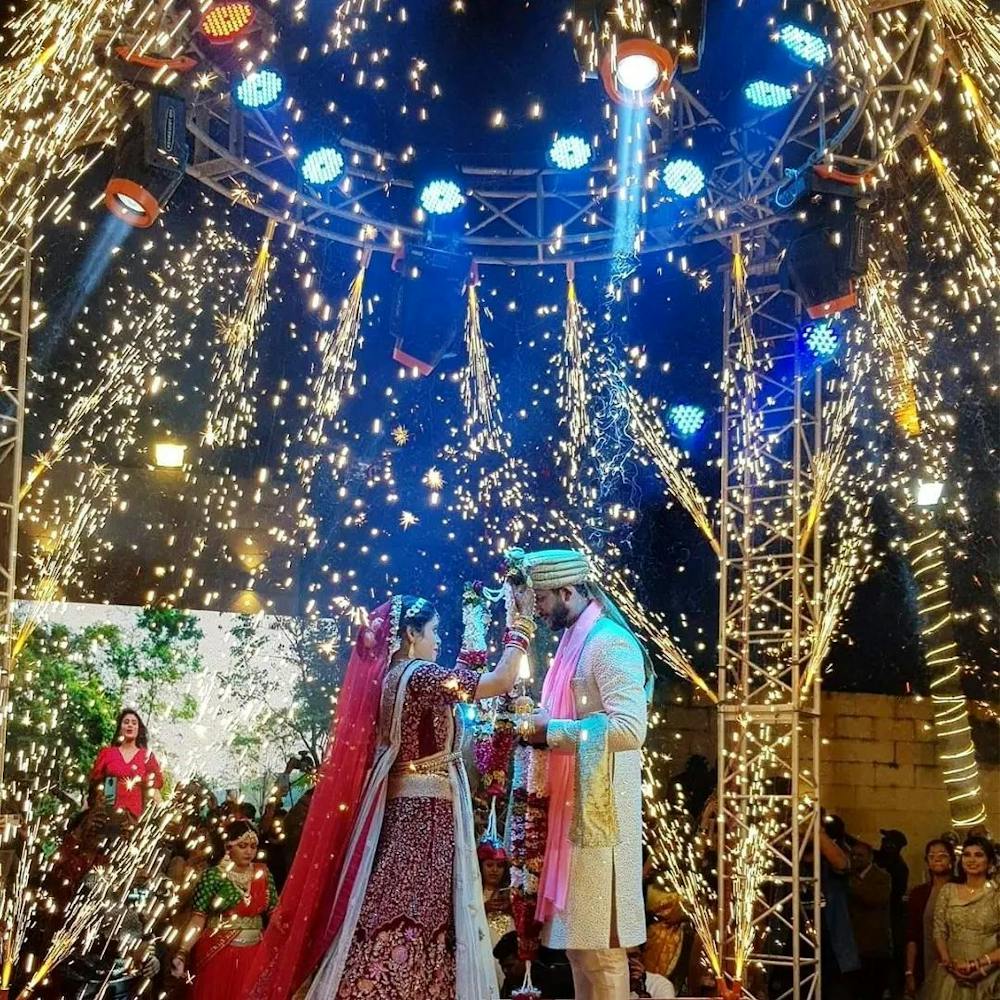 15) A Noble Pink Wedding Stage With Pink Hanging Tassels
This awe-inspiring pink wedding decoration stage ideas is for you if pink is your favorite color.
Pink is one color that makes the setting and background of any event sublime with its beautiful casting spell. You can try a wedding stage decoration with the play of pink as given in this picture.
This Bengali wedding stage decoration is not only Insta-worthy but is perfect for a subtle prince and princess background decor to rock your day.
The vivid experimentation of Bengali wedding stage decoration with lights, flowers, and charming colors is something you should try in your traditional wedding stage decoration to grab all the attention that will make your wedding stage affair Insta-worthy.
You can check out more amazing wedding stage decoration pictures on our website of Pomp and Show Events.