Adoring Wedding Gate Decoration Ideas
Weddings are all about showing off the best you have because we know how important this ceremony is to you.
A Bengali wedding gate decoration is one of those little things that add extra charm as the backdrop of your entrance. We know how to fulfill your wishes regarding the Bengali wedding gate decoration and make your wedding a more beautiful affair. 
Among all the Bengali wedding planner in Kolkata, Pomp and Show Events is one of the best wedding planner in Kolkata and wedding decorators Kolkata. You can rely on us when it comes to your wedding and we promise to raise the bar high for you.
If you are planning to make your wedding venue look like a dreamland and want to do something special with your marriage gate decoration then stop worrying as we have some beautiful and alluring gate decoration ideas for your wedding.
Recommended: Top 15 Bengali wedding mandap decoration ideas in 2023
Idea 1: The Over-Loaded Flower Gate For Wedding
We feel that flowers add pretty detailing to every occasion and if it is about your wedding then you simply cannot miss this Bengali wedding gate decoration.
This Bengali wedding flower gate decoration will give an imperial touch to your wedding decoration.
Idea 2: Dome-Shaped Pearl White Floral Gate
This white flower gate decoration is simply mesmerizing. It is simple in looks but has the magic to uplift the mood of your wedding entrance with its white pearl-looking flowers.
We would want you to go for this Bengali wedding gate decoration if you are confused between too many options.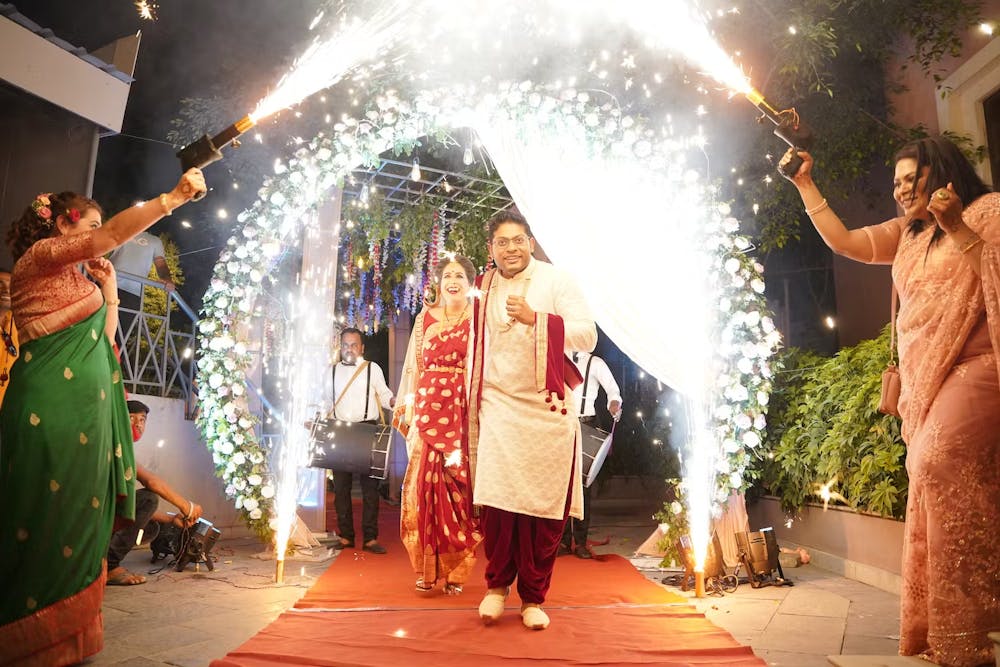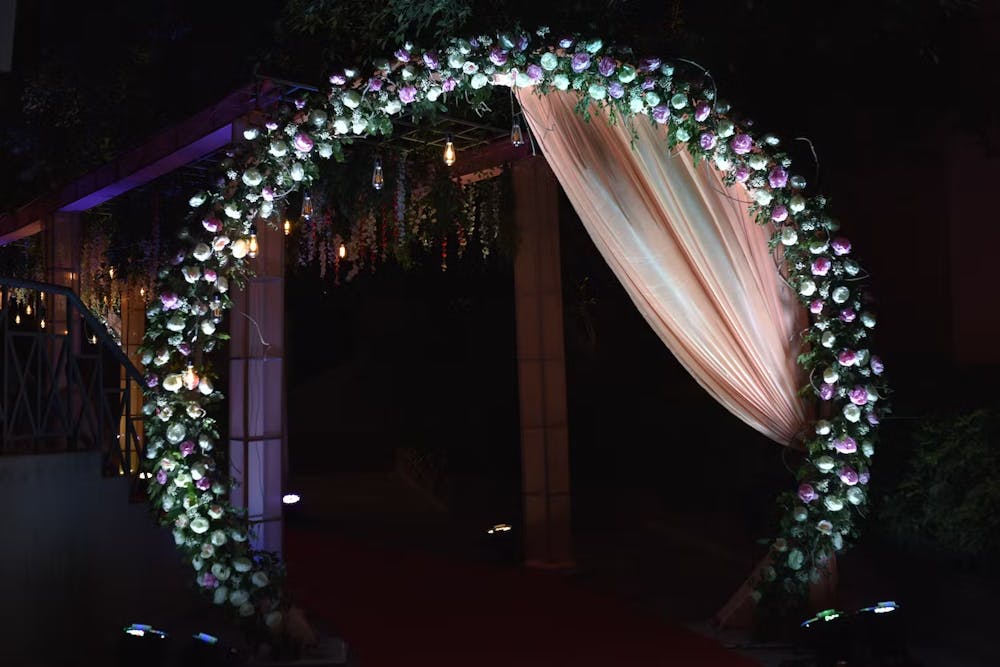 Idea 3: The Artificial Flower Gate Decoration
An artificial flower gate like the one in the picture below is perfect for you if you want the wedding gate to do two jobs at a time.
You can choose pink, red, or any color of artificial flower to decorate your wedding gate. This particular Bengali wedding gate design will win the hearts of your guests and relatives as they do not have the problem of drying and falling out of place. 
Apart from that, this artificial floral gate design will attract photoholic guests as it also plays the role of a wonderful fancy frame.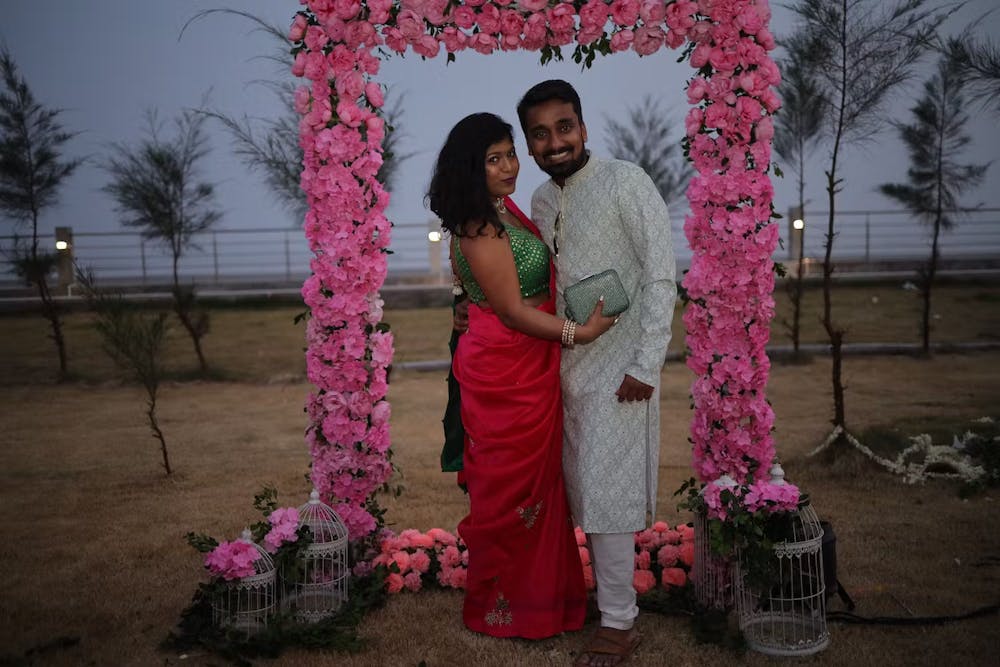 Idea 4: Colorful Props And Curtains For Bengali Marriage Gate Decoration
If you are planning to have a colorful wedding affair that can go contrast with your and your partner's wedding outfit then adding more and more eye-catchy and decorative pieces in the wedding gate is a must.
You can ask your wedding decorator to add mirrors, embroidered umbrellas, art pieces, and curtains of red, pink, and yellow color to essay the perfect look of the Bengali wedding gate decoration.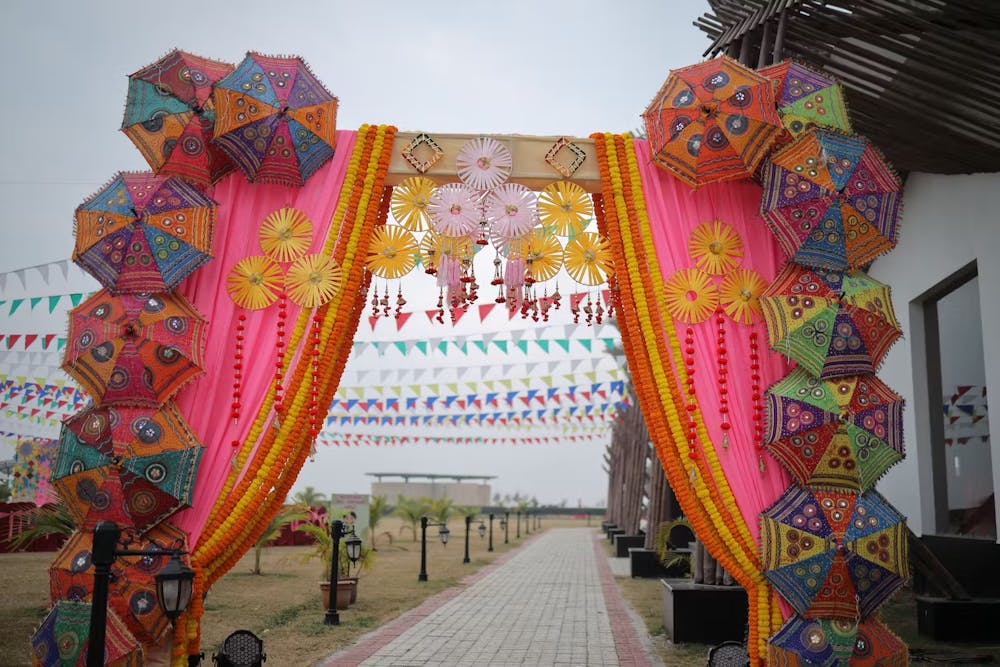 Also Read: Trending Bengali Theme Decoration Ideas For Wedding
Idea 5: The Story Of Hanging Flowers In Wedding Gate
This idea of a wedding gate design with flowers might seem odd in the beginning but trust us, this looks very pretty and illustrious once the decoration is ready.
This Bengali wedding gate decoration will have flowers all over the gate that will hang loosely from above. Imagine entering this wedding gate with your partner, it will look like fairies blessing the married couple with flowers from above.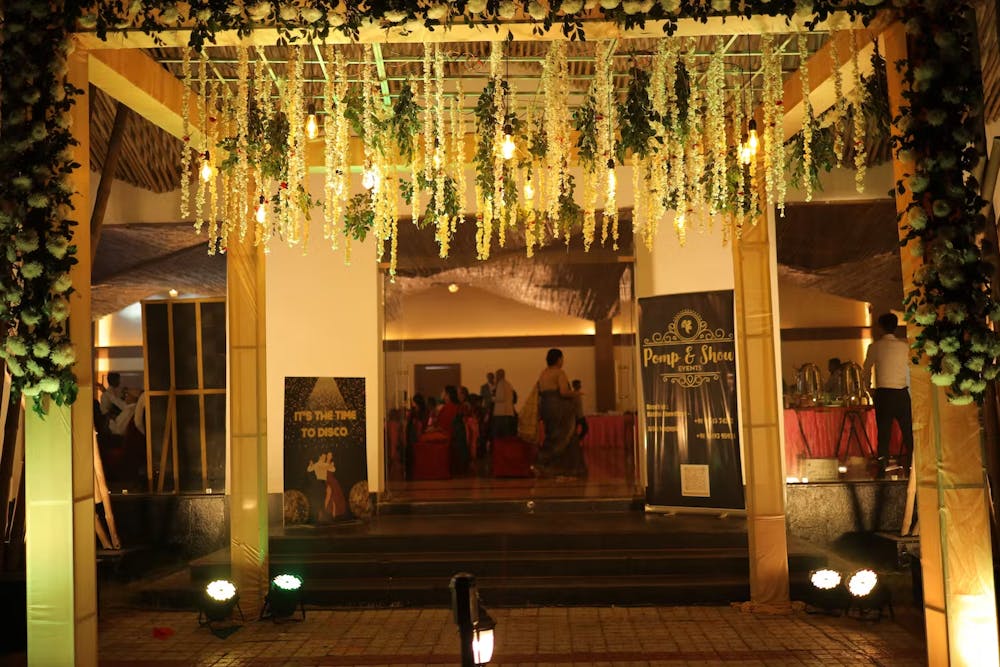 Idea 6: An Artistic Yet Simple Bengali Wedding Gate Decoration
If you are someone who does not like over-going with decorations then this simple Bengali wedding gate decoration is for you.
You can decorate the gate according to your choice. You can add kites, glittery articles, and hanging lamps to detail this wedding gate.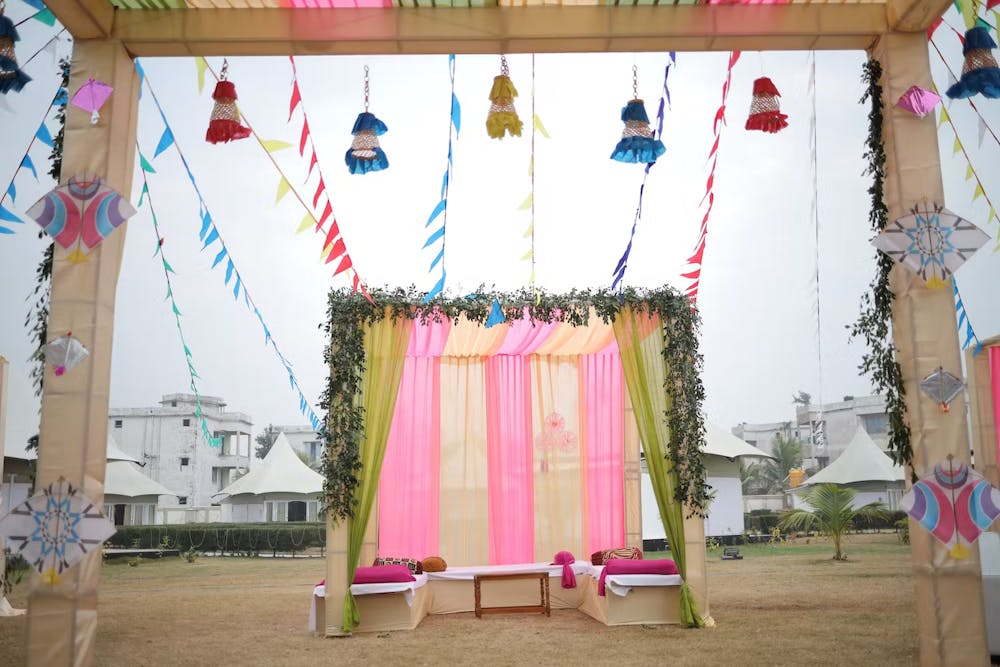 Idea 7: Yellow And Orange Marigold Flower Decoration For Gate
This flower wedding gate idea is popular among people who want to stay true to the roots of Indian traditionalism yet want to decorate the wedding gate beautifully with traditional pieces.
Yellow and orange "Genda-Phool" is in use since the beginning of Indian ceremonies and pujas.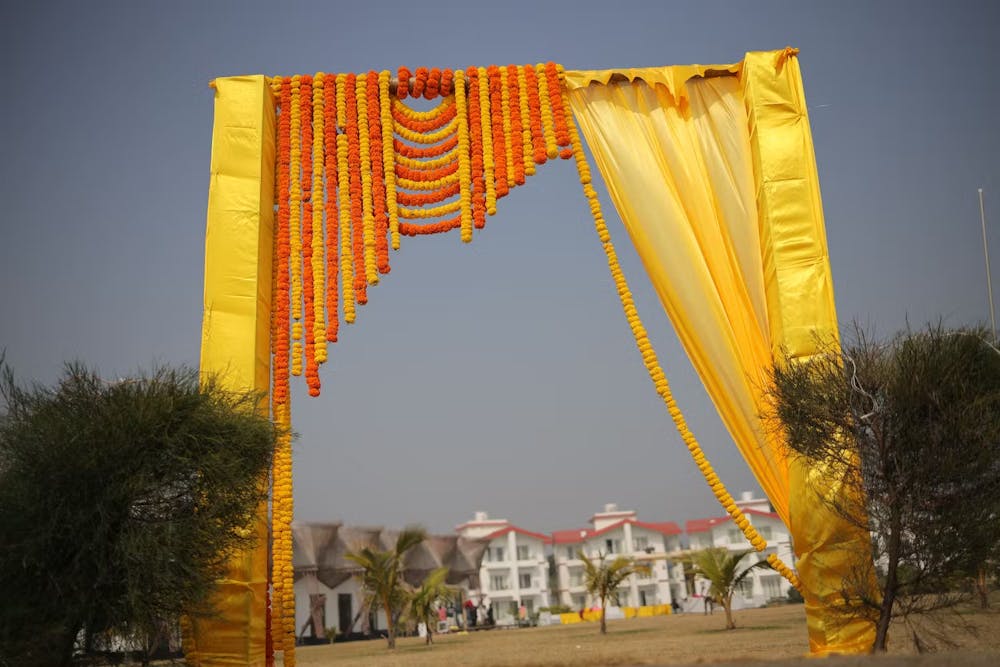 Idea 8: Vivid Use Of Decor In A Greenish Background Gate
This Bengali wedding gate may not seem like a part of wedding gate decoration due to its shape. But once you understand that this wedding gate is serving the purpose of being a gate and a photo booth area, you will gladly accept the idea of choosing this decoration for your wedding gate.
You can keep a cycle or motorbike as a prop in the gate and click as many pictures as you want with your "Dil Waale Dulhaniya".
Idea 9: Walking Through The Floral 'Aisle' Wedding Gate
This marriage gate flower decoration is the best and when we say best, we mean it!
Walking down this floral aisle will give you a feeling of toiling around in a flower field where you look like a prince and your partner like a princess.
You can choose flowers of all types and colors to overload the gate with floral creatives. You can use lilies, roses, orchids, or any other flower if you have any particular choice.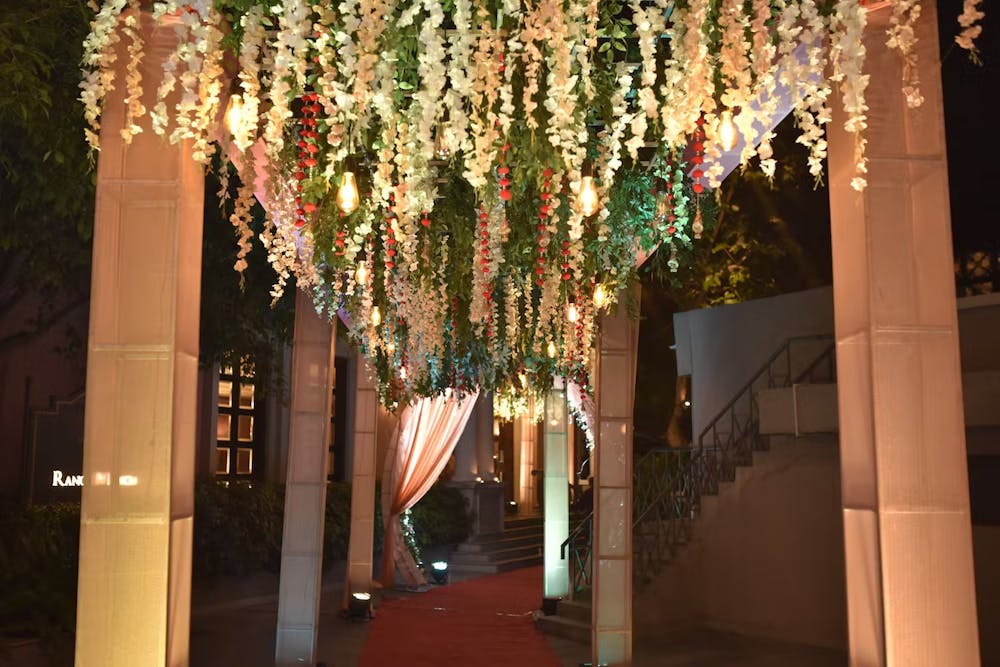 Idea 10: The Contrast Of White And Red Flowers In Gate
This white and red floral wedding gate will make you feel like a royal king and add more value to your entire wedding hall decoration.
This floral gate of red and white flower combination stands so tall that even a person from a far distance can spot the beauty of this wedding gate.
Idea 11: Trending Hollow Wedding Gate With Red And A Little White Flowers
This oracle-shaped wedding gate idea plays with excessive red flowers added with a few whites hanging as the backdrop of the gate. 
This wedding gate will make your wedding completely memorable with its floral panorama.
Idea 12: Fancy Half-sided Flowers And Curtain Wedding Gate
You have to save this wedding gate flower decoration if you are searching for something new and fresh in its style.
This wedding gate will have flowers attached to the gate on one side and a red satin curtain will be hung on the other side of the gate.