One of the most fun and exciting nights before an Indian wedding is the Mehendi Ceremony. It is part of the events that happen before a wedding. In mehendi for wedding ceremony the bride's family and friends sit around her while she gets henna designs drawn on her hands and feet. You can try some unique things with the mehendi theme ideas to make the most of this night full of memories.
People often need clarification about what mehendi theme ideas would look best. People plan better weddings these days and take all the events leading up to the wedding very seriously. The top budget wedding planner in Kolkata has some of the coolest and most popular mehendi theme ideas to make your wedding look like a fairy tale.
Recommended: Top 15 Bengali wedding mandap decoration ideas in 2023
1. The Theme of Flowers:
Undoubtedly, the flower theme is 'the' trendiest mehendi theme ideas. So, yes, flower decorations are also popular this time of year. Flowers signify joy and happiness, which is what the celebrations are about. So, if you want to decorate for a Mehendi, you can go right with a flower theme. Anyone can hire a wedding planner in Kolkata.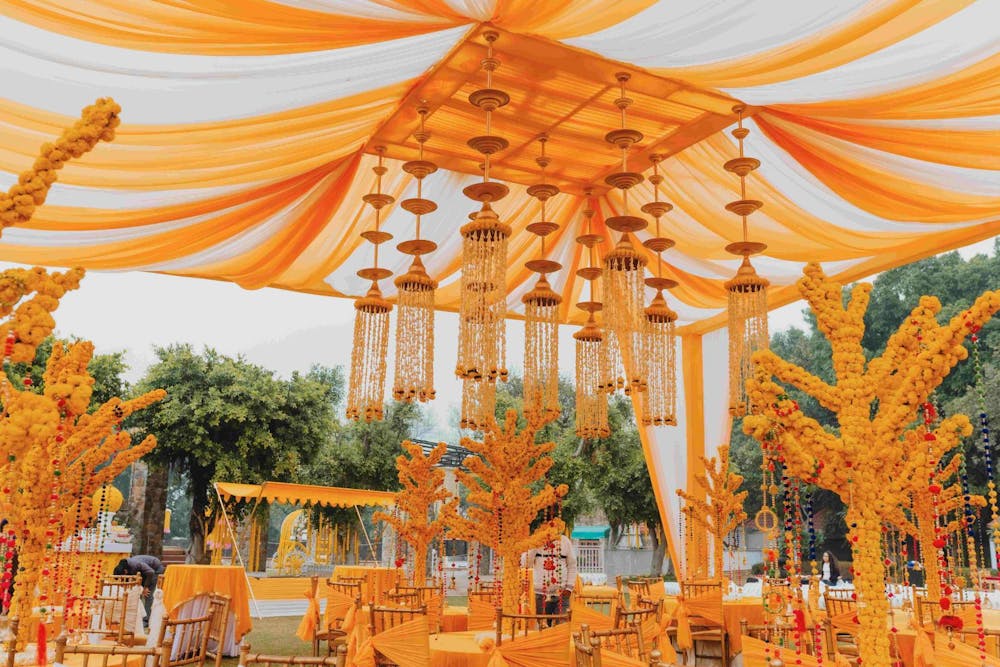 Must Read: Trending Bengali Theme Decoration Ideas For Wedding
2. Sunny Outdoor:
Depending on your taste, the outdoor space, and grass might serve as a blank canvas for the mehndi ceremony. Add colourful tablecloths and flower canopies to liven up and brighten the area. Also, if the event is at night, remember to add fairy lights to the place so that it shines as brightly as you do. Wedding decorators Kolkata provided a good service.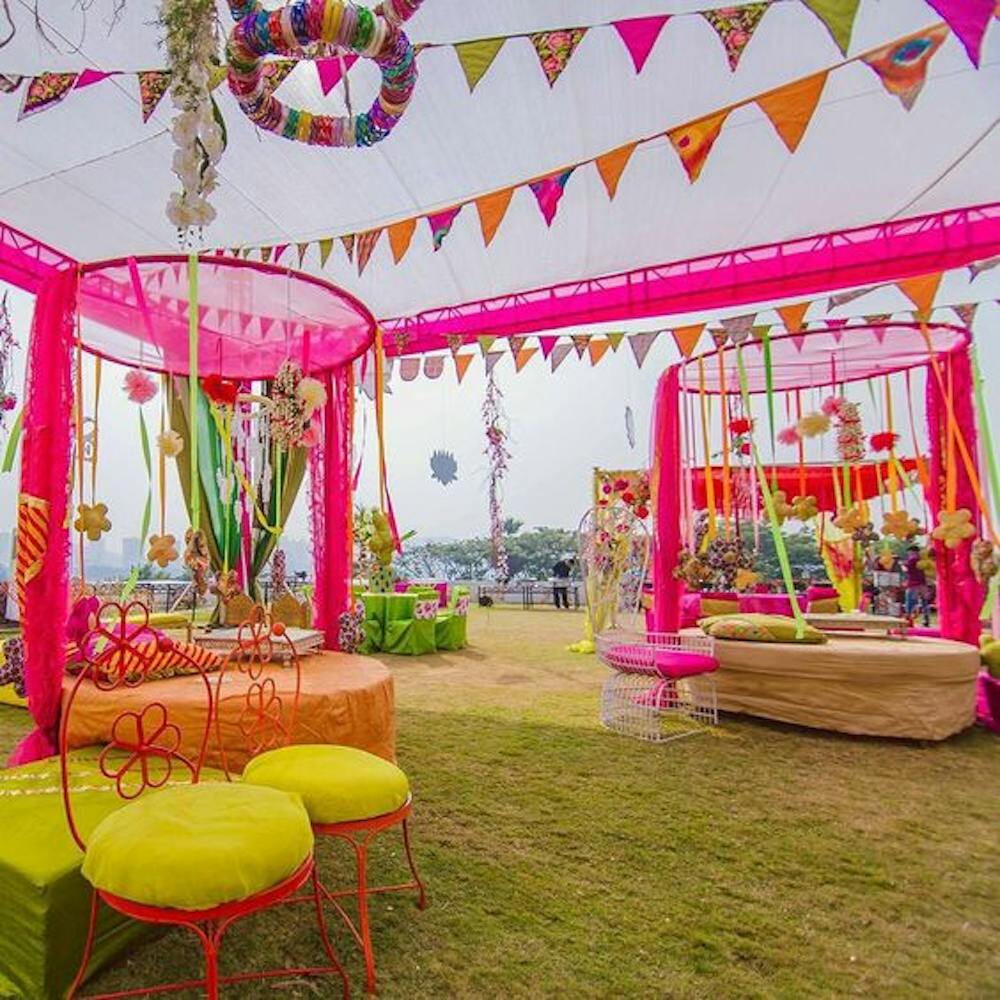 See More: Top 13 Wedding Trends for 2023: From Vintage to Bold
3. The Cool DIY Mehendi Decorations:
The cheapest way to decorate for a Mehendi event is with a theme for a wedding based on "do it yourself" (DIY). With this theme, you can show everyone how creative you are. To start decorating, hang colored origami all over the Mehendi venue for wedding decoration ideas for mehndi. You can also put a paper fan with two colors on either the bride's swing or the front gate.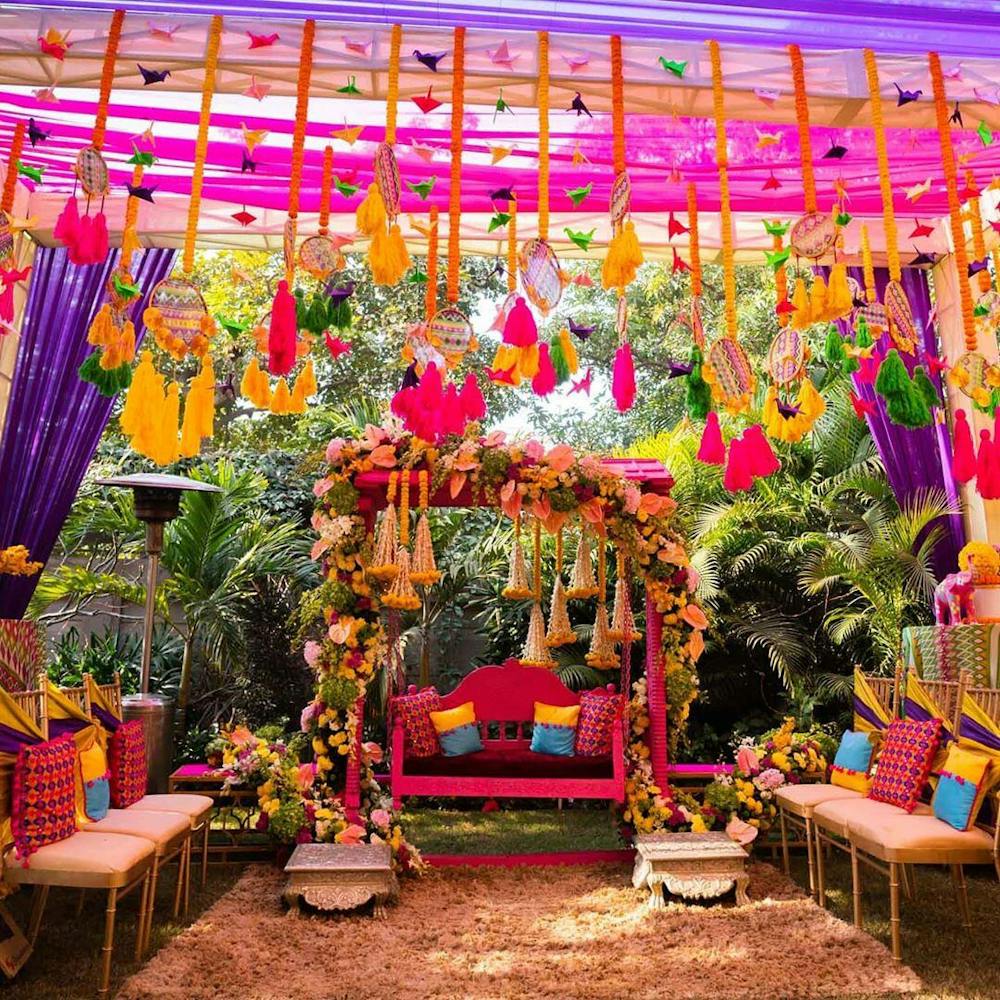 4. The Theme That Is Colorful And Easy To Understand:
The whole point of mehendi is to have fun. It's a party for people who are still young and have fun things to do, like music, dancing, and games, among other things. The best Latest mehendi ceremony themes for this mood are simple, bright, and fun. The materials used to make the tents, cushions, seats, food, chairs, flowers, papers used as mehendi ceremony decoration, and even the clothes the guests wear are all brightly colored. This room is full of bright colors. Seeing so many colors come to life in every part of the function makes you happy.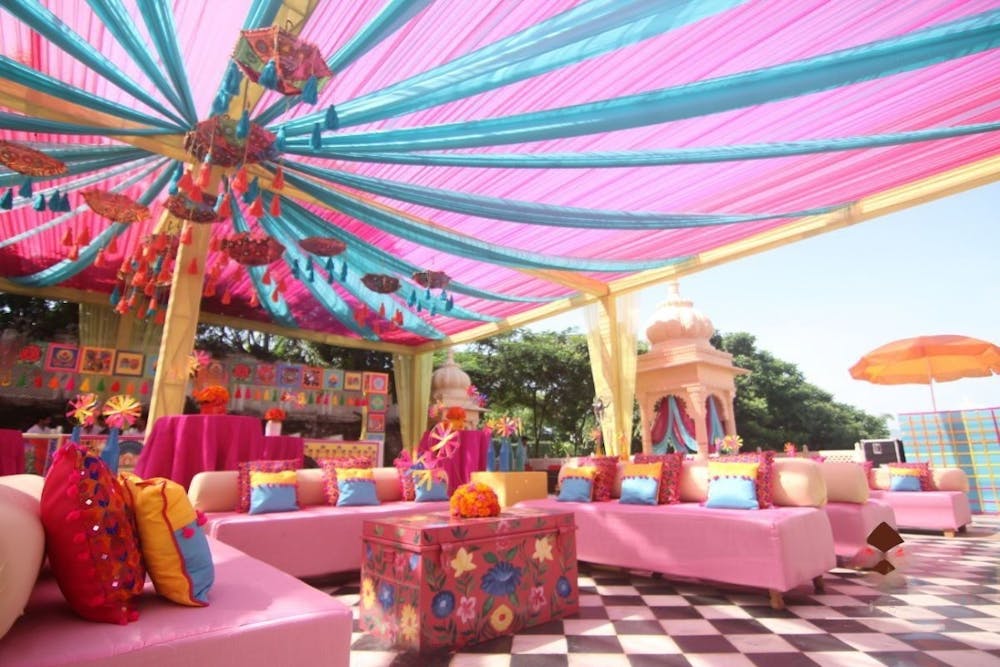 5. The Theme Of Mela:
You can choose this theme if you have a lot of room and want something fun and lively. This mehndi theme is like a Mela or a fair, with shops, bright decorations, different kinds of food, spin wheels, and sometimes even games. The kids would love this kind of decor because it gives them a lot of room to move around and play.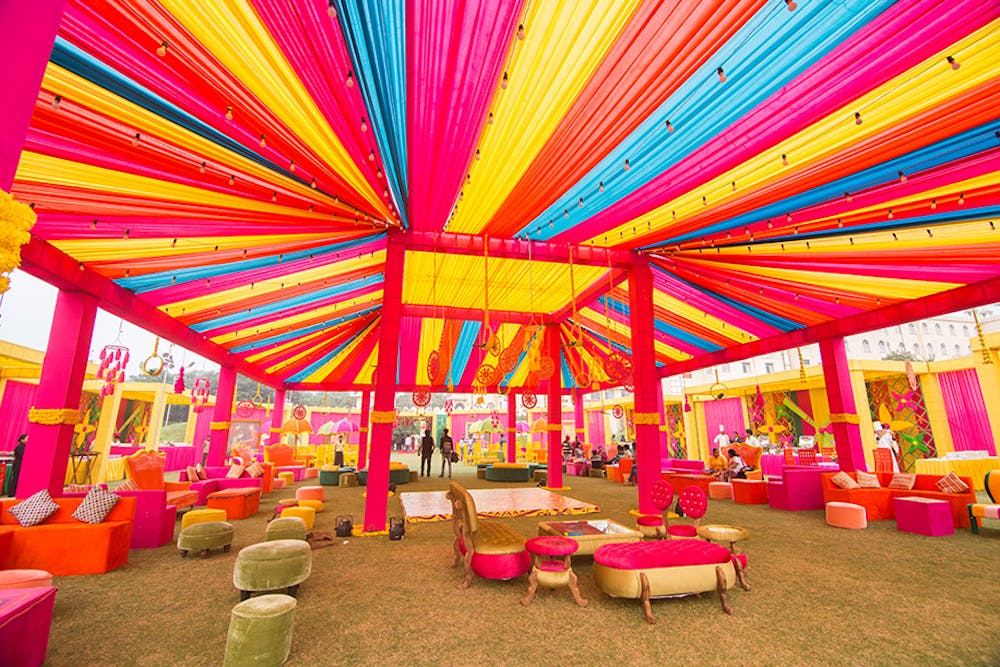 6.The Beautiful And Sparkling Flower Canopy:
We have the right solution if you want amazing mehendi decor ideas indoors and don't want to spend much on decorations. If you can't afford a bigger place outside, you can also have this beautiful event inside your home. Swing under a beautiful flower cover. You can make it look nicer by putting small LED lights on it that blink.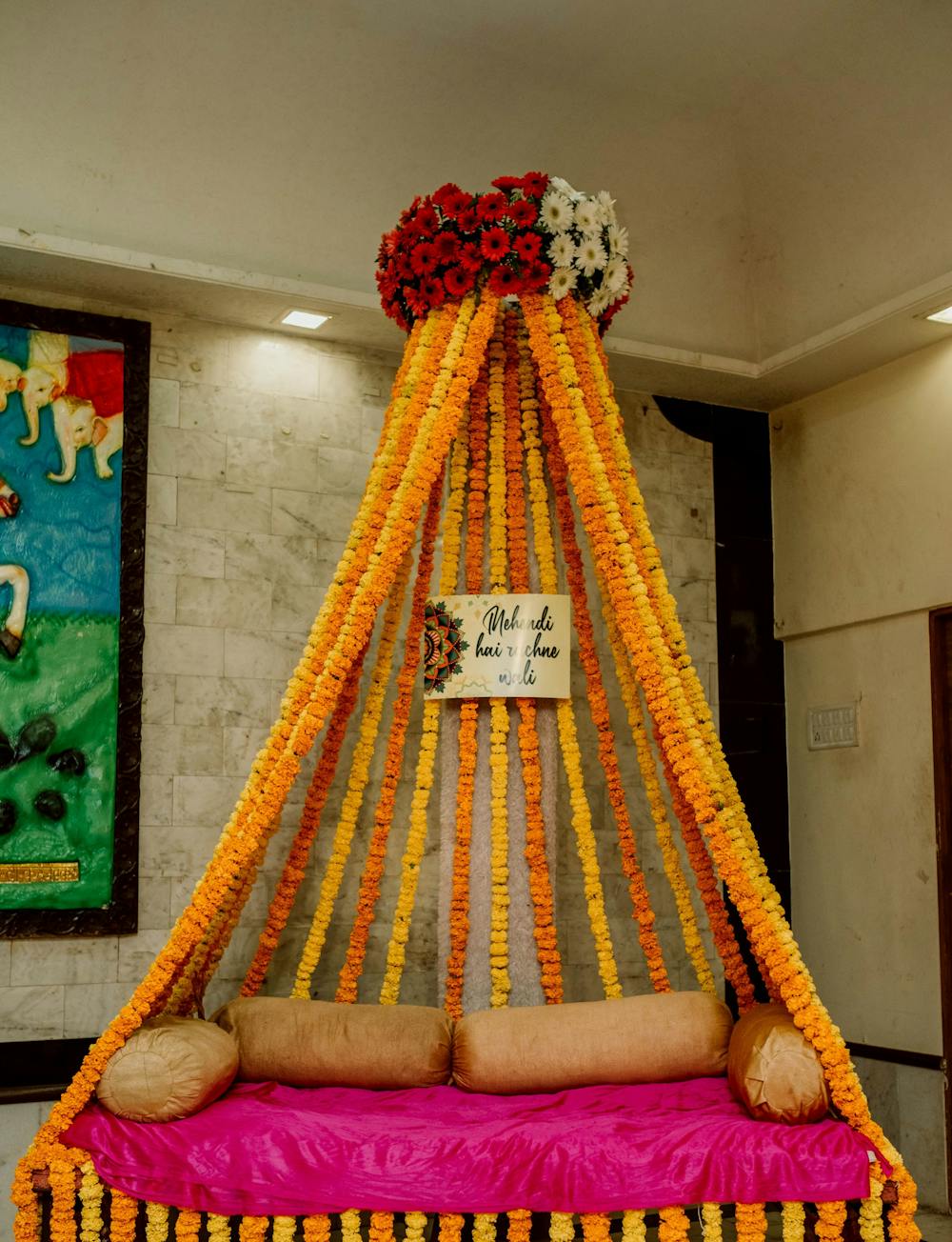 7. The Theme of Mehendi By The Pool:
You can also have your Mehendi ceremony by the pool to let your guests relax and feel at ease. The pre-wedding event would be great for everyone to relax and have fun. You can also arrange bright poolside tents for your guest. Adding brightly colored paper lanterns makes it a fancy place to be at night. To make the site look more lively, you can put up big flamingo statues by the pool or stacks of pom-poms on the trees.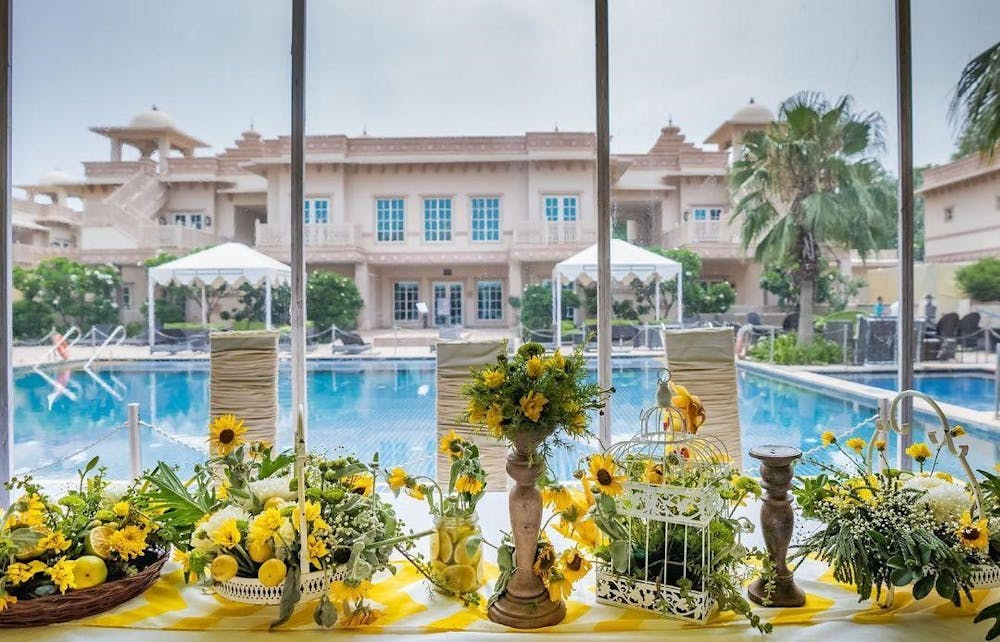 8. Theme From Bollywood:
This Mehendi Theme is only for Bollywood fans who love the music. So if you're one of them, go for it. You can pick a movie, star, or actress to make this mehndi ceremony decoration more fun. Then, all decorations, food, and guests should be themed after the movie or person.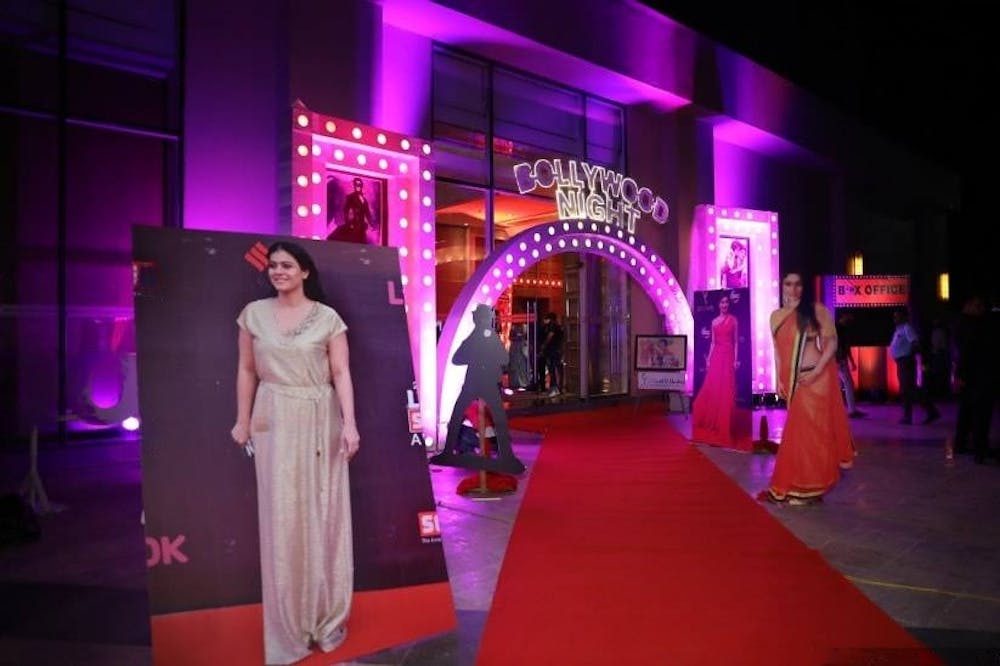 9. Theme Inspired By Rajasthan:
We all love the food and clothes from Rajasthan. Their clothes are a sign of complicated work and bright colors. Original work makes even the simplest Rajasthani dresses look like they belong in a palace. So, based on that, here is the latest trendy mehendi for wedding theme. Everything, from the mehendi theme decoration to the food and the clothes of the bride and her guests, is based on the colors of Rajasthan.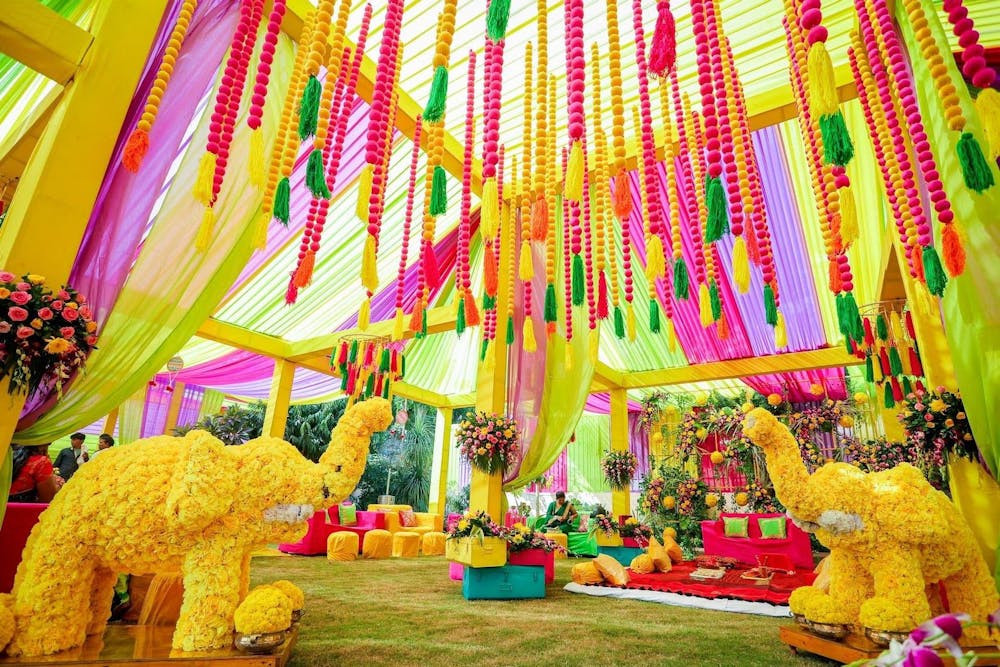 10. The Garden's Classic Flower Jhoola:
A stylish and beautiful swing with roses or orchids is another popular way to prepare for a mehndi theme ideas for a party. The swing can stay in your yard area. You can also use colored curtains to decorate the swing. You can also get great photos for Instagram at your Mehendi event.
11. The Fairytale Decorations:
It is a beautiful idea for a Mehendi decoration theme. If you want a dreamy mehndi wedding ceremony that will make you feel like a princess, you can decorate the top of the venue with hanging flowers, colorful ribbons, and a canopy of fairy lights. You can use colors like baby pink or boho to give your guests a magical experience that will surprise them.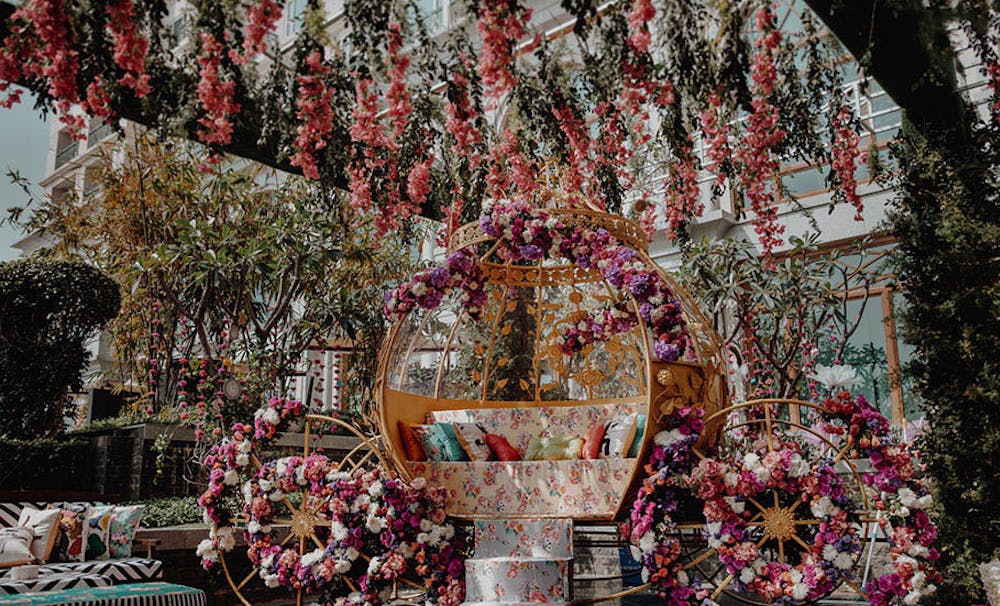 12. The Pretty And Quirky Bangle Decoration:
If you want simple mehendi ideas for decorating your home for a Mehendi party, the colorful hanging bangles will always remind everyone of this beautiful and simple event. These colorful hanging bangles will make your Mehendi parties even more attractive.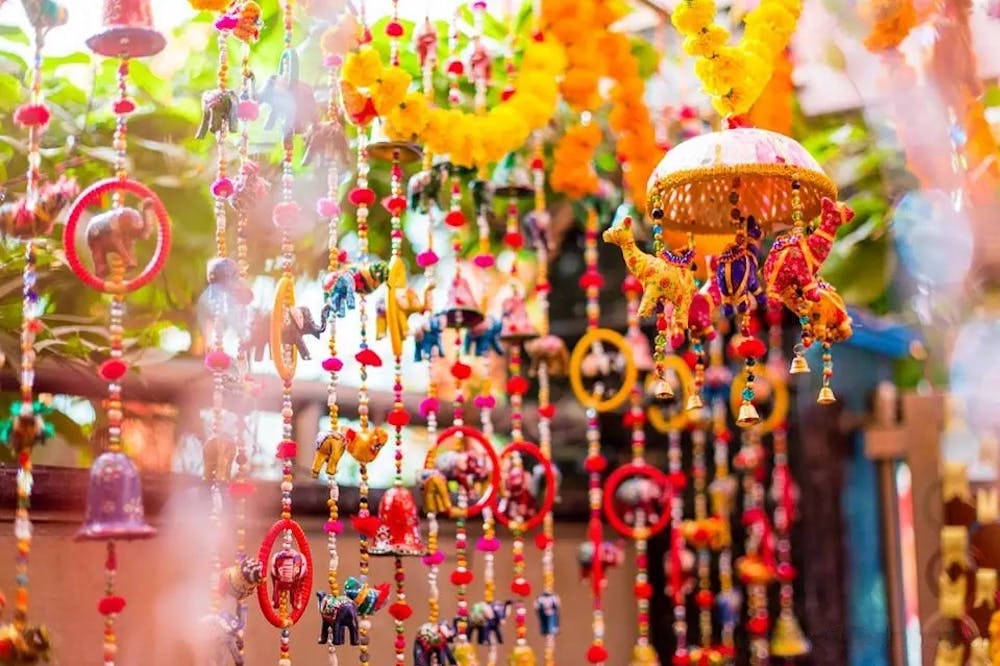 13. Marigold's Folkloric Touch:
Marigolds are most often used in Indian weddings and other traditional events. Without this flower, an Indian party wouldn't be the same. You can also use a string of orange and yellow marigold flowers to decorate where your mehendi decorators will take place. It makes you feel like you're at a wedding and is easy to get.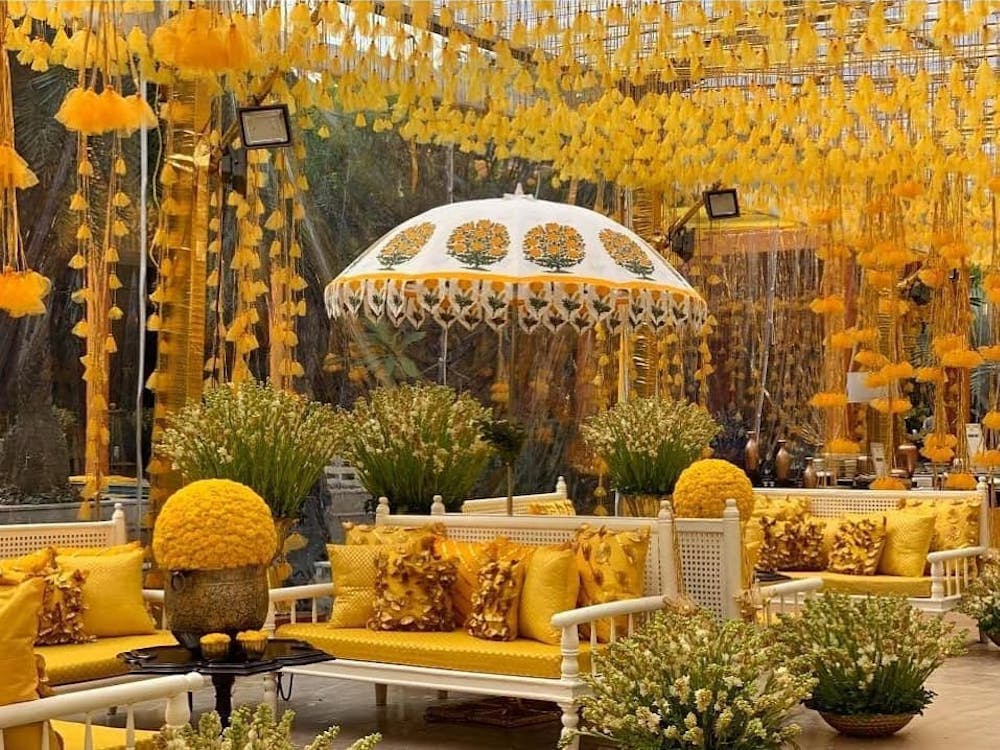 14. The Flower Cycle Decorations For The Bride-To-Be:
Do you like to reuse old things and give them a new look? That means this unique idea of using an old bike is just for you. You don't have to use the old ones, so don't worry. All you have to do is paint an old bike with bright colors and add flowers and bows to make it look nice. This is a great plan for an outdoor Haldi or Mehndi ceremony ideas celebration.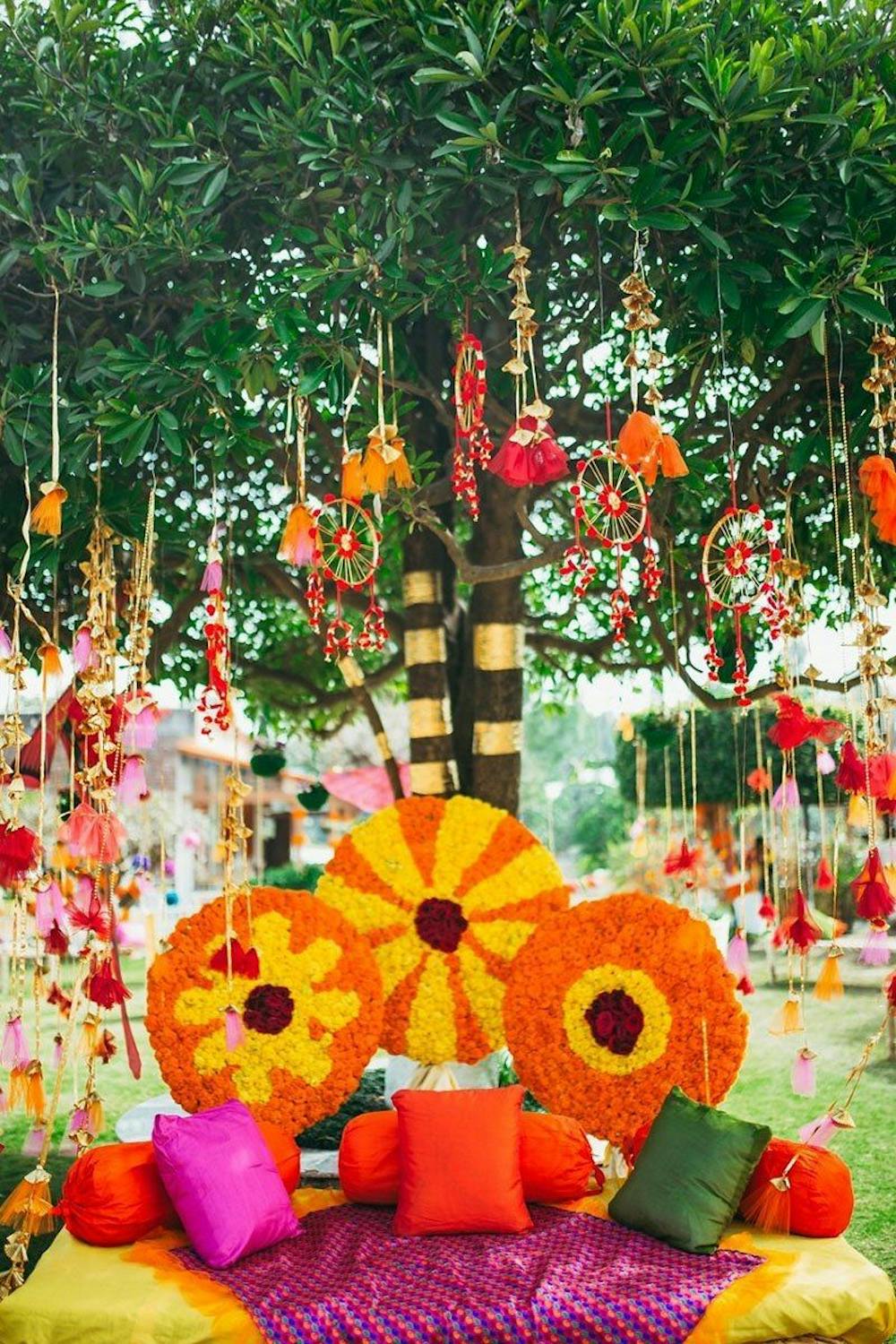 Conclusion:
Decorations are an important part of any party, and choosing the right ones is important based on your taste and budget. You don't always have to follow trends; you can set them yourself. Choose a theme or style of wedding mehndi decoration you like and think will look best for your big day. On your wedding day, nothing is more important than your happiness and joy.