Mehndi or henna art is an integral part of Indian culture and traditions. Whether it's a wedding, engagement ceremony, or any other auspicious occasion, mehndi plays a significant role in enhancing the beauty of the bride and adding to the overall festive ambiance. Kolkata, being a hub of traditional art and craft, has no dearth of skilled mehndi artists who specialize in creating intricate and beautiful designs.
In this article, we have compiled a list of the top 13 Mehndi artists in Kolkata suggested by a budget wedding planner in Kolkata that you should book for your next event. These artists have years of experience in the field and are known for their unique and stunning designs that will leave you mesmerized. So, if you're looking for the best Mehndi artists in Kolkata, look no further and check out the list by wedding decorators Kolkata.
1. Khushi Bridal Mehendi
Khushi Bridal mehendi artist Kolkata is the perfect choice for your wedding in Kolkata. For their skill and experience, it is the top choice of any Bengali wedding planner in Kolkata. With years of experience and a team of skilled artists, they offer intricate and beautiful mehendi designs that will make you look stunning on your big day. Their use of natural henna and attention to detail ensures that your mehendi will last for a long time and leave a lasting impression.
Address- Ballygunge Circular Road, Ballygunge, Kolkata, West Bengal, India
Recommended- Find The Best Caterers In Kolkata Now - Pomp And Show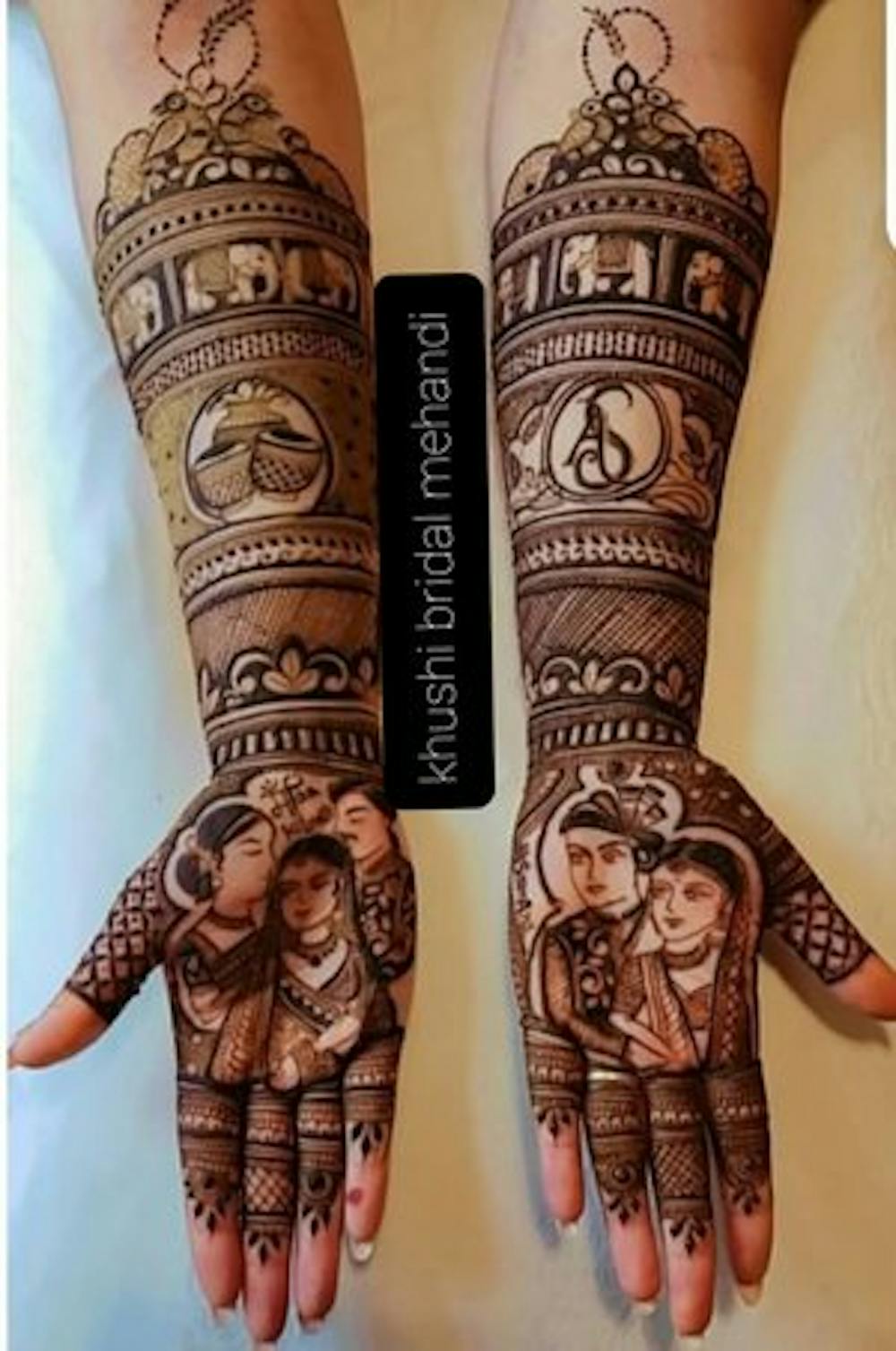 2. Akash Mehandi Art
Akash Mehandi Art's skilled artists have years of experience in applying beautiful designs. They use natural henna and take utmost care of the bride's comfort while applying mehndi. Akash mehandi art Kolkata team will work with you by understanding your needs and preferences and then creates a design that suits your taste.
Address- Avani Riverside Mall, 32, Jagat Banerjee Ghat Rd, Choura Bustee, Shibpur, Howrah, West Bengal 711102
Recommended- Bookmark These Best wedding photographers in Kolkata For Your D-Day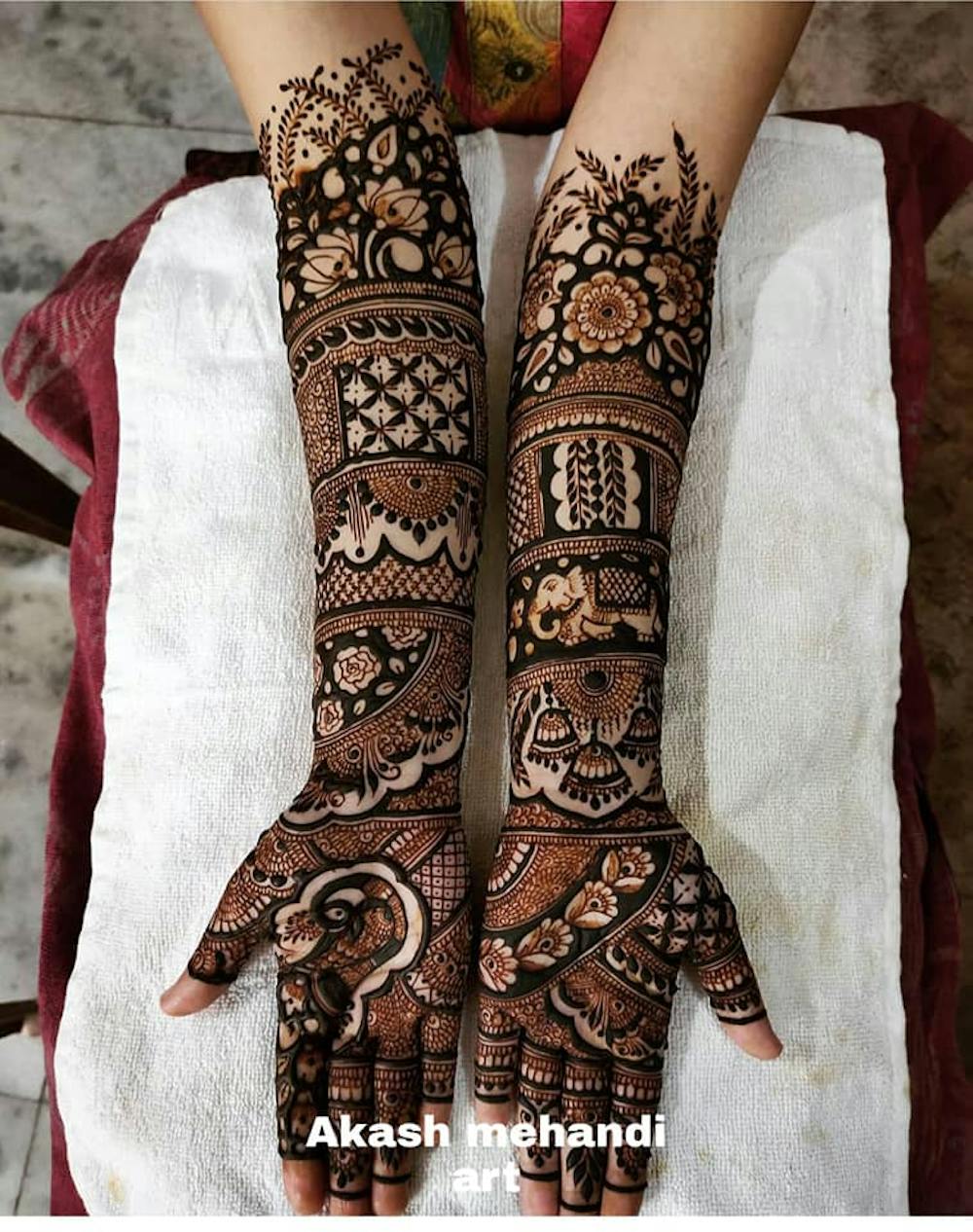 3. Mehendi By Nasreen -Talented Mehendi Artist In Kolkata
If you're looking for a reliable and talented Kolkata mehendi artist for your wedding in Kolkata, then Mehendi by Nasreen is an excellent choice. With years of experience in creating intricate and beautiful designs, Nasreen is known for her creativity, professionalism, and attention to detail. She uses only the best quality henna and takes the time to understand her clients' preferences, ensuring that every design is tailored to their unique style and personality.
Address- 96, 2, Tiljala Ln, Ballygunge Park, Ballygunge, Kolkata, West Bengal 700019
4. Mehndi Season - Best Mehandi Artist Kolkata
Mehndi Season's team of skilled and experienced mehandi artist Kolkata will work with you to create the perfect design to suit your style and taste, whether you want a traditional henna design or something more modern and unique. With best bridal mehendi artist in Kolkata's attention to detail and commitment to customer satisfaction, you can trust that your mehndi will be flawless and beautiful.
Address- 375 Prince Anwar Shah Road, 2nd floor, South City Mall, Kolkata -700045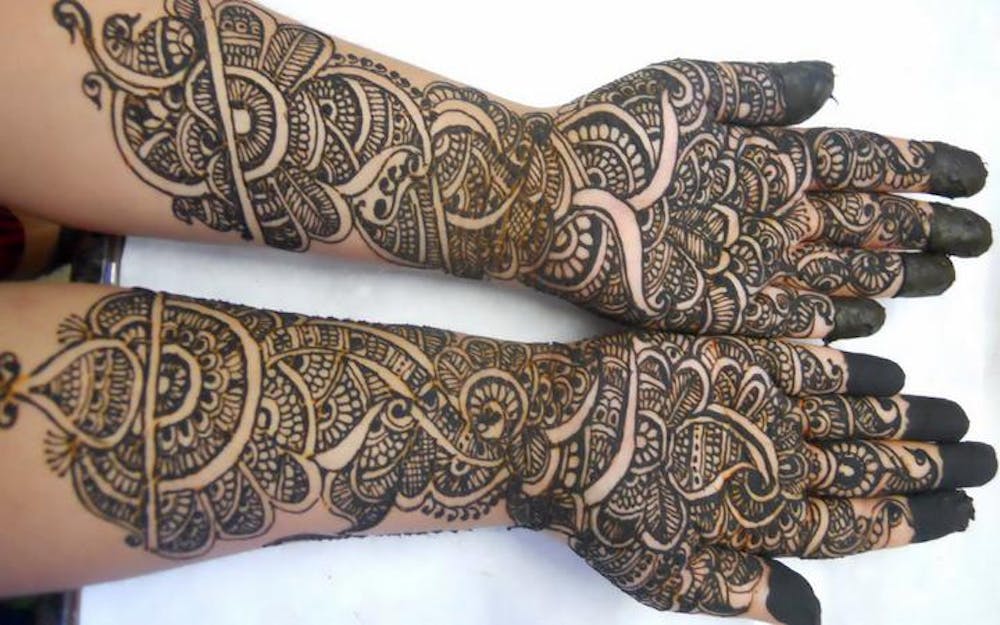 5. Nandini's Mehendi- Perfect Choice For Your Wedding
Nandini's Mehendi in Kolkata is the perfect choice for your wedding. Designs are customized to suit your style and preferences, and they pay close attention to detail to make sure you are completely satisfied. Nandini's Mehendi is also affordable, making it an ideal option for any budget.
Address- 11/2/A/1, Sahid Nagar Colony, Netaji Nagar, Kolkata, West Bengal 700092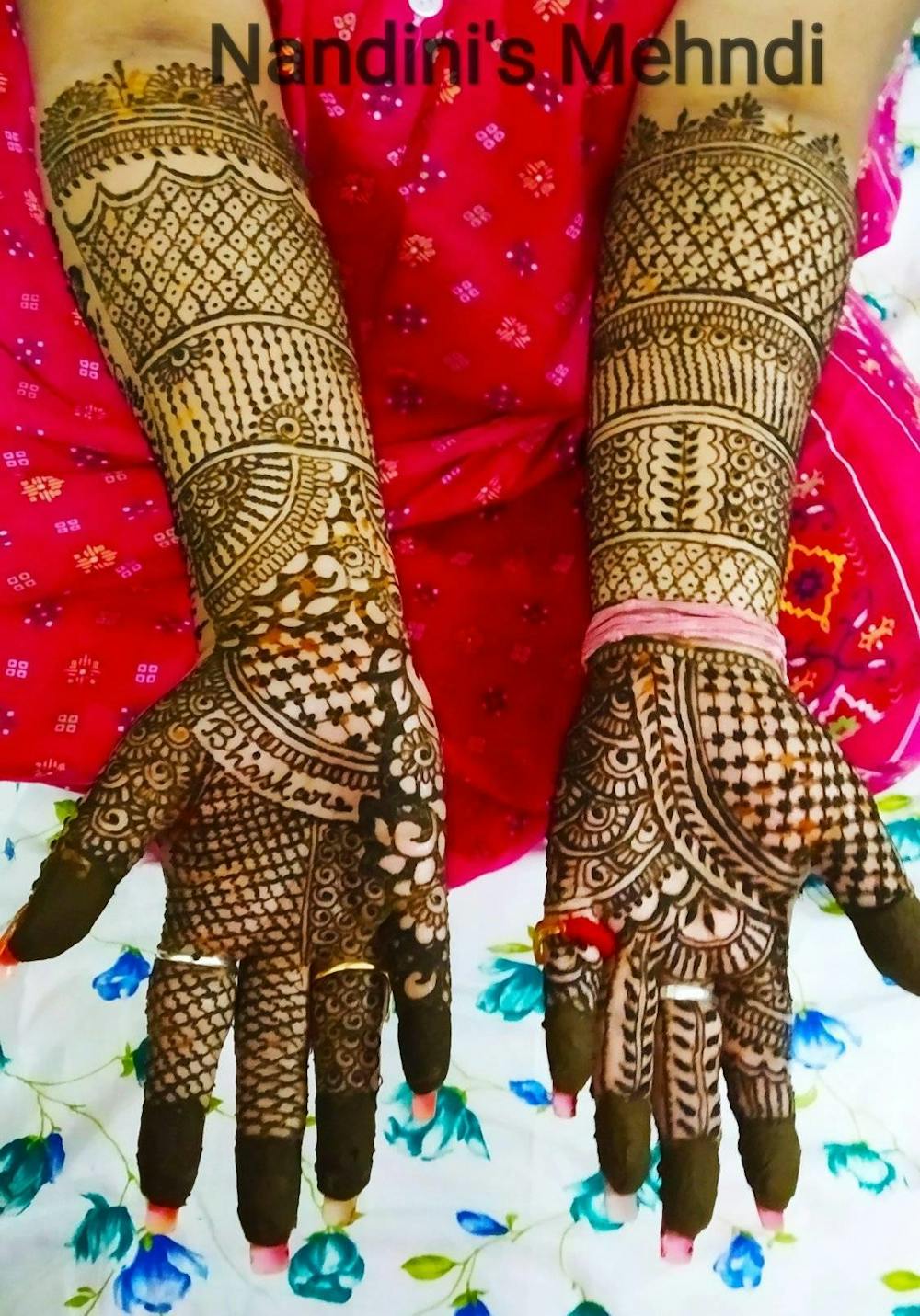 6. Barnali Henna - Famous Mehndi artist In North Kolkata
Barnali is a varied team of exceptionally accomplished mehndi artists based in the northern part of greater Kolkata. They enjoy giving their customers the dream mehndi patterns. They promise that their designs will strengthen your relationship with your husband even more.
Address- North Kolkata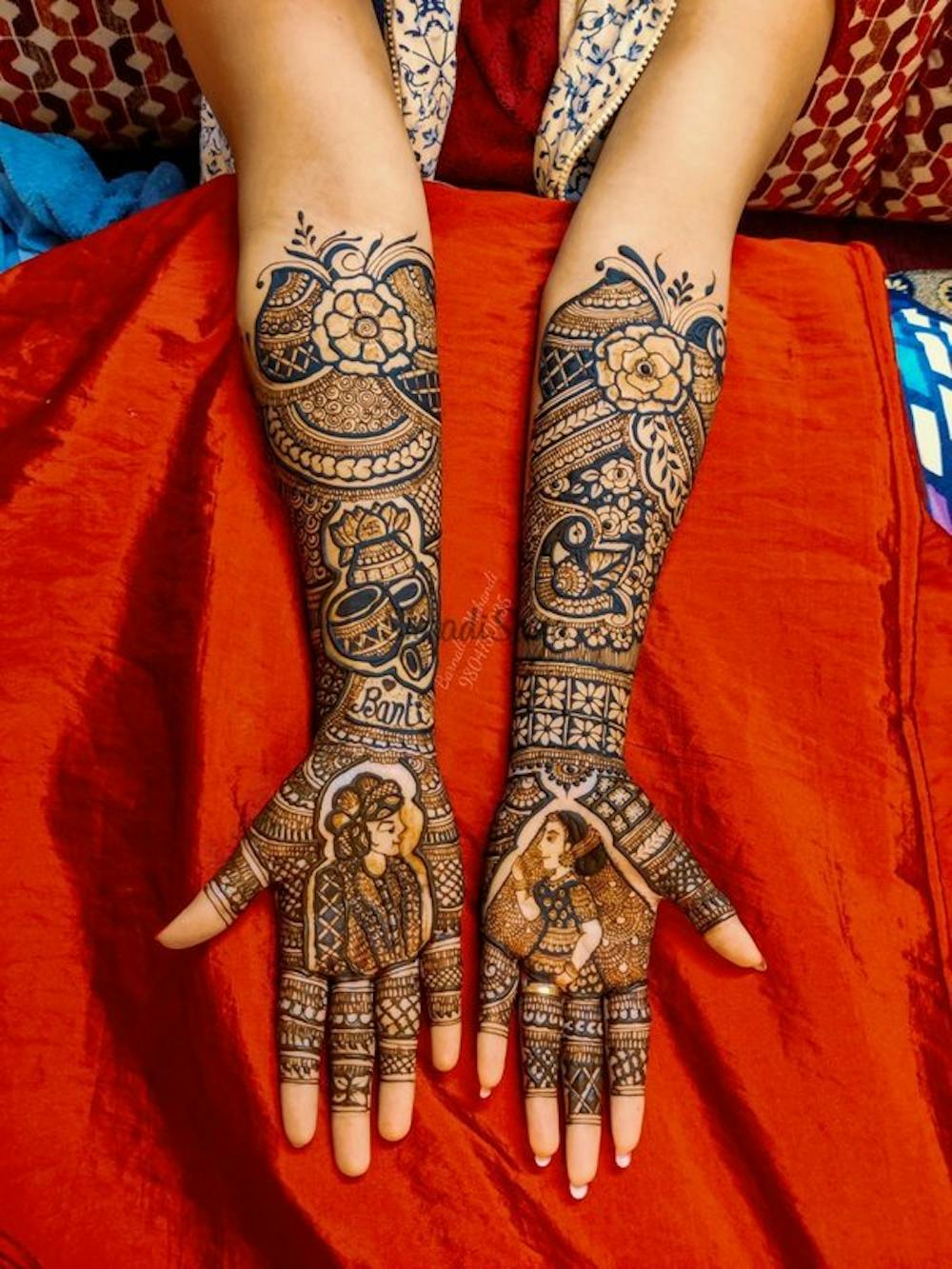 7. Rashmi Jain
Rashmi Jain the mehndi designer in Kolkata, has years of experience in the industry, and her expertise in Mehndi artistry is evident in her work. She uses natural and safe henna ingredients to create beautiful designs that will last for weeks. Rashmi is also a friendly and professional artist who ensures her clients are comfortable throughout the process.
Address- 52/6 VIP Road, Near Big Bazaar, Phase 2, Flat No: 708, Kolkata West Bengal.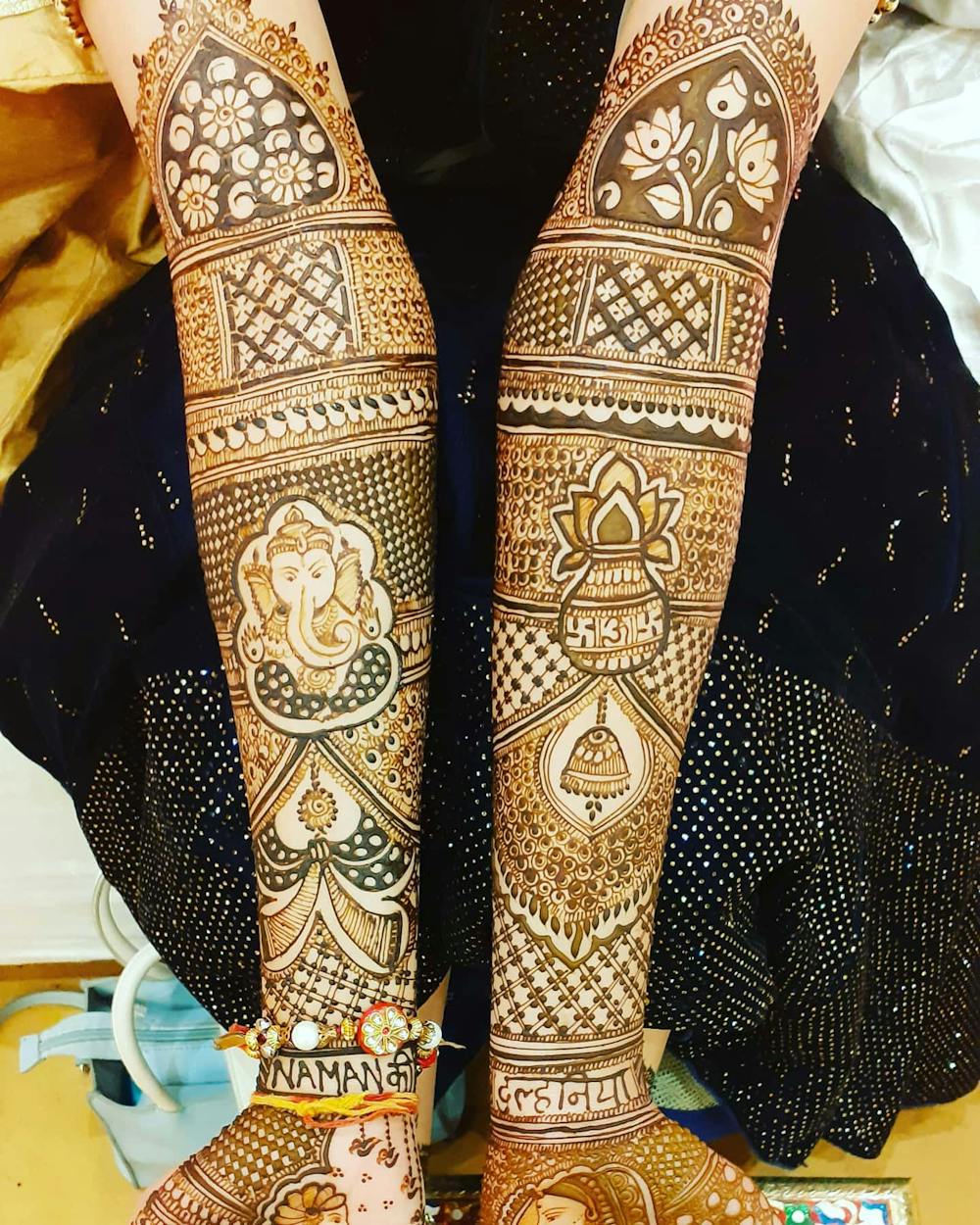 8. Ruposhi Mehndi Designs
Ruposhi Mehndi Designs in Kolkata is your ideal choice. They offer an extensive range of designs that are traditional, contemporary, and personalized to suit your taste. With Ruposhi Kolkata mehndi artist, you can be assured of the perfect mehndi for your special day.
Address- 127 Behala, Kolkata, West Bengal 700034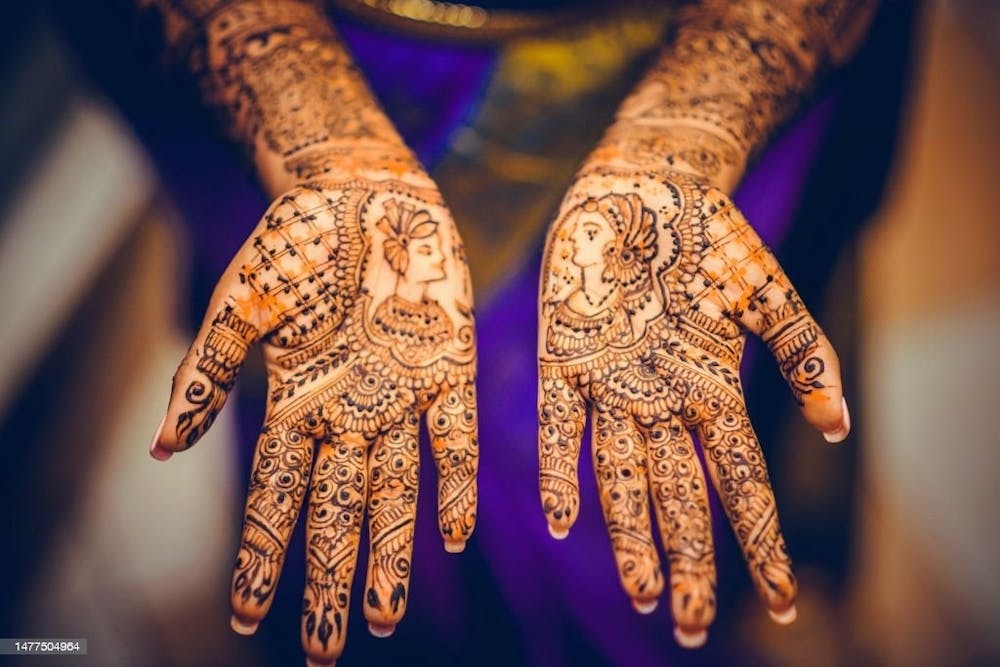 9. Manoj- Best Mehndi Artist
With Manoj, you can be assured of the best mehndi designs that will complement your bridal look. His expertise in creating personalized designs that reflect the bride's personality and preferences has earned him a reputation for being one of the best Mehndi artists in Kolkata.
Address- 125 Metropolis Building, 1st floor, High Land Park, Chak Garia, Panchasayar, Kolkata 700094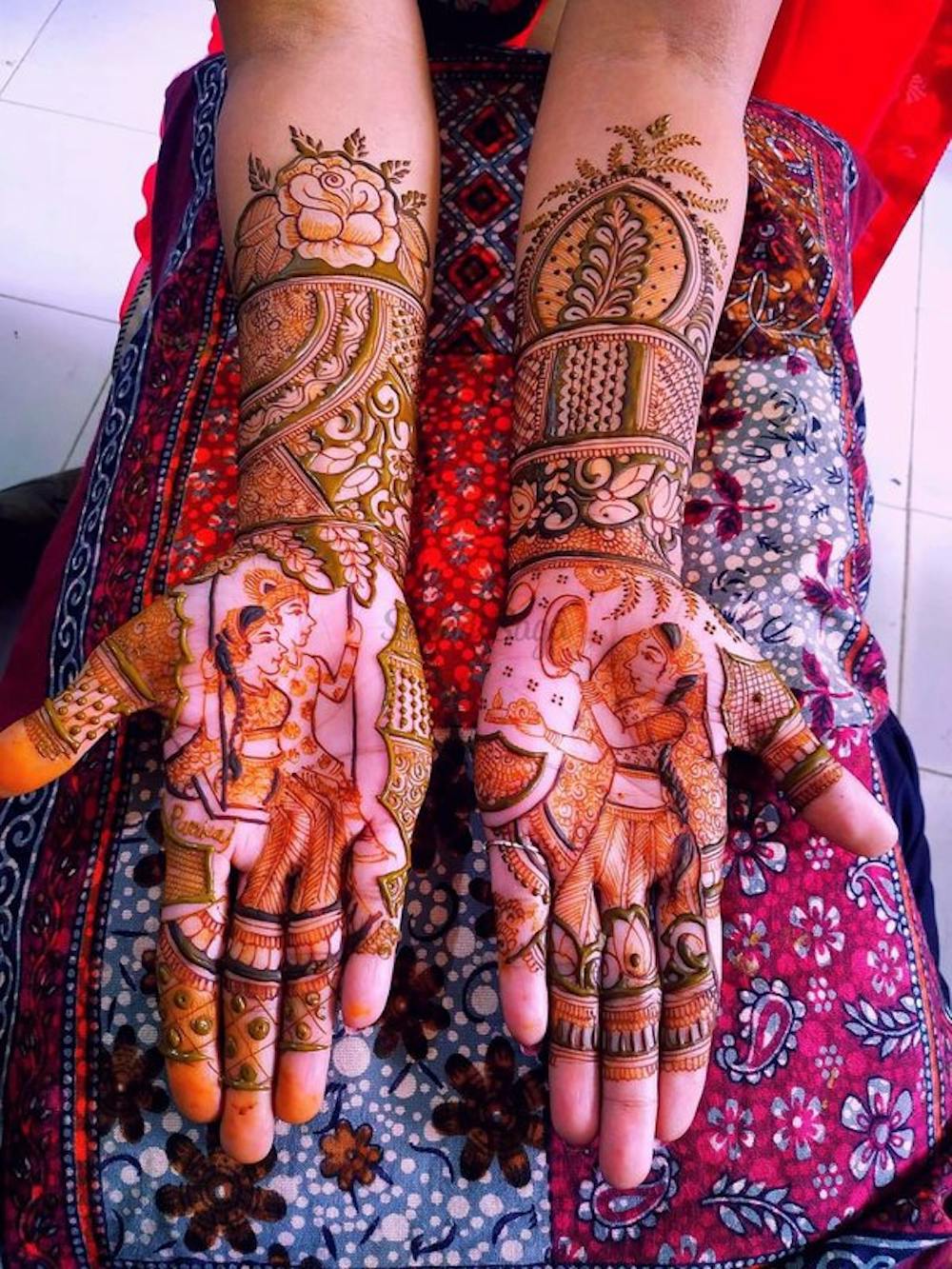 10. Shraddha Ojha
Shraddha Ojha is a masterful mehndi artists Kolkata whose intricate designs are sure to leave you in awe. With years of experience, she has developed a keen eye for detail, ensuring that each design is unique and tailored to your specific preferences.
Address- Bakul Basanta, Flat No: 6, Rajpur Sonarpur Municipality, Narendrapally, Maha Maya Talla, Kolkata 700103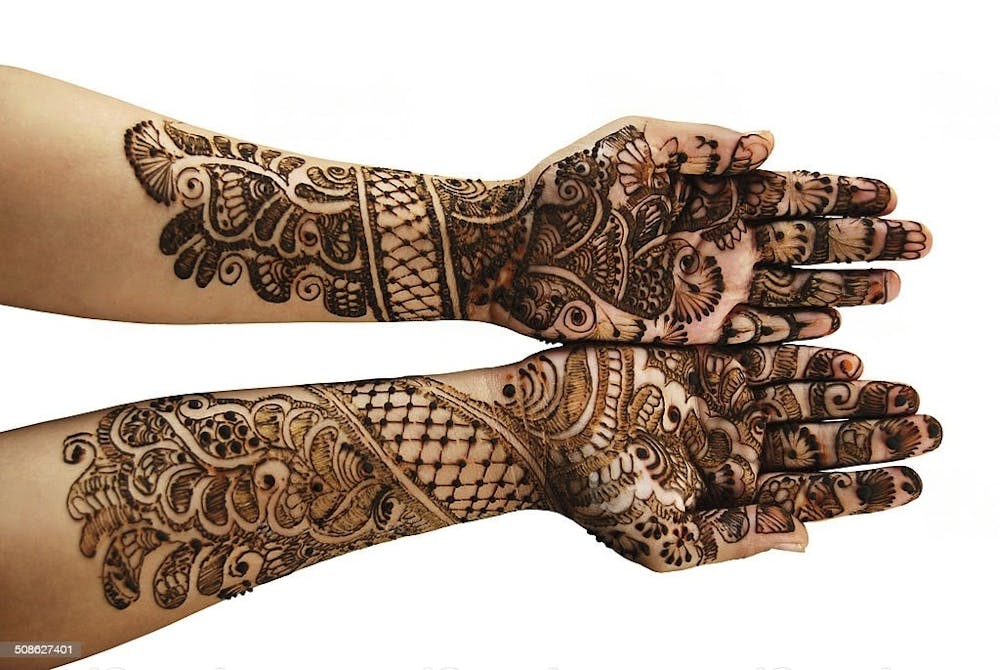 11. Shampa Banerjee Mehendi Art
Shampa is a skilled and experienced mehendi artist who can create intricate and exquisite designs that perfectly suit your style and preferences. With her creativity and professionalism, Shampa can turn your mehendi ceremony into an unforgettable experience that you and your guests will cherish forever.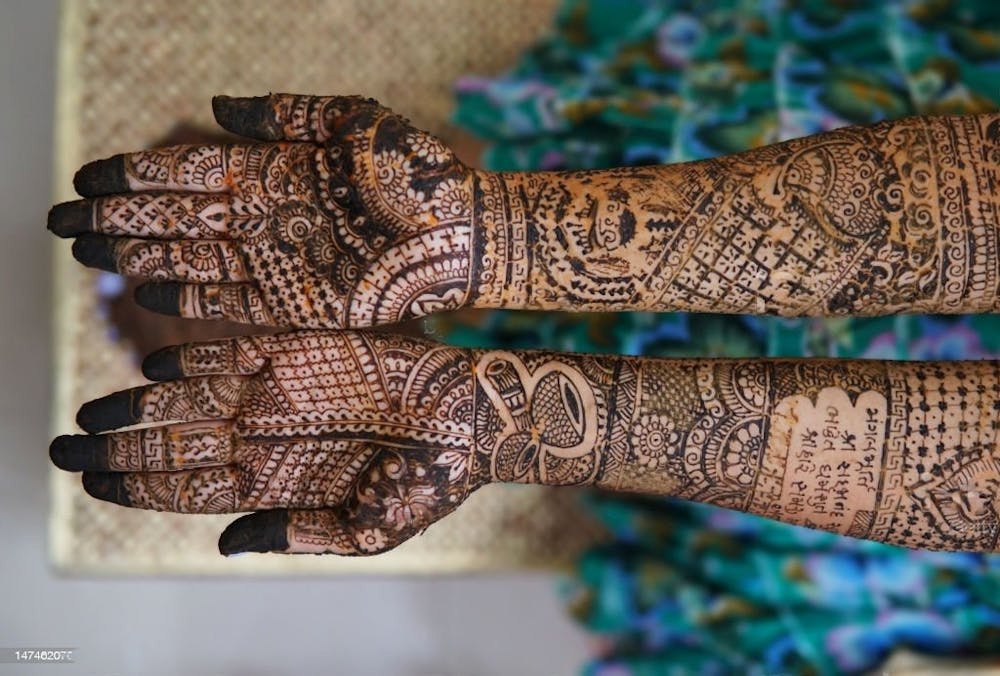 12. Jigna Soni
Choosing Jigna Soni as your Mehendi designer in Kolkata for your wedding is a decision you will never regret. Jigna's passion for Mehendi is reflected in her work, and she uses only the finest quality henna to create stunning designs that will last for weeks.
Address- 18 Sir Hariram Goenka Street, Ground Floor, Bastala Lane, Burrabazar, Kolkata 700007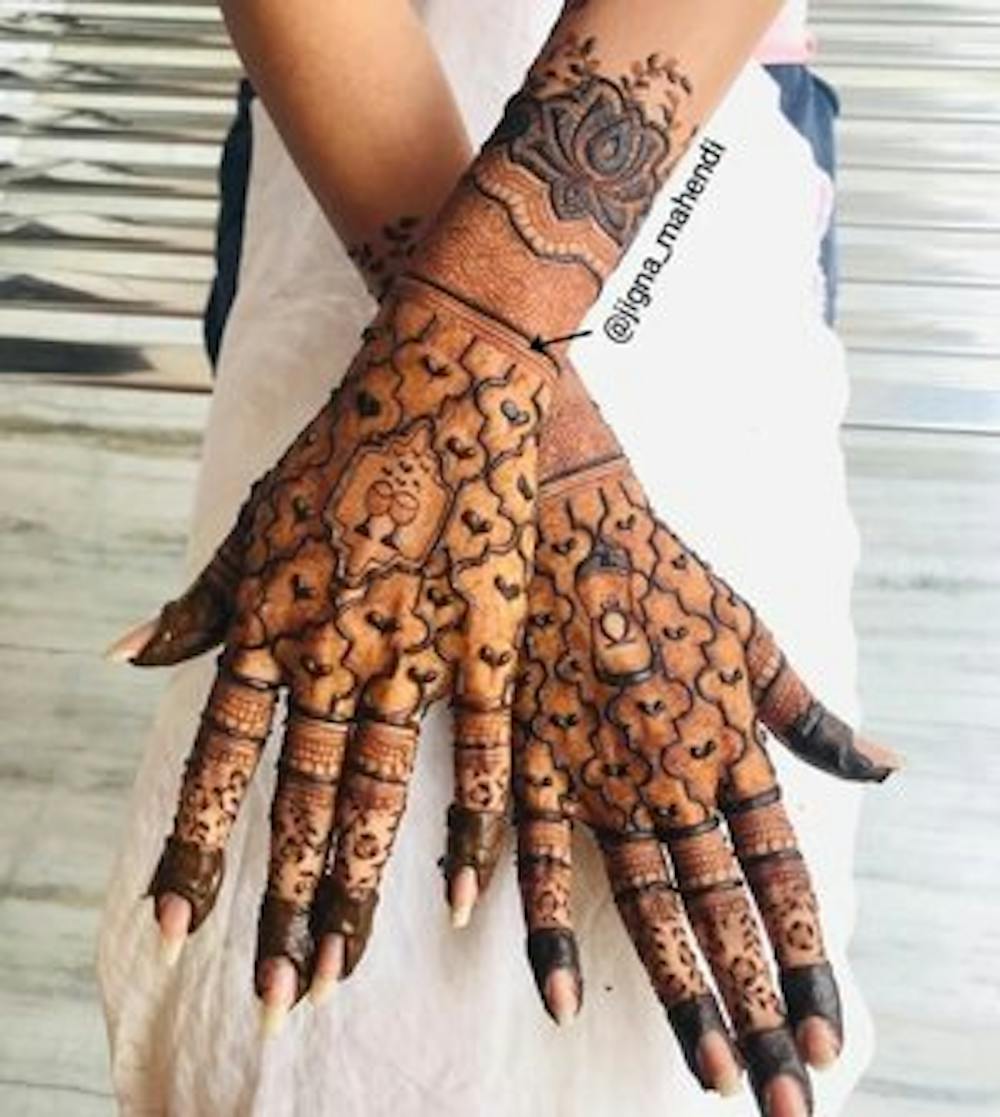 13. Subrato Banik
With years of experience and unmatched creativity, he can create stunning designs that will add a touch of elegance and beauty to your special day. Subrato's attention to detail and personalized approach will ensure that your mehndi is nothing short of perfection.
Address: 1/79, Rajendra Prasad Colony, Lords Bakery More, Tollygunge, Kolkata 700033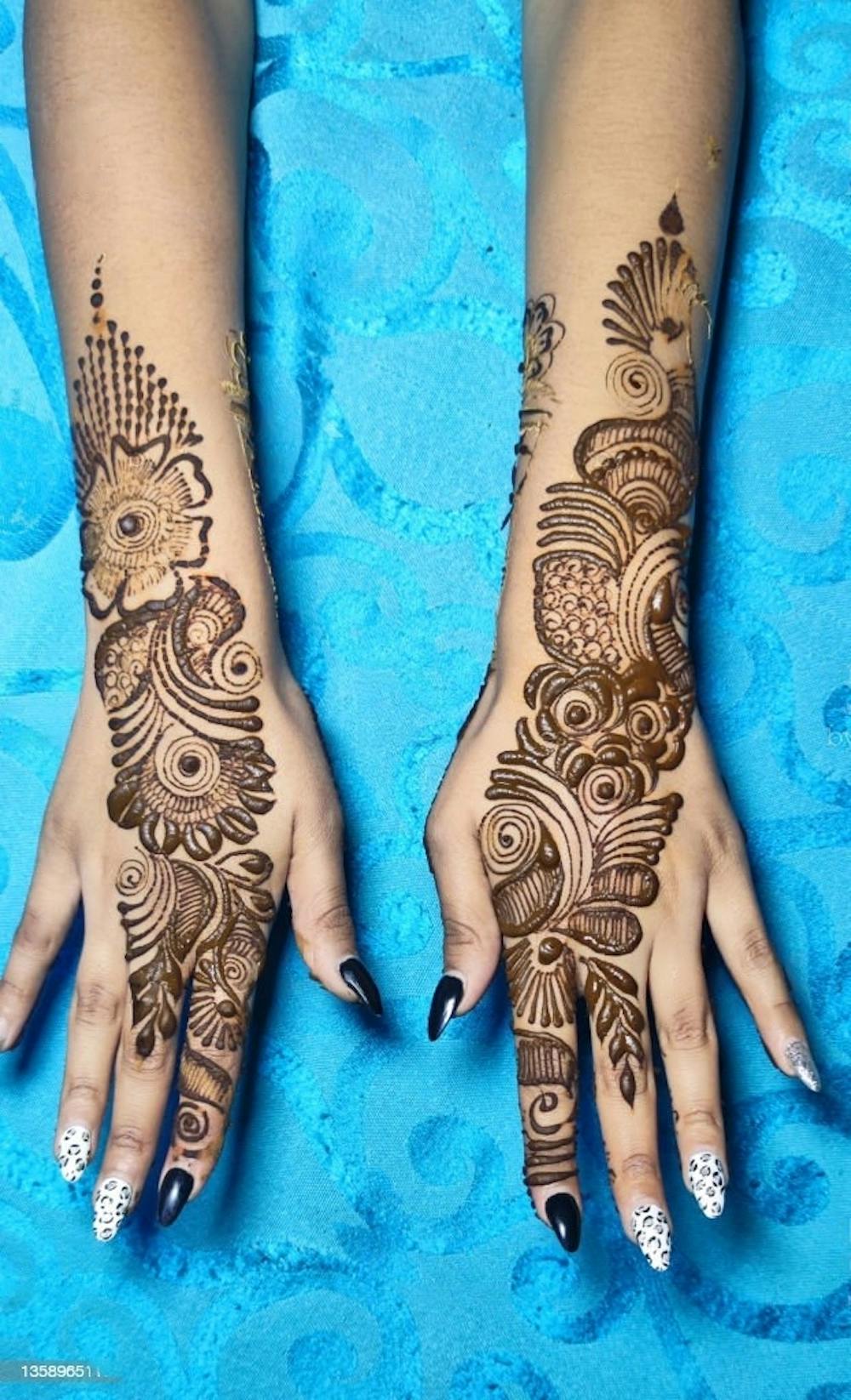 Hiring a professional mehndi artist for your wedding is not only a great way to enhance your beauty on your special day but also a way to showcase your cultural heritage. With their exceptional skills and creativity, they can create intricate and stunning mehndi designs that will leave a lasting impression on you and your guests. So, if you are looking for a way to add an extra touch of elegance and tradition to your wedding, consider hiring the best mehndi artist in Kolkata and create unforgettable memories.
Frequently Asked Questions
1. How to decide which Mehendi artist in Kolkata is best for you?
Check for reviews and recommendations from friends, family or online platforms to find the best Mehendi artist in Kolkata. Check the artist's portfolio and their experience in the field. This will give you an idea of their skill level and creativity.
2. How much time does a mehendi design take?
Typically, a simple design can take around 30 minutes to an hour, while a more complex design can take up to 3-4 hours or even longer.
3. How much in advance should you book a bridal Mehendi artist in Kolkata?
It's recommended to book a bridal Mehendi artist in Kolkata at least 2-3 months in advance to ensure their availability on your wedding day.
4. Should you book the same mehndi artist for the bridal party as the bride?
It is not necessary to book the same mehndi artist for the bridal party as the bride, but it can be a good idea to ensure consistency in the designs and to create a cohesive look for the entire wedding party.
5. Will the Kolkata mehendi artist travel to my part of the city?
It would be best to contact a mehendi artist directly and inquire about their willingness to travel to your part of the city.
6. How much do mehendi artists in Kolkata charge for traditional bridal mehendi?
ypically, the charges can range from Rs. 2,000 to Rs. 10,000 or more. It's best to consult with a few mehendi artists in Kolkata to get a better idea of their pricing and services.
7. What are the types of mehndi designs in trend?
There are several types of mehndi designs that are currently trending, including:
Arabic Mehndi Designs
Indian Mehndi Designs
Pakistani Mehndi Designs
Moroccan Mehndi Designs
Bridal Mehndi Designs
Glitter Mehndi Designs
Traditional Mehndi Designs
Modern Mehndi Designs
Indo-Arabic Mehndi Designs
Rajasthani Mehndi Designs.
8. How long does henna last?
Henna usually lasts between one to three weeks, depending on various factors such as skin type, location of the henna design, and aftercare.
9. How can I make henna last longer?
To make henna last longer, you can try the following tips:
Keep the henna design dry for at least 6-8 hours after application.
Avoid contact with water or any liquids for the first 24 hours.
Apply a mixture of sugar and lemon juice on the henna design once it has dried.
Avoid scrubbing the area or using any abrasive products on the henna design.
Apply a balm or oil-based product on the henna design to keep it moisturized.
10. What are the things to keep in mind while booking your mehndi artist in Kolkata?
Research and Compare: Research and compare different mehndi artists in Kolkata before making a booking. Check their portfolios, experience, and reviews.
Availability: Make sure the artist is available on your preferred date and time.
Budget: Set a budget for the mehndi artist and discuss it with them beforehand.
Design customization: Discuss your preferred mehndi design and make sure the artist is comfortable creating it.
Contract and Terms: Get a contract with the mehndi artist, including details such as the services provided, payment terms, cancellation policy, etc.